THE FRONT ROW with MARK NELKE: For Bevacqua, a tug toward her kids, and away from her girls on the softball diamond for now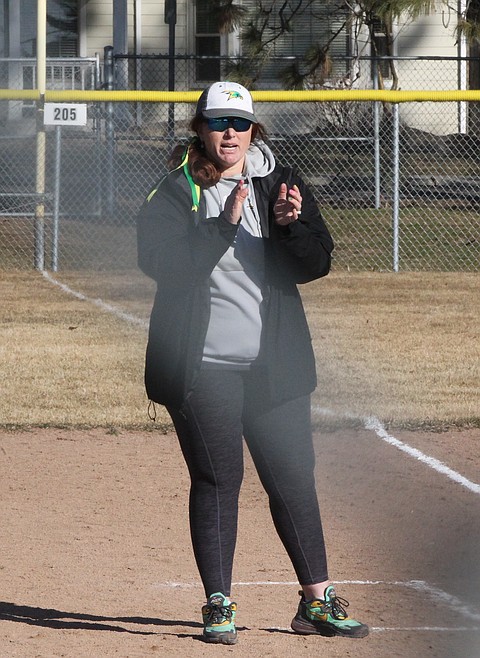 MARK NELKE/Press Lakeland High softball coach Colleen Bevacqua encourages a Hawks batter in a game at Coeur d'Alene in March.
Colleen Bevacqua's oldest son Nate, 11, hit his first over-the-fence home run recently.
Problem was, mom was on a bus with her Lakeland High softball team at the time, coming home from the state tournament in the Boise area.
"I missed it, and that was kind of devastating," she recalled. "I have two boys (Josh is 7), and they're just real busy in their own sports, and it was real difficult to make it to everything. I've been able to make it work, and I've missed things."
Then she got that phone call, while she was on the bus, miles away from home.
"It really kinda sealed the deal," said Bevacqua, who resigned recently after 17 seasons as head coach of the 4A Hawks. "I just had to make that decision. My kids are only going to be little once.
"I have coached for over 20 years … I've coached for a long time, dedicating everything that I can to help other people's children. I think it's just time to do what's best for my own family."
BEVACQUA WAS head coach at her alma mater for 17 seasons, taking the Hawks to state nine times.
Under Bevacqua, the Hawks won or shared the league title eight times and won eight regional titles.
"Pretty proud of all the time I've gotten the opportunity to coach these girls," said Bevacqua, who plans to remain in the classroom, teaching U.S. history.
Bevacqua, the former Colleen Nave, graduated from Lakeland in 1999. As a junior, she played on the Hawks' second-place team at state in A-2, in the final season as coach for Danielle Bean, who started the Lakeland program in 1988.
Her senior year, Lakeland was third at state under coach Jim Pizelo, who went on to coach the Hawks for six seasons.
Her first year of coaching was as an assistant at Potlatch High, then she was head coach of the Loggers for two seasons.
Then she was an assistant with the Lake City JV while she did her student teaching there.
In 2004, she was hired as an assistant at Lakeland, under Pizelo. But Pizelo soon left to become head coach at Gonzaga Prep, and Bevacqua was named head coach for the 2005 season.
That school year was also Lakeland's first in 4A, after moving up from 3A/A-2.
Bevacqua guided the Hawks to state that first year in their new classification, taking the play-in game route.
"It was huge, very exciting," she recalled. "I was just hungry, I wanted to get after it. I wanted to come in and do great things, give girls opportunities. I have always been driven that way."
LOOKING BACK at her early years of coaching, she laughs at how intense she was, and noted how she's grown over time.
"You have to be flexible … each team is unique," she said. "Some teams need more intensity, and other teams need more of a laid-back atmosphere to be successful.
"This year was difficult, coming off COVID … up in Rathdrum, they weren't isolated at home for too long, but just maybe long enough. I think there were some negative effects of the shutdown."
People need human contact, she said, something that didn't come as easily during the pandemic.
"I'm really appreciative that our school has remained open, and we have provided opportunities for our kids, and tried to give them some sense of normalcy ... I'm just hoping we head back in that direction."
LAKELAND MADE it to state in 2019, and after playing just two games in 2020 before the pandemic shut things down, the Hawks qualified for state this season.
"We have a lot of returners," Bevacqua said. "It was really tough making this decision, because I have so many returning seniors next year. I have three seniors graduating."
From coach Bean, Bevacqua learned "just how dedicated you have to be as a coach, and involved. I remember her putting in a lot of time and energy and effort. I really appreciated the little things she did."
Bevacqua used some of Bean's "little things," like the Kangaroo Court, and instituted some of her own — like quote of the game.
"I have appreciated that Lakeland gave me this opportunity," Bevacqua said. "I just appreciated everything."
HER HUSBAND, Al Bevacqua, is a former high school and Legion baseball coach. He currently coaches the River City Thunder club baseball team that Nate is on.
"I hope to trade in the big yellow ball for the smaller white ball eventually," Colleen said.
She said Jason Bradbury, the longtime Lakeland baseball coach, has been trying to get Al to coach baseball with him.
"I said 'How about a two-fer deal,'" Colleen asked Jason.
"I would love to run open gyms, or help out any way possible," she said of the baseball program.
"Maybe someday I'll get back into coaching softball," she added, "but right now I'm going to put it on pause and focus on my own kids."
Mark Nelke is sports editor of The Press. He can be reached at 664-8176, Ext. 2019, or via email at mnelke@cdapress.com. Follow him on Twitter @CdAPressSports.
---