Imparting a little wisdom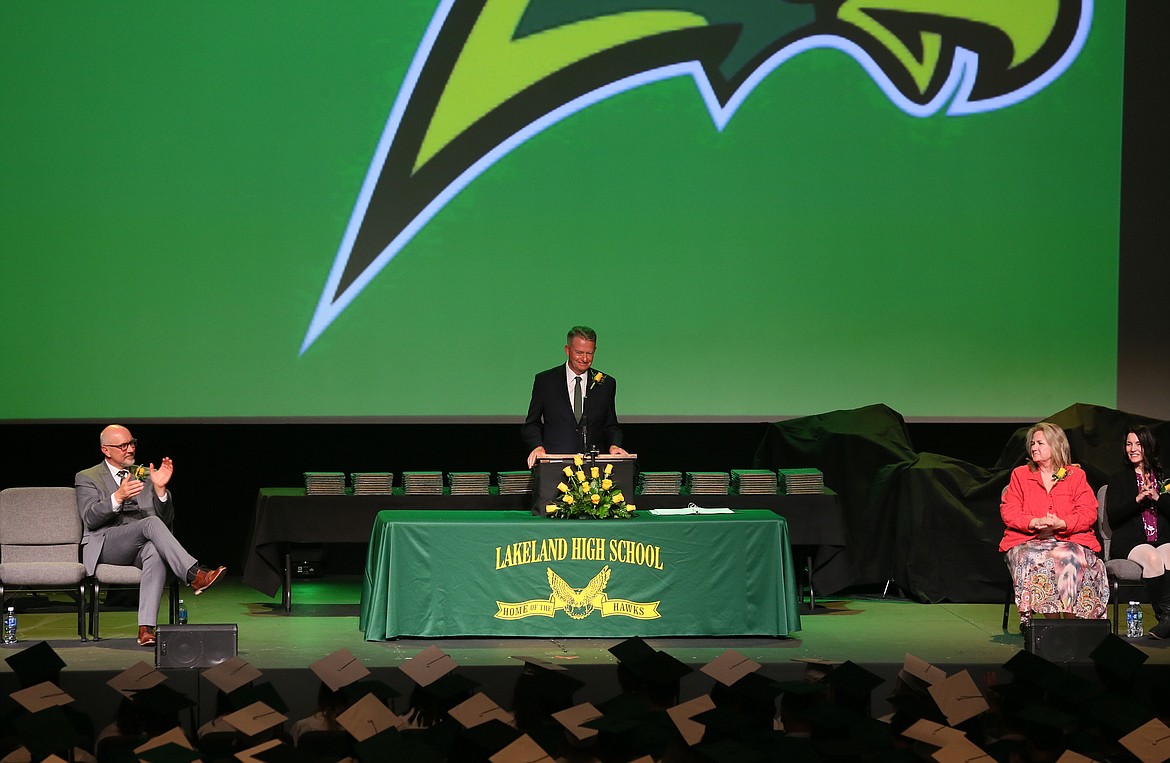 Idaho Gov. Brad Little shares words of wisdom Wednesday night as he delivers a special commencement address to Lakeland High School's graduating seniors.
DEVIN WEEKS/Press
by
DEVIN WEEKS
Staff Writer
|
June 10, 2021 1:08 AM
POST FALLS — One of Gov. Brad Little's favorite sayings is, "Change is inevitable; adaptation and survival are optional."
The tools he learned from his mentors helped him not only to adapt, but to thrive in the face of adversity.
He shared these tools with the Lakeland High School Class of 2021 as he delivered the commencement address Wednesday night at Real Life Ministries in Post Falls while friends and loved ones gathered to celebrate their grads.
No. 1 on Little's list of wisdom — the value of hard work.
"I've been fortunate to be acquainted with many successful individuals from a variety of fields," Little said. "We often hear that some of those people are lucky. I'm not a big advocate of luck as a strategy."
He quoted Louis Pasteur.
"Fortune favors the prepared mind," which, Little said, is an obvious result of hard, thoughtful work.
Second on the list: The ability to make the right choices and, most importantly, what you do with your "most precious resource:" time.
"Make the right choices about the people you affiliate with and who you choose to look up to as a mentor," Little said.
Third — the ability to continuously learn, "including critical thinking," Little said.
While high school is now in the rearview mirror, he said, it's only the beginning of what these grads will need to continue to learn after they leave.
"Your experience here has equipped you with the ability to think critically about everything around you," he said, "and planted a desire in you to challenge yourself to achieve greater things."
The fourth and final item on Little's list of tools for life: The ability to collaborate.
"In this rapidly changing world, working in teams is required now, more than ever," he said.
Little said he hears from employers that a necessity for future employees is the ability to work well with others.
These four traits, strengthened with integrity, Little said, "are all qualities that literally all the successful people in my life have learned."
"The fact that you're here today means you already possess all of these tools. No one can take them from you," he said. "Continue to sharpen your ability to use them."
---