Coaching changes at Lakeland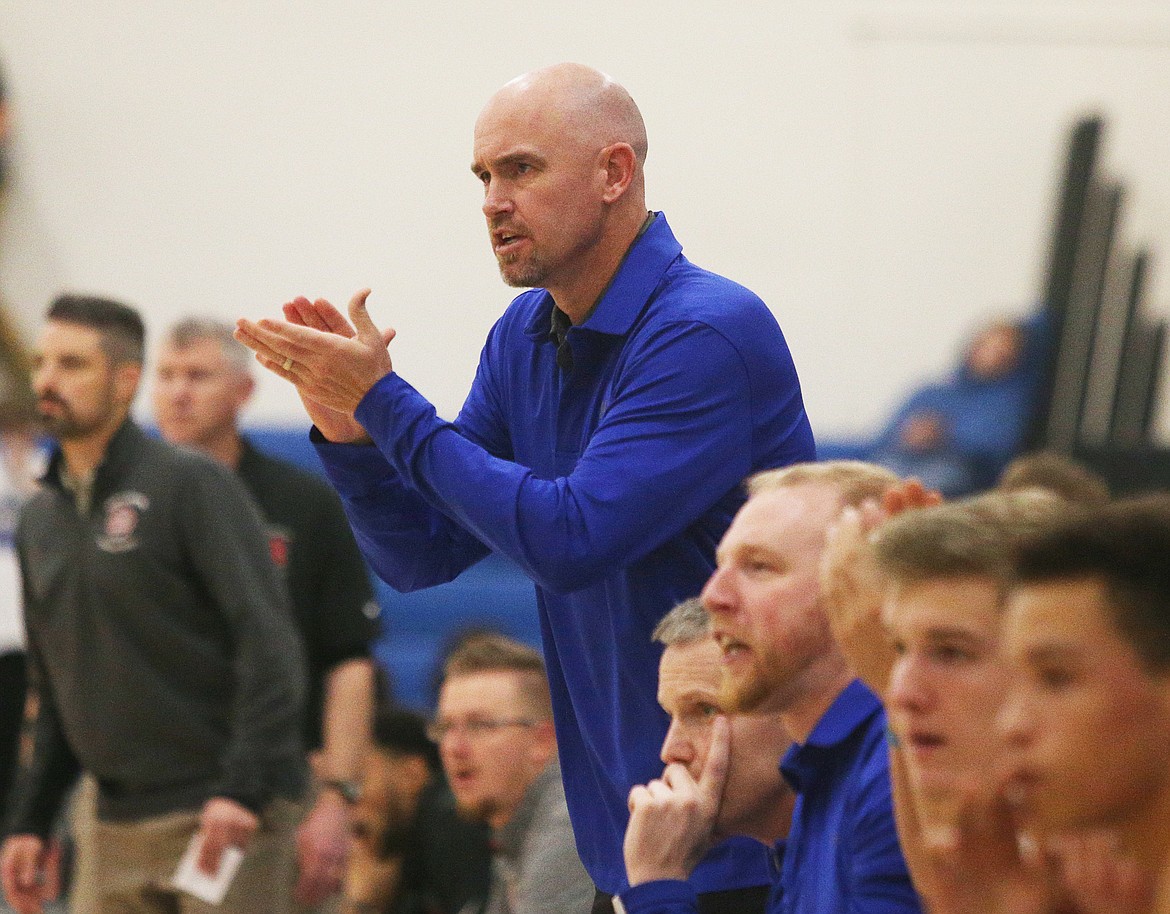 After previous stops at Coeur d'Alene and Timberlake high schools, Tony Hanna has taken over as Lakeland boys basketball coach
LOREN BENOIT/Press
By MARK NELKE
Sports editor
Tony Hanna wasn't out of the coaching business for long.
After stepping down as boys basketball coach at Coeur d'Alene High following the 2019-20 season, Hanna had planned to stay away from the basketball court for a little while, at least.
But ...
"Once you have that coaching in you, it's hard to get away from it," Hanna said. "I started to feel the fire again, so I volunteered up at Timberlake for a season, and that helped me get the passion back for it."
Recently Hanna, who formerly was head coach at Timberlake, was named boys basketball coach at Lakeland, replacing Dave Stockwell, who resigned following 10 seasons and a 118-112 record.
"We're excited to have him here," Lakeland athletic director Mike Divilbiss said. "People before, at previous places, are just sick that he's still not there. He's done such a great job everywhere he's been. Tremendous human being."
Hanna's hiring is just one of myriad coaching changes at the 4A school in Rathdrum.
Among the others:
• Colleen Bevacqua resigned after 17 seasons as Lakeland softball coach;
• Rob Edelblute stepped down after 22 seasons as the Hawks' wrestling coach.
• Longtime golf coach Mario Maddy stepped down, and longtime assistant Rick Anderson was named to replace him.
• Kevin Rogge is the new Lakeland girls soccer coach. Maddy had coached the Hawks from 1996-2019.
• Tennis coach Tyler Jacobs resigned after five seasons to return to the Post Falls School District, where he previously taught.
Hanna, a real estate agent, coached Timberlake for five seasons (2011-16), posting a 57-60 record and guiding the Tigers to their first state tournament berth in 2013. He remains the program's winningest coach. Prior to taking over the Timberlake program, Hanna was an assistant at Lakeland.
Hanna coached four seasons at Coeur d'Alene, going 43-45.
"I just love coaching, love being around the game, feel like I have quite a bit to offer," Hanna said. "It wasn't an easy decision, I'll tell you that, as to whether I wanted to get back in full time or not. But it feels like a really good fit to me."
Hanna, 44, is organizing the start of a club program in Rathdrum, for boys entering grades 4-8. He plans to facilitate, and give clinics for the coaches in the club program.
"So we have a feeder program, so these kids are ready when they get to the high school level," Hanna said. "Rathdrum hasn't really had that in the past, a club where anybody can be a part of. It's usually been a parent who's taken a group of kids. We want every grade level to have that opportunity to join a club and be part of something."
Lakeland loses some talented seniors from this year's 12-11 squad that won the Region 1 title and reached the consolation title game at state, but six return from that squad.
"I'm excited about the future of the program. We've got some things going," Hanna said.
Bevacqua guided the Hawks to state nine times, including a second-place finish in 4A in 2013.
Edelblute, who wrestled on Lakeland's two state title teams in 1988 and '89, has had the Hawks continually contending for state titles in recent years, including state runner-up finishes in 2016 and '18.
"Both of them had really great careers here," Divilbiss said. "Rob just does a great job running a program, and has that great youth program, and has won year after year after year. He has a lot to be proud of.
"Colleen too, had a high level of success. Obviously she had a great run, and did a great job. Lakeland's going to miss both of them."
Rogge, a former Gatorade Player of the Year in Nevada, was formerly an assistant under Lakeland boys soccer coach Jeremiah Beckett.
Maddy was Lakeland's first varsity girls soccer coach, and guided the Hawks for 24 seasons, including a second-place finish at state in 4A in 2005.
"Mario had a great run, did a lot of good things," Divilbiss said. "And we're thankful to Natalie Beaton for what she did as an interim girls soccer coach last year."
---