Dog gone good job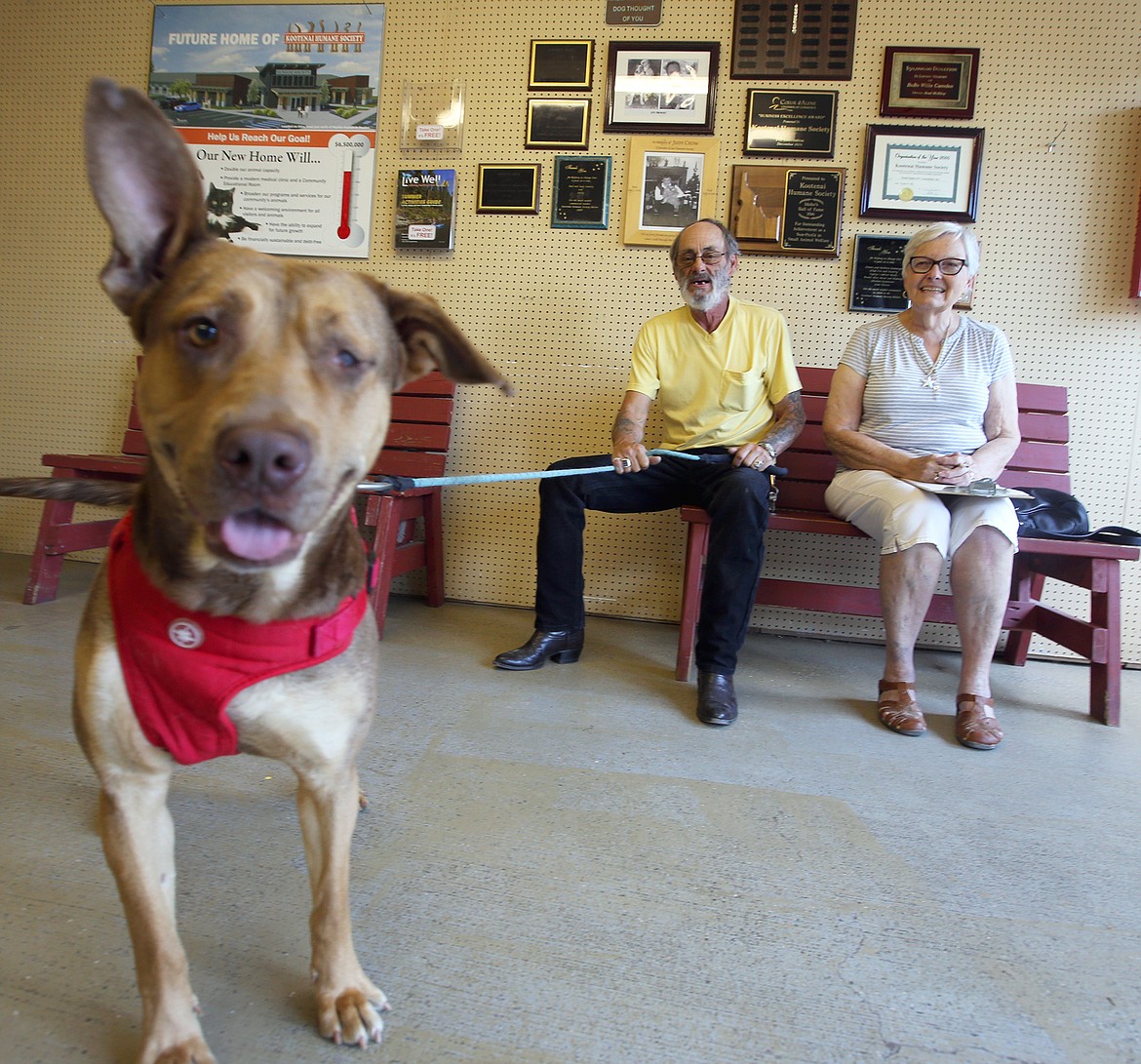 Monty and Carol Belknap of Wallace adopted Cleo on Thursday at the Kootne Humane Society.
BILL BULEY/Press
by
BILL BULEY
Staff Writer
|
June 6, 2021 1:08 AM
HAYDEN — When Monty and Carol Belknap's 15-year-old cocker spaniel passed away two weeks ago, they were heartbroken.
"She was our baby," Carol Belknap said.
The Wallace couple thought about whether to adopt another best friend right away, or wait. 
A decision came quickly.
Thursday, they arrived at the Kootenai Humane Society — before it opened and unaware the shelter at the end of Ramsey Road was closed to the public for walk-through viewing of the animals.
But fate was with them.
As they waited outside, they saw a dog walker heading out, with a canine companion prancing along at her side. It had one floppy ear, one droopy eye, but a happy demeanor, with tail wagging and tongue hanging out.
The Belknaps instantly loved this dog named Cleo and after a short visit, adopted her. They signed the paperwork Thursday afternoon.
"We're looking for a new one to love and give a home to," Carol said.
KHS has about 25 dogs — small and big, young and old, quiet and loud — in need of homes.
It has taken in several dogs lately from other shelters around the country that were marked to be put down. There are terriers, German shepherds, labs, retrievers, pit bulls and Australian cattle dogs.
Thursday, they greeted a visitor with excited barks, jumping and turning and sticking heads through kennels. All seemed to be good dogs, and their kennels were clean and well-kept.
So far this year KHS has adopted out 532 animals and has a 95% live-save rate. Last year, adoptions at KHS totaled 1,586.
The goal with the $6.5 million capital campaign is to build a shelter able to "accommodate thousands of animals annually who need medical care, rescued from life-threatening conditions, and help continue their journey in finding a loving home. "
A KHS fundraiser for the new shelter, "Adopt Felden," is offering the winner a choice of three luxury trips: Monterey golf experience; Tuscany culinary escape; and Belize. Tickets are $50 and the drawing will be July 4.
People like the Belknaps make life better for the animals and staff at KHS.
They might change Cleo's name to Chloe, as that's what they were calling her.
"Chloe is going to be our baby," Carol Belknap said.
Told the dog's name was actually Cleo, Carol nodded, but seemed to prefer Chloe.
"Well, she came to Chloe," said Vicky Nelson, KHS development director.
Recent Headlines
---