Safe Splash opens Monday
by
NILS ROSDAHL/Business Bits
|
June 6, 2021 1:06 AM
Teaching "learn-to-swim" and providing an Ironman certified training center, Safe Splash will open Monday south of Kathleen Avenue.
The facility features a 90-degree warm-water teaching pool, two above-deck continuous flow pools, professionally trained swim instructors and a teaching curriculum used in more than seven million swim lessons.
The above-ground pools train swimmers to swim against a current with mirrors below and their strokes captured on video for training purposes.
Owners Dawn and Erol Deren are helped by Jennifer Jackson and Arianna Anderson with hours of 9 to noon and 3 to 7 p.m. Monday through Thursday and 9 a.m. to 1 p.m. Fridays and Saturdays.
The place has a retail area for swim-related items and health snacks with party rooms and changing rooms. Safe Splash is connected to Streamline Brands which has more than 200 locations in 17 states and three countries. Locally phone 208-448-7979. A drive-through coffee stand will be built on the property.
Tubbs Coffee Roasters opens in Hayden
Tubbs Coffee Roasters celebrated its grand opening Saturday at 13430 N. Clovis Road. With inside seating on Saturdays and by reservation, the location is next to Tobler's Marina north of Lancaster off Highway 95.
The products include freshly roasted arabica and robusta coffee beans, house blends and single-origin whole-bean coffees with various sizes with retail sales, online shopping and wholesale sales with delivery available in the Inland Northwest.
Hours are 8 a.m. to 5 p.m. Tuesday through Saturday. Roastery tours will start June 19 by reservation. Jason Kilmer is the owner and roaster.
Phone 208-772-2688. Check www.tubbscoffeeroasters.com.
Brats & Brews opens in Spirit Lake
With owner Afton Henderson describing the place as "airy, fun and unique," Brats & Brews opened this weekend at 6249 W. Maine St. in Spirit Lake.
Located inside Fresh Air E-Bikes, the non-smoking, family-friendly pub offers a limited menu with craft beers and wine. With indoor bar seating and tables, outdoor seating and a back patio are included.
Hours are 11 a.m. to 8 p.m. Tuesday through Thursday and 11 a.m. to 10 p.m. Fridays and Saturdays. Live music is planned for summer Saturdays.
Phone 208-704-1100. Check BratsNBrews on Facebook.
Now the Tidbits
• Iron Pizza Co. & Taphouse will have its grand opening Saturday at 29801 Old Highway 95 in Athol. Christy Lee will perform 6-8 p.m. Details on the new place next week.
• What has been the Hogfish at 1920 E. Sherman is now Backwoods Whiskey with many changes coming. Details here soon.
• The 1210 Tavern at 1210 E. Sherman has closed and is for sale.
• The Dipper will close Friday in Gibbs Center at 1500 Northwest Boulevard.
• New places coming to Silver Lake Mall include Macadamia Coffee, Love Local, All Fired Up, Crime Scene Entertainment, American Heritage and Workwear by B.S.
• Back Forty Real Estate will be at 311 Coeur d'Alene Ave.
• A new Jitterz coffee stand will be at 7925 N. Ramsey.
• The Two Lakes Motel is near completion at 320 E. Coeur d'Alene Lake Drive.
• Stormin' Norman's Shipfaced Saloon will be at 314 N. Fourth.
• Embers By The Green will be at 4365 E. Inverness Drive in Post Falls.
• A "Coming Soon" sign for Consign Furniture & Jewelry is in the southeast corner of Lancaster Road and Warren Street.
• Watch for something coming into the ShopKo building…possibly Sportsman's & Ski Haus.
• A new commercial and residential building will be built at Government Way and Davidson Avenue.
• North Idaho Physical Therapy will have a new location on Schneidmiller Avenue in Post Falls.
• Killer Burger will put its first Idaho location near the intersection of Prairie and Highway 95.
• Watch for major changes with the Burger Bunker and Bunker Bar off Spokane Street in Post Falls.
• A new building for Linden Coffee Co. is under construction at 1502 N. Third.
• A new gas station-convenience store will be in the northeast corner of Atlas at Seltice.
• Truck manufacturing company Kenworth plans a large building for 4374 W. Expo Parkway west of Post Falls.
• A large storage complex and new corporate office for Steel Structures of America will be built off Highway 41.
• The Den will be a new tavern at 761 N. Idaho St. in Post Falls.
• My Nails & Spa will be off Canfield Avenue.
• The CdA Corner Store is adding a kitchen and tables downtown.
• A Union Gospel Mission thrift store will open in August at 7761 N. Government Way.
• Takara restaurant will be downtown.
• The building at 1015 Ironwood will house Element Dental and administrative offices for Northwest Dental Benefits.
• Schmidty's Burgers will be at 1524 E. Sherman.
• A 120-room boutique hotel will be where the Outback Steakhouse was off Northwest Boulevard and I-90.
• Coeur d'Alene Nissan will have a major addition to its building off Highway 95.
• Metro Car Wash will be near Wendy's in Post Falls.
• The Hayden Dairy Queen will be at 513 W. Hayden Ave.
• 108 North is under construction connected to the Moose Lounge downtown.
• A new motel is under construction on Coeur d'Alene Lake Drive between Mullan Avenue and Michael D's Eatery.
• Why do we say "Oh, man!" and "Oh, boy!" and never mention women or girls?
• • •
Contact Nils Rosdahl at nrosdahl@cdapress.com.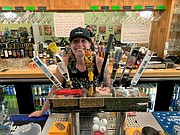 ---