Saved from the flames — and grateful
by
JAN MESSNER/Special to The Press
|
July 31, 2021 1:00 AM
It is with gratitude and thanks that I write this.
I live on Brunner Road. Friday afternoon on July 23, I heard the sound of a helicopter that was fairly close. I went outside and saw the large helicopter circling low just southwest of me. I noticed smoke coming from the trees where it was circling above. As I watched the next few minutes, I could see more and more smoke.
With the winds blowing northeast toward my direction, I immediately started to prepare to evacuate. By the time we grabbed a few things, loaded the birds and dogs in the vehicles, the firemen were rushing in my house telling us to leave now.
A fireman grabbed my husband in his wheelchair, rushed him outside, down the ramp and loaded him in the car. The fire was heading toward us, had already jumped Brunner Road and was burning the field next door as we drove out the driveway.
As I looked in the rearview mirror, tears filled my eyes just knowing how close it was and that in that instant we may lose everything. I thanked God we all got out alive.
It was hours later that we found out our house had survived the fire, and no homes were lost because of the unselfish dedication and bravery of our firefighters and first responders.
We want to send a huge THANK YOU from the bottom of our hearts to all who were involved in the Brunner Fire. If it weren't for you and the Grace of God, several of us would not have a home to go back to.
You are truly Amazing.
Jan Messner and Family
Athol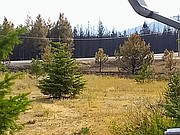 Recent Headlines
---