Reading, leading, achieving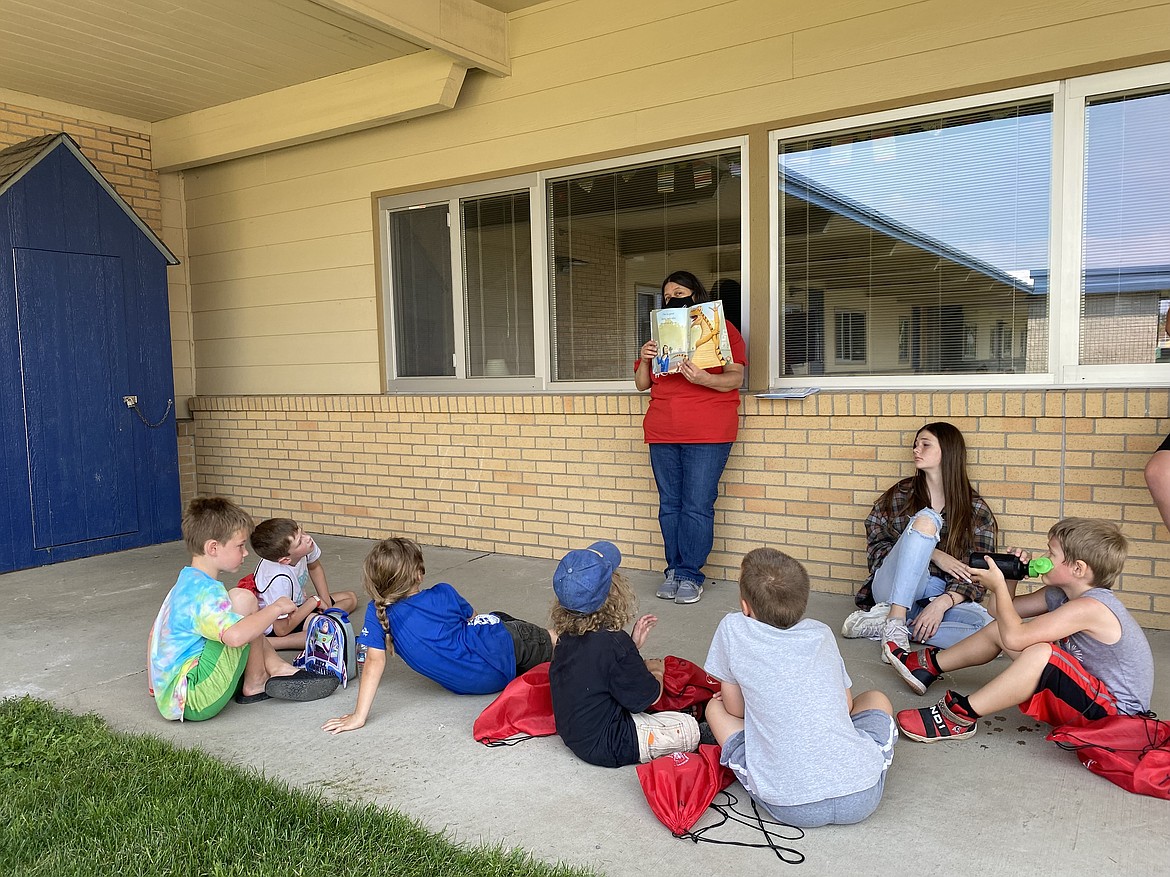 More than 800 Coeur d'Alene School District students were invited to participate in the summer CDA Reads program that concluded after seven weeks this Wednesday. (MADISON HARDY/Press)
by
MADISON HARDY
Staff Writer
|
July 30, 2021 1:00 AM
COEUR d'ALENE — About 65% of Idaho students in kindergarten through third grade were reading at grade level by the end of the 2021 school year.
CDA Reads, a summer reading program through the Coeur d'Alene School District, strives to fill that 35% gap.
Studies show that children who read proficiently by the end of third grade are more likely to graduate high school, go on to higher education and confidently enter society as an adult. 
"Reading serves as a foundation, and early literacy we have found is key to continued success," said Carla Zimmerman, a representative of the district. "By growing this program and working with students over the summertime, we are looking to ensure that success."
Although Zimmerman just recently started with the district, her students previously went through the program. As a parent, she felt opportunities like CDA Reads show how invested local schools are in their community. 
For about seven years, the CDA Reads program has aimed to improve literacy rates in K-3 students by fighting the "summer slide." Monitoring student slides, or a loss of learning during the summer months, is measured through the Idaho Reading Indicator test taken in the Falls and Spring semesters. 
"It's so easy to forget about school in summer where kids can put the books aside and just play," Winton Elementary School teacher Jodi Johnson said. "But we need to keep their head in the game."
Results from the 2021 IRI showed 65.1% of K-3 students were reading at grade level. In 2019, 69.7% of students were meeting IRI level standards. 
"There are some statistics that tell us if kids get their hands on 16 books over the summer, that will do a lot to prevent summer slide," Johnson said. "We show that kids who don't have that support in the summer tend to regress in their reading performance." 
This week, over 100 Coeur d'Alene students ran around the Borah Elementary School grounds participating in STEM activities, mentoring from volunteer Canfield Middle Schoolers and practicing reading strategies to build skills. 
"The strategies are something we've developed in the Coeur d'Alene School District," Ramsey Magnet School music teacher Spencer Normington said. "(They) dig into how we can get our students to think more critically rather than surface level." 
Over the last seven weeks, more than 800 K-5 students who struggle with reading were invited to attend the two-day event and take home up to 28 books — all for free. 
On Tuesday, local children's author and founder of Jazzed about Reading, Annie Winston, read with participants and gifted copies of one of her books. 
The cherry on top? Parker Toyota and the Innovia Foundation donated mountain bikes and gear to four kids.
"Innovia has been invested in enhancing literacy initiatives in this community for several years," said Aaron McMurray, the Innovia chief strategies officer. "We knew that doing things in summer to keep kids reading, keep them energized and motivated to read is so important, and the CDA Reads strategy is an extension of that work." 
The two organizations also provide $3,000 in grant funding for books and programming. 
"We try to give back to the community as much as we can, and a big part of our focus is on kids," Parker Toyota Human Resources director Kyeli Reinert said. "When we found out that if we can get everyone to read by the third grade their chances improve for succeeding in school, life, and in the community, we felt CDA Reads was a good cause." 
Other partners for CDA Reads include the Community Library Network, Coeur d'Alene Fire Department, K-3 Literacy Funding, Opening Books Opening Doors and additional grant dollars. 
---