Idaho's deer in danger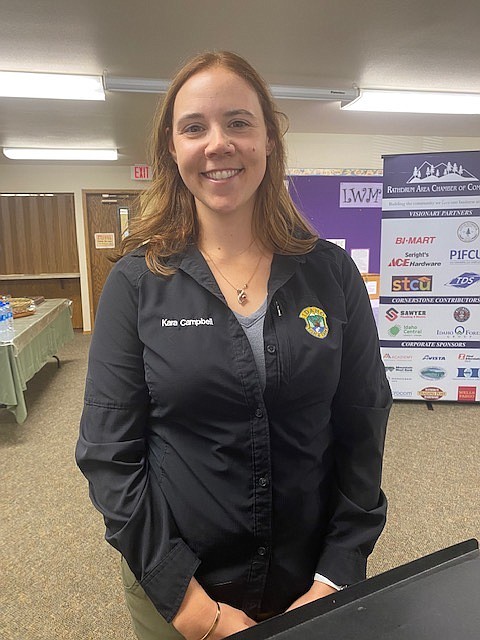 Kara Campbell, communications manager with Panhandle Regional Office - Idaho Fish and Game, spoke Thursday to Rathdrum Chamber of Commerce members about chronic wasting disease and the deer population
ELLI GOLDMAN HILBERT/Press
by
ELLI GOLDMAN HILBERT
Staff Writer
|
July 26, 2021 1:07 AM
RATHDRUM — Idaho's deer, elk and moose populations are at risk of contracting chronic wasting disease.
CWD affects only the cervid population, which includes deer, elk, moose, reindeer and caribou. It's highly contagious and 100% terminal once contracted.
"It's not if it happens, it's when it happens," said Kara Campbell of the Panhandle Regional Office — Idaho Fish and Game.
Idaho Fish and Game has been monitoring CWD since 1998. While there have been no confirmed cases in the Gem State, outbreaks in Montana, close to Idaho borders, have made the Panhandle a hot zone.
Campbell told about 30 Rathdrum Chamber of Commerce members last week that in some areas where the disease is detected, 40-60% of the animals have been confirmed to have it.
CWD causes neurological damage similar to Mad Cow Disease, Campbell said.
Animals contracting the disease can look healthy for up to 18 months.
When symptoms appear, these are the signs to look for: drooling, foaming at the mouth, excessive thirst, grinding of teeth, emaciation and changes in behavior. Once symptoms develop, death is imminent.
Elk with CWD, for example, will come closer to humans and lack the hesitation or aggression they normally display, Campbell said.
CWD is characterized by porous sponge-like lesions in the brain caused by abnormally shaped, non-living proteins. It's not a virus, bacteria or fungus, making it difficult to eradicate.
Passed to other animals by way of saliva, urine or excrement, it can be absorbed by plant matter in the infected animals' environment, where it can remain for years.
"It is really hard for us to figure out how it jumps from one area to another," Campbell said. "But the animals are moving and it's important to get this information out to folks immediately."
Fish and Game has a comprehensive plan for Idahoans to follow to prevent the spread of the disease. Campbell told her audience to know and follow Fish and Game rules, dispose properly of carcasses, submit game for testing and report symptomatic animals.
Hunters can voluntarily submit game to be tested for the disease. Close to 15,000 samples have been collected and Fish and Game does annual targeted testing in the Panhandle.
Hunters need to bring the whole head of their harvested game, including some of the neck, to a Fish and Game office. Access to the lymph nodes and brain stem, where the disease is harbored, is required for analysis to be done.
"The more we can test," Campbell said, "the better it is to detect things."
Though there is no evidence the disease transfers from infected meat to humans, Fish and Game recommends having wild meat tested.
"If you feel better about waiting to get results before you eat your deer, it takes four to six weeks for results," Campbell said. There are no labs in Idaho qualified to perform the test.
A ban has been passed prohibiting the use of natural cervid urine for big game hunting because the disease is transmitted through infected bodily fluids.
Fish and Game prohibits bringing a cervid carcass into Idaho from any state or Canadian province where CWD has been detected. Montana, Wyoming and Utah all have confirmed cases.
Exemptions from the rule include meat that's cut and wrapped, meat that doesn't have brain or spinal tissue attached, hides, teeth, antlers or clean and dry skulls.
The disease doesn't seem to affect pregnant animals, but the cervid population as a whole will be at risk when the disease reaches Idaho.
Info: idfg.idaho.gov/cwd, Panhandle Fish and Game located at 2885 W. Kathleen Ave., or by phone 208-769-1414
Recent Headlines
---