Winding around Boise waterways
by
TYLER WILSON/Special to The Press
|
July 25, 2021 1:00 AM
If you're tired of the sky-high local real estate prices, I've got some bad news for you. It seems to be expensive everywhere, or, at least, around some of the Northwest's most popular destinations outside North Idaho.
In a continuation of our summer mini-series, Neighborhood of the Week decided to check out a few other regional hotspots. And, OK, full disclosure, these particular locations just happen to be places I've recently visited on an extended excursion outside the area. You want the regular Neighborhood of the Week back? Don't worry, it's coming. Here's a preview: Prices are high and availability is limited in (INSERT NORTH IDAHO NEIGHBORHOOD HERE).
Next on our mini-series: The Boise area, and specifically the availability of homes along the waterways, particularly the Boise River and Lake Lowell and the Snake River (accessible southwest of Nampa). Since we're North Idaho folks, we don't bother looking at places without pretty waterways.
The Boise metropolitan area, which includes places like Caldwell, Nampa, Eagle and more, continues its explosive expansion. There's always something new, be it a shopping complex or new neighborhood expansion every time I visit, usually every year to see family and friends.
Downtown Boise remains an unexpected gem of a small-city metropolitan area, with an excellent variety of eating/drinking establishments and eclectic shopping. Zoo Boise is a solid visit for families, and as a University of Idaho alum, it also pains me to say just how fun it is to hang in-and-around the Boise State University campus near the Boise River. But go Vandals!
Boise River living options are rare and expensive with your best bet being apartments and condos near the Boise State campus and/or Ann Morrison Park. Even then, a new construction condo overlooking the park there with two bedrooms and just over 1,800 square feet was priced at $825,000. Some of the closest-to-the-river homes actually on the market were still without a clear view and well above the $1 million mark.
Some nicely remodeled older homes in the Veterans Park area (close to Boise's whitewater park, run from $450,000 to $850,000 depending on square feet and the overall extent of the remodels.
If you're OK with waterways that aren't natural, you could head to Meridian and secure a home in a neighborhood near Roaring Springs Water Park, with prices around there starting at $425,000 for a late-90s built rancher up to newer construction of slightly larger homes priced near $600,000.
You're not going to get on-the-water at Lake Lowell outside Nampa (it's part of Deer Flat National Wildlife Refuge), but a few lakeview properties include a '70s-built home with more than 3,600 square feet priced at $775,000, or you can start with 5 acres of blank slate and build a lakeview home near there — lot price $920,000.
Maybe the best option is just outside the hustle-bustle of Boise/Nampa/etc. with properties southwest along the Snake River, near towns like Marsing and Homedale. It's a beautiful "wine-country" that's the perfect setting for weddings and events (I got married with a view of the Snake River… not bad). Prices for homes with river views out here can go as low as $500,000, but you're more likely to come across newer, larger properties (2,000-3,000-square-foot homes) priced around $850,000 to $950,000. Lots in that same area average around $300,000.
• • •
Stay tuned for more Neighborhood of the Week on the road (and in North Idaho) this summer.
Let us know about more standout neighborhoods and new developments that we may feature in an upcoming column. Contact Tyler Wilson at twilson@cdapress.com.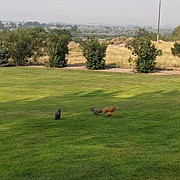 ---