Democrat leader weighs in on forms of government
by
MADISON HARDY
Staff Writer
|
July 23, 2021 1:06 AM
Kootenai County Democratic Central Committee chairman Evan Koch didn't declare a favored form of county government, but he did name a weakness: partisan elections. 
Koch repeatedly stated to the optional form of government study commission Wednesday night that he lacks the political knowledge to define what might improve operations. However, he encouraged scrutinizing the three-commissioner method.
"The three commissioner form of government may have worked well when few people lived here, but the Idaho Business Review says Coeur d'Alene is the fifth fastest-growing metropolitan area in the country," Koch said. "To adapt to rapid growth and to meet the needs of a larger and more diverse population, we should at least consider a more sophisticated and perhaps a different form of government." 
A fault Koch noted in government is the potential ease of board politicization toward one ideology. Referencing recent tension on the North Idaho College board of trustees, Koch pointed to how "an institution of government deteriorates when one party exerts his own agenda unchecked." 
"Polarization of the NIC board of trustees has led to the abuse of power, abuse of the rights of the minority, a loss of reputation and it has placed NIC's accreditation at risk," Koch said. 
Considering NIC's leadership structure of a five-member trustee board and president, study participant Bruce Mattare asked Koch if he felt a five-person commission and county manager would be more susceptible to "unchecked" agendas. 
"You're attributing cause and effect. You're saying that because it's five trustees that it is susceptible to politicization," Koch said. "What I'm saying is that any form of government is susceptible to politicization."
When pressed further about that comment, Koch exhibited a Kootenai County Republican Central Committee candidate vetting sheet he said was "designed by the GOP to weed out candidates they might not want." Instead of voting on party lines, Koch said the public should support candidates for their knowledge and skill sets. 
"Leave your personal politics at home, come in, do your job and get along with people who you don't even know whether they agree or disagree with you," Koch said. 
Though Koch repeatedly expressed his lack of bias for a particular government structure, he could not find an objection to increasing the number of commissioners. 
"It seems to solve a couple of problems in my mind. The problem is being able to speak confidentially with one or two other commissioners. That's the nature of some political discussions. They have to be confidential," Koch said as a murmur from the crowd grew. "We have confidential discussions on issues that sometimes are too volatile to discuss in a group."
Study commission chair Dave Botting addressed negative audience commentary several times, asking individuals to treat Koch with the same respect given to Republican figures interviewed previously. 
"You are here to observe, not to disrupt," Botting said.
"And you are not here to attack the public," a male audience member responded. 
Since starting the investigative process on May 26, the study commission has not yet opened meetings to public comment. Now two months in, with a growing number of participants attending the weekly meetings, the group agreed to hold at least one comment opportunity in September. 
"One of the reasons we're not taking public comment is because just like you (the public), we're trying to get up on these issues," vice-chair Brian Cleary said. "We've got to get oriented, and that public comment is going to come."
Public comment has been accepted by email, through kcofg@kcgov.us, but not in person. Wednesday night, Cleary told the audience that study participants have received many submissions and are reading them.
"These are not being ignored," he said. "We are reading those emails. We appreciate them."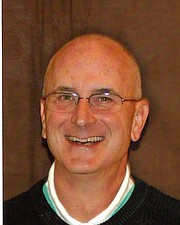 Recent Headlines
---