New fitness center coming to Post Falls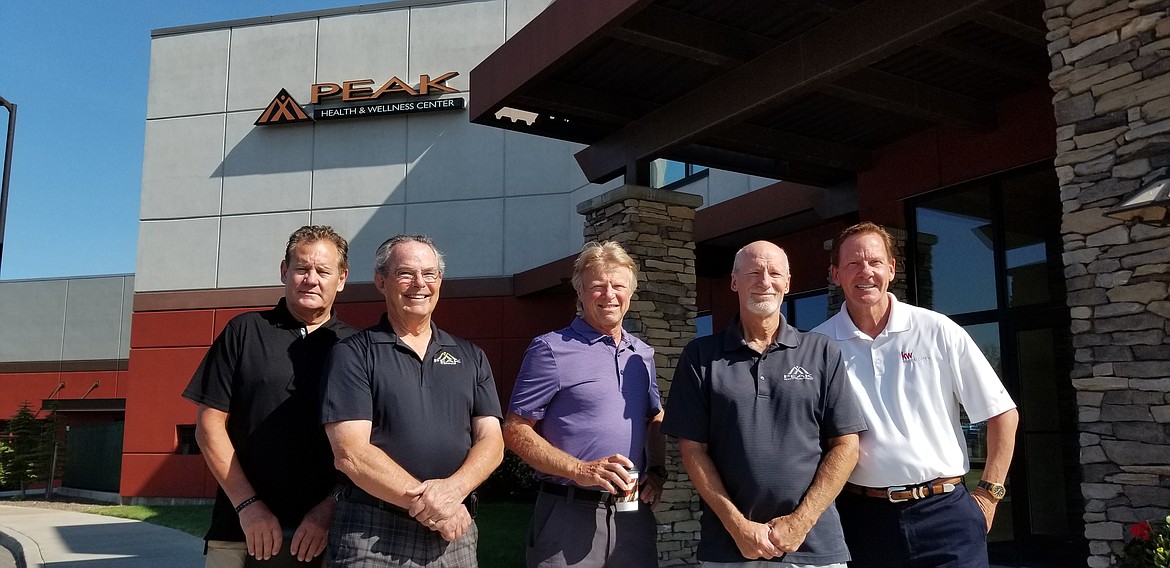 A planned 50,000 square-foot fitness center in Post Falls will be the fourth PEAK Health & Wellness location in North Idaho. Left to right: Jack Tawney, Jim Doty, Chip Althen, PEAK Managing Partner Gary Retter and real estate agent Rick Scharf. Courtesy photo.
by
KAYE THORNBRUGH
Staff Writer
|
July 22, 2021 1:08 AM
POST FALLS — This fitness franchise hasn't peaked yet.
To meet the needs of a growing population, PEAK Health & Wellness Center will add a fourth facility.
The new location will be along Highway 41 at Prairie Avenue in Post Falls, in the Prairie Crossing Shopping Center that's currently under development.
"It's going to be one of the best spots in Post Falls," said PEAK managing partner Gary Retter. "It's perfect for us."
Construction will begin this fall, with a projected opening date of fall 2022.
PEAK also has locations in Coeur d'Alene and Hayden, as well as another facility in Post Falls.
The area's rapid growth was a factor when choosing a site and designing the new fitness center, Retter said.
Membership at the existing Post Falls facility — located at 927 W. Polston Ave. — has outgrown the space.
"Our class sizes aren't big enough," he said. "Our weight room isn't big enough."
To that end, he expects the new, 50,000-square-foot fitness center to accommodate years of population growth.
"We're coming in at the right time," he said.
The new location will feature the largest number of dedicated indoor pickleball courts in the nation, Retter said, with eight inside and another four outside.
That many courts are needed just to keep up with demand.
Pickleball is the fastest-growing sport in the United States, according to the Sport and Fitness Industry Association, with participation increasing by about 21% last year.
In 2019, participation in the sport grew by 7%.
"In an hour, you can learn how to play," Retter said.
Retter, a former professional racquetball player, said pickleball appeals equally to older adults who can't keep up the higher-impact sports they enjoyed in the past and to younger people.
"We've got people who are 80 years old and 15 years old playing," he said. "It's a game for everyone."
The facility will also offer the area's largest selection of weight and cardio equipment, Retter said, as well as group fitness studios, upscale locker rooms, dry saunas and steam rooms and child care.
Though it's grown over the decades, Retter said PEAK remains a locally owned operation with a tight-knit team.
"We're so happy we've been serving the community for the last 40 years," he said. "This is the next step."
Info: www.thePEAKid.com.
---