$330,000 raised for Children's Village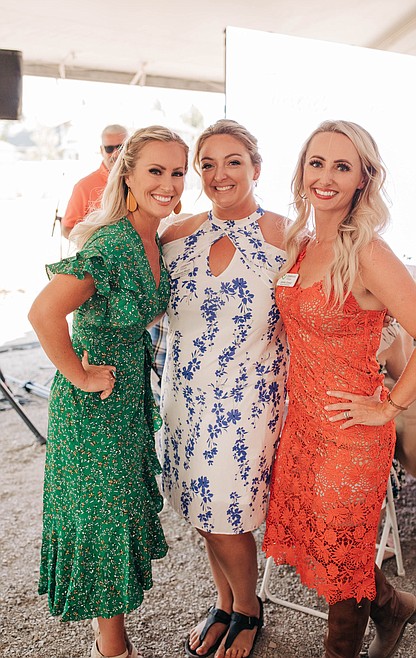 Photos courtesy Meagan Mylan Photography Griffen Turnbull, left, Vanessa Moos, center, and Jamie Green enjoy the recent Children's Village fundraiser.
COEUR d'ALENE — For the first time in the organization's history, 31-year-old Children's Village hosted its annual auction benefit on campus last week.
The outdoor sold-out event was attended by 400 guests and raised a record-breaking $330,000 through corporate and table sponsorships, silent and live auction, raffle and paddle raise.
Guests enjoyed a three-course dinner by David Adlard of Candle in the Woods and dessert by The Village Bakery.
"We're in awe of this community. We did something so powerful and so purposeful for these kids," said event co-chair Griffen Turnbull.
Money raised at the event supports the operations of two 8,000-square-foot residential homes. The homes have shifted from shelter homes to Qualified Residential Treatment Program homes, internationally accredited by the Commission on Accreditation of Rehabilitation Facilities.
Local children who are experiencing a family crisis or have experienced trauma learn to cope thanks to highly trained staff, in-house therapy, and a therapeutic program model designed to increase skills and sustainability in traditional home settings known as Trust-Based Relational Interventions.
"Our future is crucial as we watch the penalties of a global pandemic and an emerging local crisis of housing," said interim CEO Vanessa Moos. "With the investment from so many in this community, we continue to be here and ready to serve whenever the kids need us."
---