Free to fly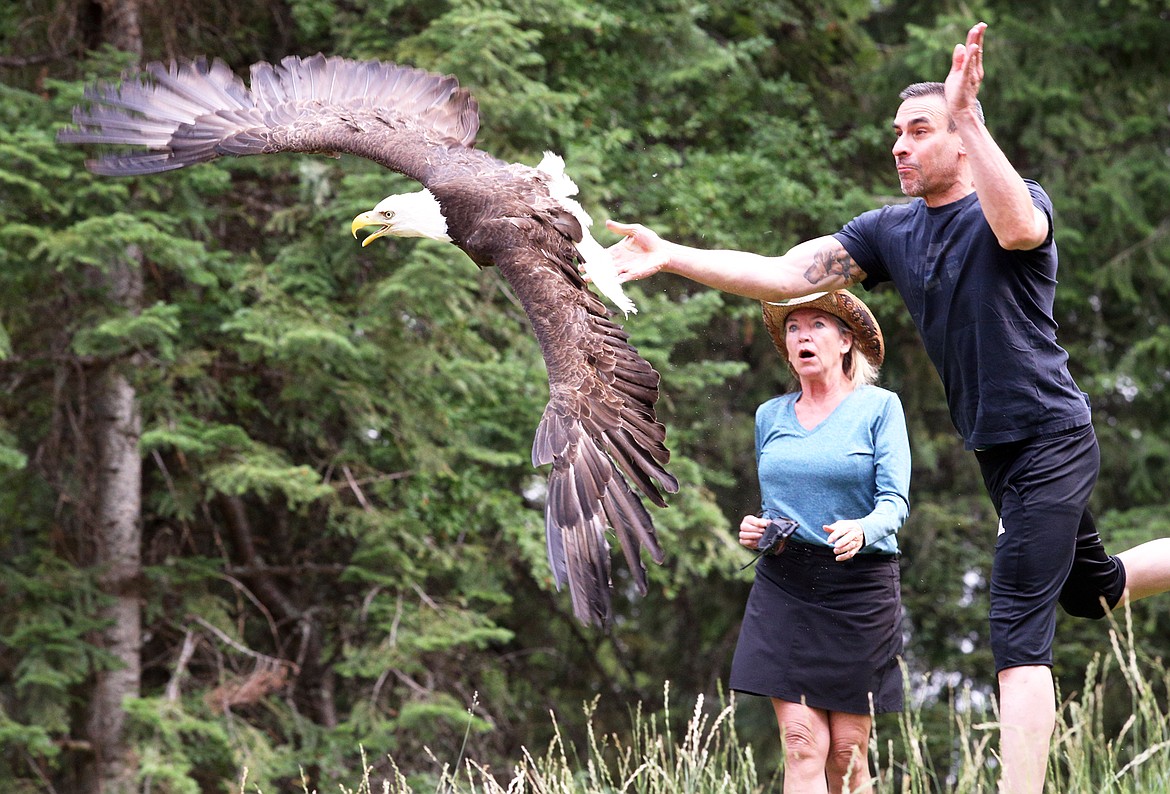 Drew Day lets a bald eagle fly free while Jane Veltkamp of Birds of Prey Northwest looks on in Coeur d'Alene on Tuesday morning.
BILL BULEY/Press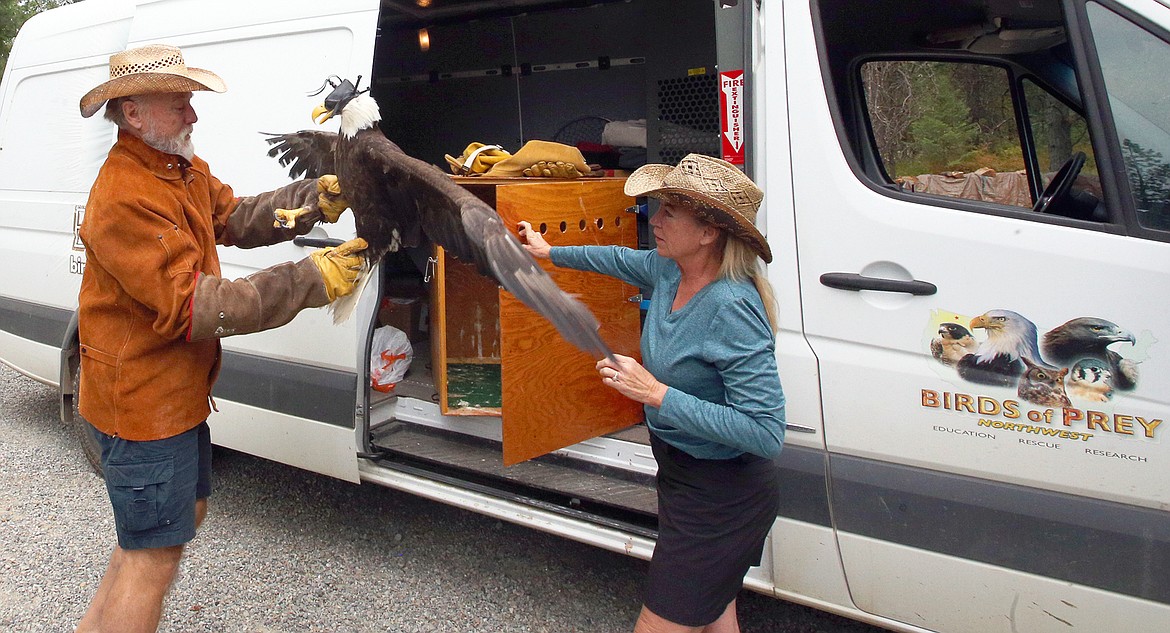 Don and Jane Veltkamp of Birds of Prey Northwest remove a bald eagle from its box and prepare to remove its hood before it is returned to the wild Tuesday.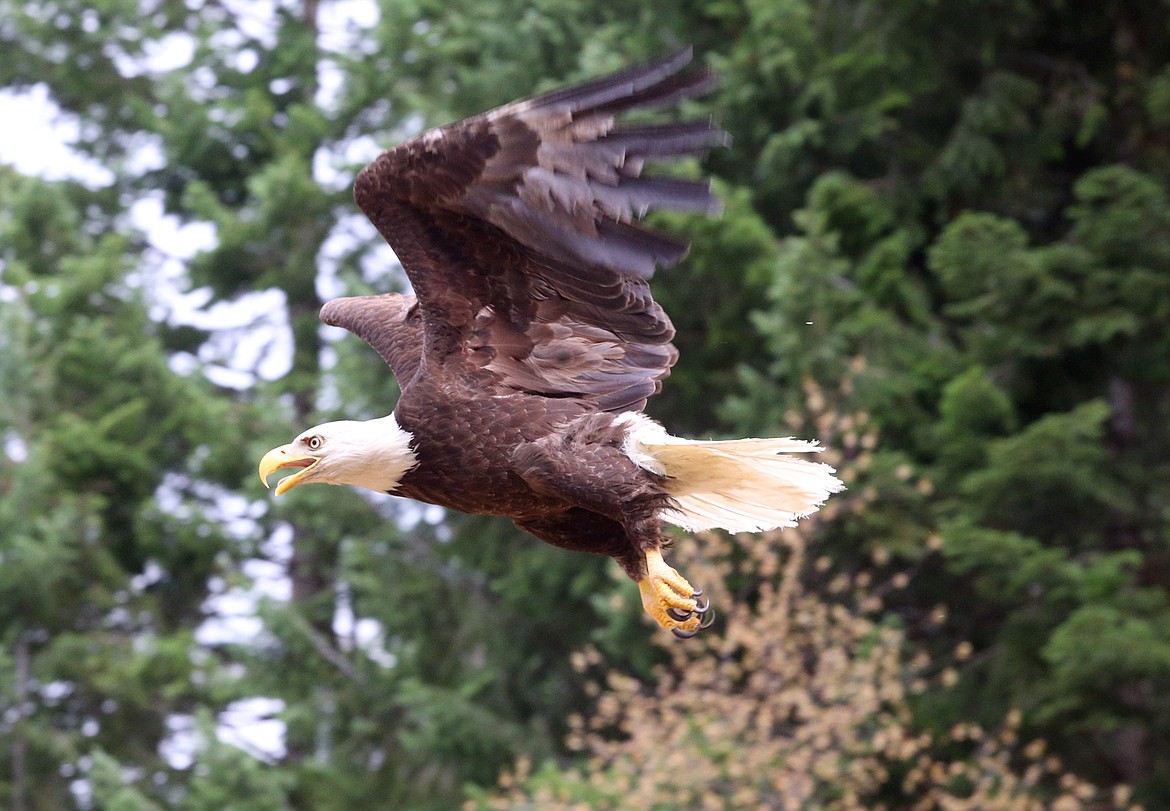 A bald eagle named "Wolf" flies to freedom Tuesday.
Previous
Next
by
BILL BULEY
Staff Writer
|
July 21, 2021 1:08 AM
COEUR d'ALENE — Drew Day looked nervous as he held the 10-pound bald eagle in his hands.
He took a deep breath, and in a quick motion threw his arms forward and upward and let go of the majestic bird.
Then, it did what the six people there were hoping it would do. It flew. Its eyes focused, its beak open, its talons at the ready. If an eagle can look happy and excited, it did.
It gradually soared higher, wings flapping powerfully. As it became a distant dot of white and brown feathers, Lake Coeur d'Alene and Wolf Lodge Bay in the background.
Jane Veltkamp smiled, her blue eyes delighted, as her eyes followed the male eagle flying away.
"Wow," said the raptor biologist and owner of Birds of Prey Northwest. "That was something."
Months of work went into that moment on a cool Tuesday morning at a Melendreras Road home.
It was there, on May 22, that Marcus Shaw was walking up the driveway when he saw a deer and noticed a white spot behind it.
"I thought it was trash," he said.
Not trash. An eagle.
Its wings were out, but it couldn't walk. Shaw didn't know what was wrong with it, only that it was hurt.
"It was in defensive mode," he said.
A neighbor told him about Birds of Prey Northwest, and he called. The eagle tried to move away, but Shaw kept it in sight in the rain.
Soon, volunteer Drew Day arrived and without much trouble, picked it up. Soon, it was at Birds of Prey in St. Maries.
Veltkamp believes it was likely struck by a vehicle, perhaps on Interstate 90 below, injuring its spinal cord and paralyzing its legs. It still managed to fly higher and then land, she said.
It's not known how long it was there before Shaw found it, but Veltkamp said it was close to death.
"This was a complete starvation case," she said, noting it weighed only 7 pounds when it arrived at Birds of Prey. "When he came to us he was paralyzed for a month and could not even stand up."
His chances of survival were less than 10%, she said.
Don and Jane Veltkamp, staff and volunteers worked on the eagle they named "Wolf" around the clock for the first weeks. As they fed and performed physical therapy with him, he slowly regained strength. He moved to an aviary and began walking, then flying, short durations at first, then longer times in the air.
"We pulled him through," Veltkamp said. "You just don't give up."
Veltkamp, on her way to Seattle to release another rehabbed eagle, said Wolf was 100% and would be fine on his own.
"This was a miracle case," she continued. "We worked tirelessly to recover this bird."
Shaw was updated on Wolf's progress.
"Thank you for what you did," Veltkemp told him.
Shaw didn't take much credit for his role in saving the eagle, but was pleased it recovered.
"That's great," he said.
Day has been a volunteer with Birds of Prey a few years. His wife, Laura, is a nurse, so together the two have rescued eagles, hawks and falcons
"We trained them to stabilize these birds until they get them to the ranch," Veltkamp said.
Day, selected to release Wolf as a thanks to his volunteer efforts, was humbled to receive such an opportunity.
"It's paying a debt back, really, is what it is," Day said.
Day said holding the bald eagle was incredible.
"I could just feel the strength," he said. "That's a strong bird."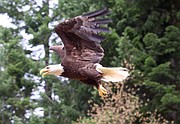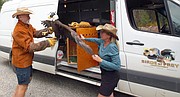 ---