Stars, stripes and sacrifice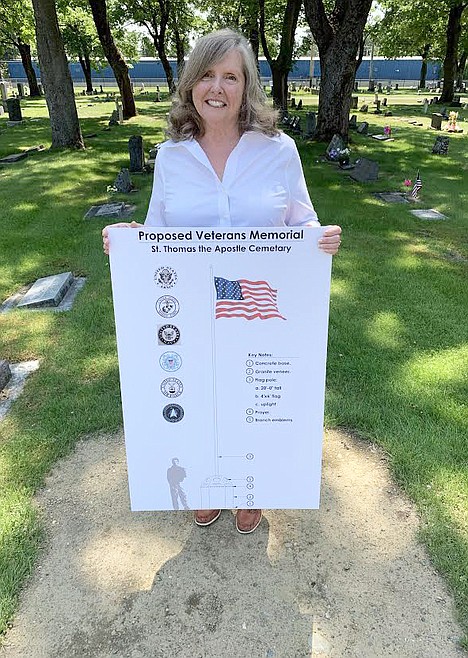 Anne Wilson of the Stars and Stripes Ministry at St. Thomas Catholic Church holds an artist rendering of plans for a veterans monument at St. Thomas Cemetery.
BILL BULEY/Press
by
BILL BULEY
Staff Writer
|
July 21, 2021 1:00 AM
COEUR d'ALENE — Anne Wilson learned young to appreciate veterans. Her father, Thomas Wilson, served with the Navy in World War II.
"He just instilled patriotism in our family so much," Anne Wilson said.
It was that love of country that led Wilson to form the Stars and Stripes Ministry at St. Thomas Catholic Church four years ago.
Today, she leads a committee of about 10 that organizes services and events for veterans and first responders
"I'm so proud of it all," Wilson. "I love our veterans."
Wilson and crew are about to kick off their latest endeavor, a permanent veterans monument at St. Thomas Cemetery.
On the weekend of Aug. 7, Purple Heart Day, and Aug. 8, Stars and Stripes Ministry is launching a drive to raise $25,000 for the monument at the cemetery at the east end of Coeur d'Alene on Sherman Avenue.
It will consist of a 4-foot high granite hexagon with a lighted 20-foot steel flag pole in the middle. The insignias of all six branches of the military will be etched on each of six panels with a short scripture — ​​"There is no greater love than to lay down one's life for one's friends," — John 15:13 — etched just below the insignias.
"We, the Stars & Stripes Ministry, are not only pleased with the original design but of what it represents as we pay homage to our country's heroes, our veterans," Wilson said. "Our historical church and sacred cemetery has always been a significant part of CDA and we feel this will be a genuinely treasured part of CDA's legacy."
The Stars and Stripes also organizes a military tribute around Memorial Day, a Blue Mass on Sept. 11, when they show appreciation to first responders, and a veterans Mass, Nov. 7, which is followed by a luncheon with tributes to military.
St. Thomas has made several improvements to the cemetery in the past year funded by donations, including new fencing, statues, benches, signs and QR-coded system for finding gravesites. The shrine is also being updated.
The goal for the monument is to raise the $25,000 by Veterans Day and have a contractor hired for the job by year's end.
Wilson said with about 500 veterans buried at St. Thomas, the cemetery is "the perfect setting" for a monument in their honor.
"It's awesome to have the opportunity to do it and have the support of the community," she said.
Recent Headlines
---