Character Complex fire 5% contained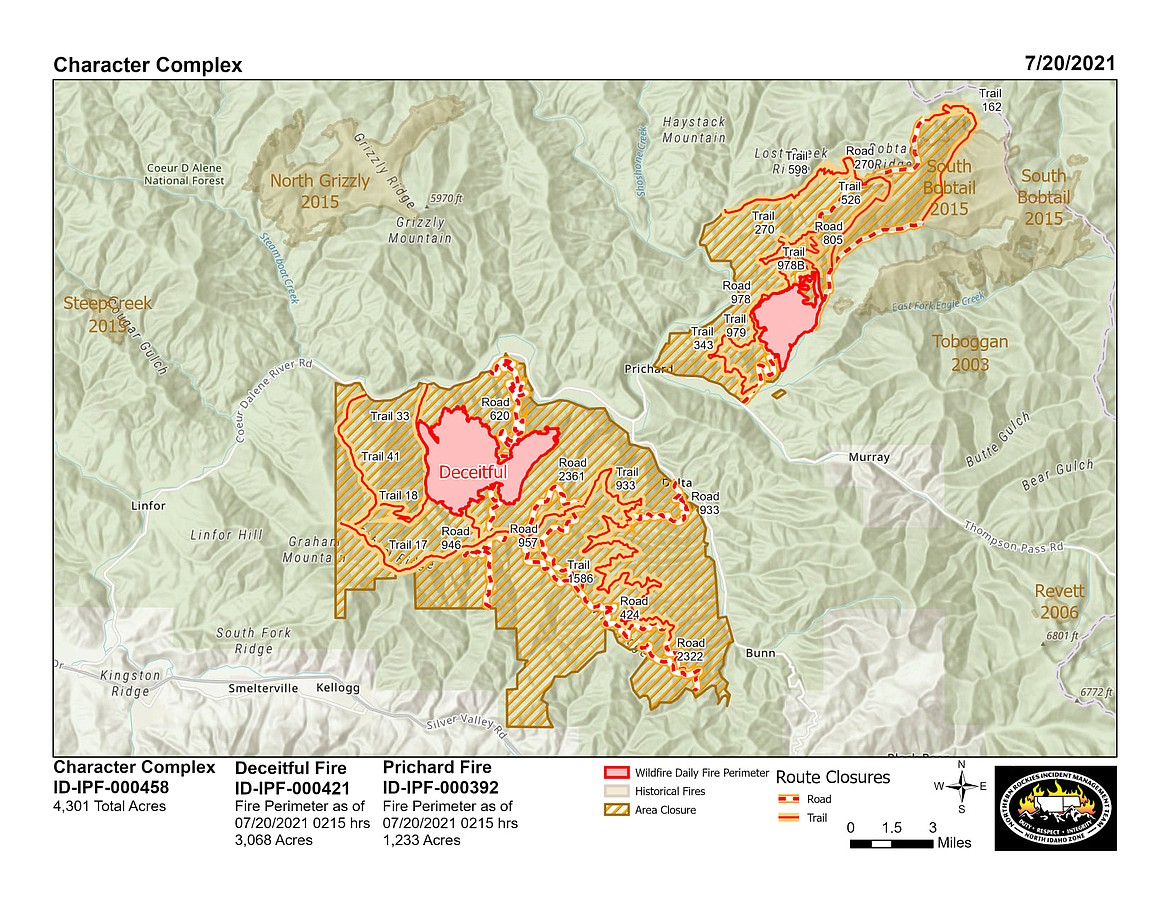 by
KAYE THORNBRUGH
Staff Writer
|
July 21, 2021 1:06 AM
KELLOGG — Even as crews work around the clock to slow the spread of flames, the Character Complex fire continues to grow.
Comprised of the Deceitful and Prichard fires, the complex has burned more than 4,300 acres north of the Silver Valley since lightning sparked it earlier this month.
The fire is 5% contained as of late Tuesday, with 382 personnel working to combat the conflagration.
Fire behavior analyst Alan Carson said a lack of precipitation combined with unusually dry fuel is creating a challenge.
"The stage is set against us," he said during a public meeting Monday night at Kellogg High School.
All kinds of plants can act as fuel for a wildland fire, including trees, grasses, shrubs, trees, dead leaves and fallen pine needles.
When burning fuels contain some moisture, dropping water or aircraft retardant on them can suppress the fire enough for ground forces to move in and knock down the blaze.
But the fuels in the Character Complex fire area are bone dry.
"These fuels are so dry that they're resisting what has typically worked really well in the past," Carson said.
Meanwhile, red flag warnings for lightning and gusty winds remain in effect for North Idaho through Wednesday morning, further complicating firefighting efforts.
The Deceitful Fire has burned more than 3,000 acres so far.
Officials said a direct attack on the blaze is difficult because it's burning in a heavily timbered, inaccessible area.
Fire managers have developed a plan to confine the fire between Graham Ridge, Graham Creek, Cedar Creek and the North Fork Coeur d'Alene River.
Crews with masticators and dozers are improving multiple indirect lines and constructing new indirect lines.
An indirect line is a fire line placed a distance away from the fire edge.
Meanwhile, the Prichard Fire continues to back downhill toward West Fork Eagle Creek.
Firefighters are reportedly making progress on the blaze, which has burned more than 1,200 acres so far.
Crews worked early this week to hold and begin to mop up the fire line in steep, rugged country adjacent to the fire's northeastern perimeter.
The structure protection group has installed equipment in the event that they need to defend personal property in the Eagle Creek drainage.
The Shoshone County Sheriff's Office has placed residents within the Coal Creek — Prichard Zone in Level 2 evacuation readiness status.
That means residents should be prepared to evacuate, with supplies gathered and vehicles fueled and ready to go.
Fire managers and SCSO have prepared a population protection plan for both fire areas.
There is a temporary flight restriction over the fire area. Do not fly unmanned aircraft or drones in the fire vicinity.
SCSO has closed Eagle Creek Road, Montgomery Ridge Road and Bobtail Road at Prichard Creek.
North Idaho remains under Stage 2 fire restrictions.
Recent Headlines
---