MY GARDEN PATH: Keep up the good work!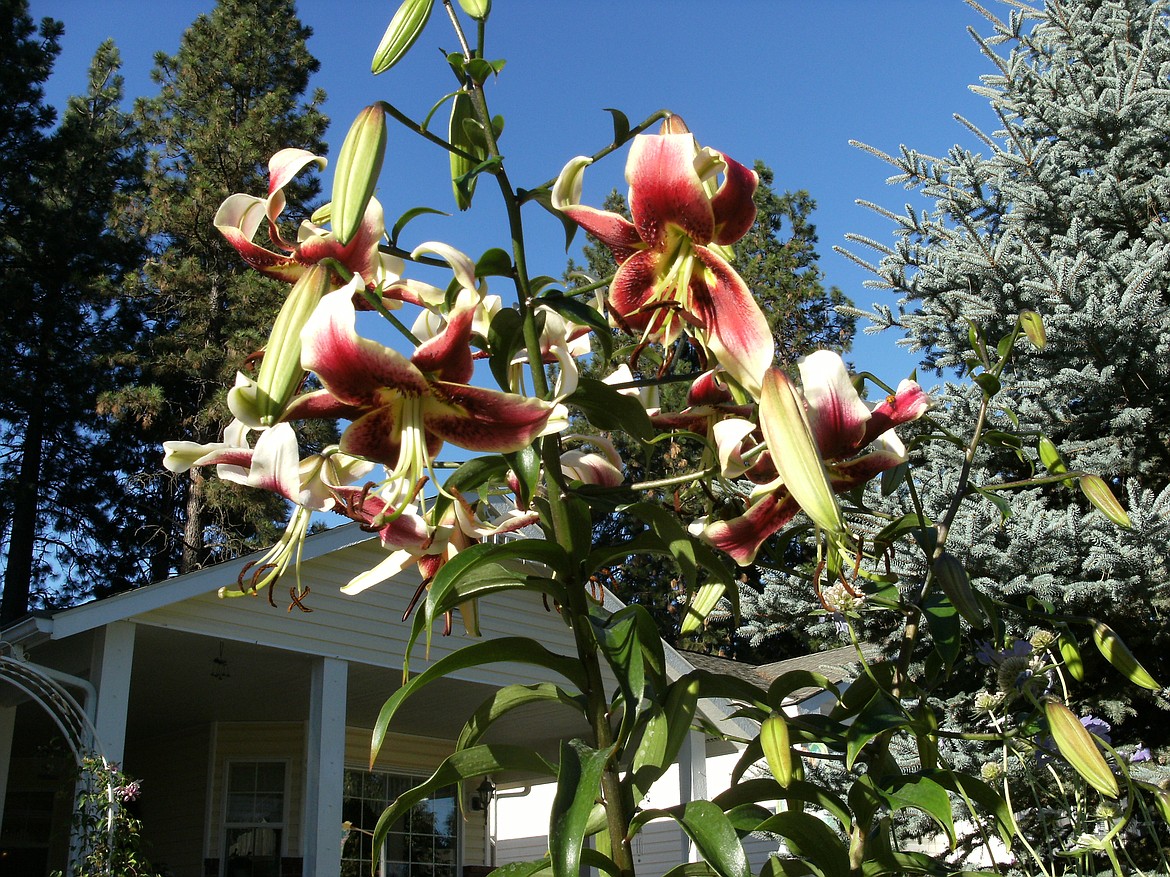 This Oriental lily is called Sheherezade.
Photo by ELAINE CERNY
by
ELAINE CERNY/Special to The Press
|
July 18, 2021 1:00 AM
You are to be commended if you still have anything alive in your yard after these weeks of horrid hot temperatures. I'm out there watering every morning and evening. Bet you are too!
Let's just assume that your plants are still alive, OK? So, in that vein, your tomato plants should be needing a shot of fertilizer by now. Water it in and hope for the best. Luckily, tomato plants don't seem to mind the hot days as long as they don't dry out.
It's time to cut those leggy petunia plants back by about half. A dose of a high middle number fertilizer won't hurt, either. Petunias are tough plants and are actually grown as perennials in states to the south of us.
Mid-July is the best time to dig up those irises, divide and replant them. This job needs to be done every three or four years depending on how vigorous they are. No bloom this spring probably means they need dividing.
This isn't complicated. There are just a few steps.
First, select a desirable location. (This is one that gets good drainage and is in sun most of the day.)
Then dig out the entire plant. Break off any remaining bloom stalks.
Toss the older/outer sections. Cut the remaining leaves half off. Do the same with any extra long roots. You will probably get several new plants from each old one.
Now, dig a hole for one plant at a time. Mound up soil in the center of the hole. Place the thick iris root on top of that mound and spread the roots down both sides.
Barely cover with soil.
Water and voila! You are done.
Irises are not heavy feeders and don't need fertilizer very often. I like to add some early in the spring but that isn't even necessary unless your soil is really poor.
I know a lot of you fight "varmints" in your yards. These can be anything from rabbits to deer. I don't have any of those, but I have plenty of squirrels.
In the past week, they've eaten the following: sunflower plants, foxgloves, green raspberries, dahlia buds and succulents. I can only hope that the foxgloves will at least give them a bellyache!
• • •
Elaine Cerny has gardened most of her life, starting in 4-H. She has belonged to garden clubs in three states and is currently an active member of the River City Gardeners Club in Post Falls. Her column has appeared in The Press every other Sunday from early March until late October for the past 12 1/2 years.
Recent Headlines
---