All hands on science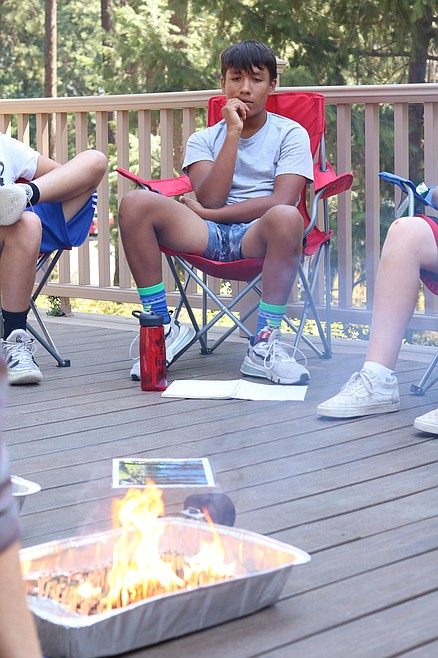 Isaiah Bearshield watches as instructors from the University of Idaho McCall Outdoor Science School demonstrate how fire spreads in a forest at the week-long environmental science field program in Q'emiln Park in Post Falls on Thursday. HANNAH NEFF/Press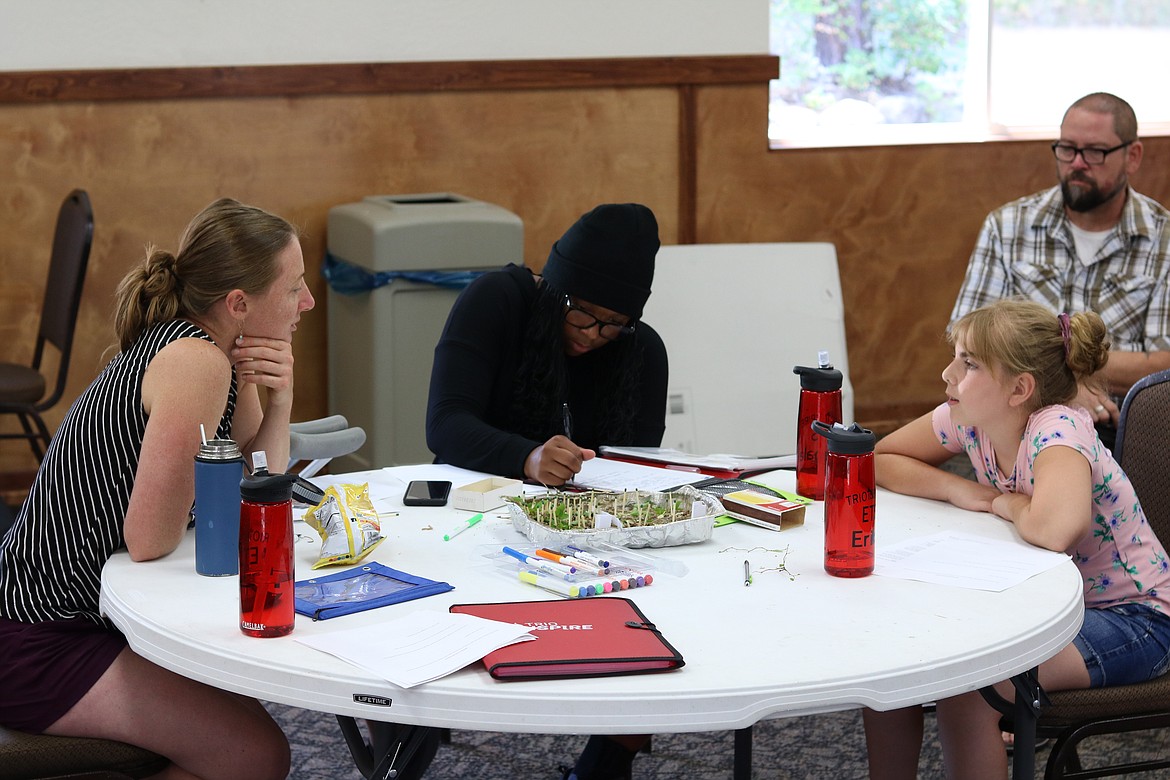 Kayla Bordelon, left, a doctoral student at U of I, walks middle school students Mahala Regis, center, and Erika Crowe through building their own forest with matches at the week-long environmental science field program in Q'emiln Park in Post Falls on Thursday.On the far right is Randy Palmer with TRIO. HANNAH NEFF/Press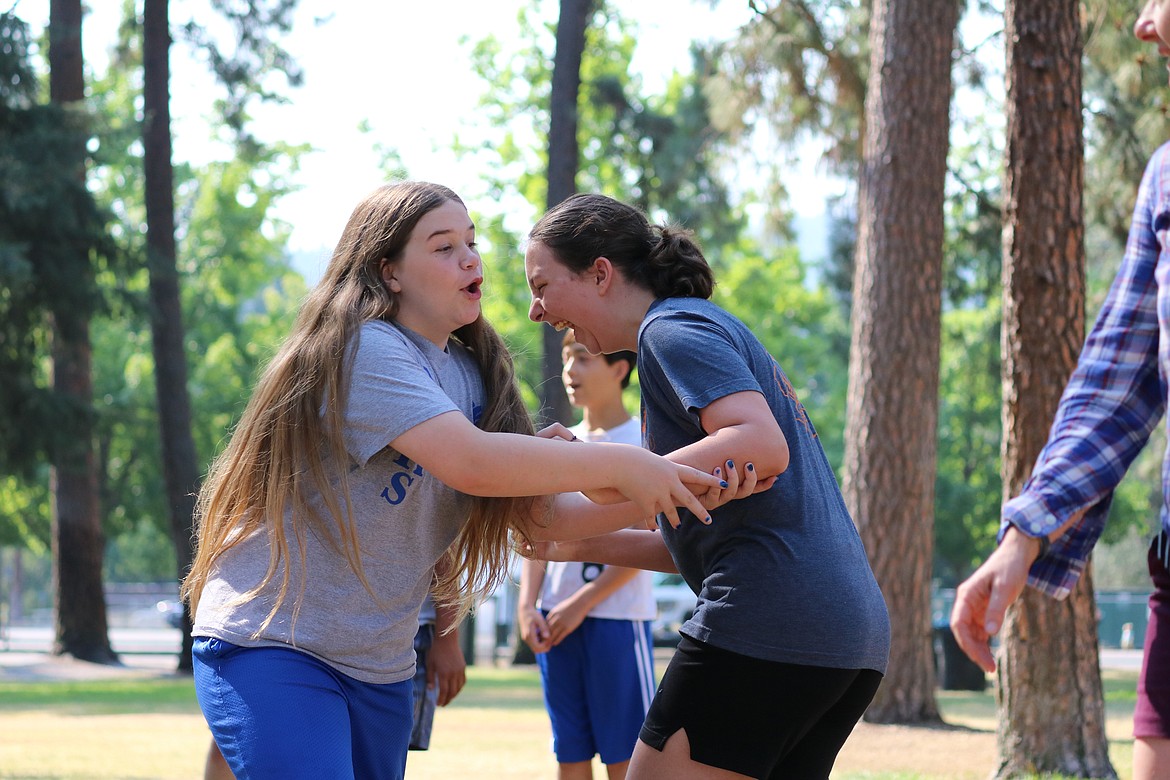 Jordyn Cord, left, and Madison Lowe, middle schoolers in the TRIO program, shriek while playing a game at the week-long environmental science field program in Q'emiln Park in Post Falls on Thursday. HANNAH NEFF/Press
Previous
Next
by
HANNAH NEFF/Staff Writer
|
July 17, 2021 1:07 AM
POST FALLS — Students enrolled in TRIO from River City and Post Falls middle schools got knee-deep in a weeklong environmental science field program at Q'emiln Park.
The program was led by McCall Outdoor Science School.
"We try to relate everything to what is going on in the local area," said Amanda Dormaier, a continuing education specialist for TRIO, a federal outreach and student services program for individuals from disadvantaged backgrounds. "Fire season has really been big around here because it's been so dry, and environmental science is a big hot topic nationally."
Dormaier said this was the first in-person event the group has been able to do since COVID-19 affected the area. Topics included biodiversity and ecology, watershed, human interaction with nature, and Thursday's topic, fire science.
"It's fun and it's challenging because we have to go on hard hikes sometimes," said Erika Crowe, a seventh-grader from River City Middle School.
Thursday opened with outdoor games, journaling and a lesson on the power of storytelling to teach science.
"We think stories are a cool way to share and learn about fire from each other, including as educators. We want to learn from the participants of our education programs," said Kayla Bordelon, a doctoral student at U of I who co-instructed the workshop. "(Stories) are a more effective way to transfer information between humans and they allow us to connect our lived experiences with science ideas."
Bordelon, who holds a master of science degree in natural resources, is using the data she collected from the program as part of the dissertation for her Ph.D. The information will go to a larger interdisciplinary research project, The Stories of Fire Project, funded by the National Science Foundation.
"Stories are a more inclusive way for us to talk about science," Bordelon said. "Providing opportunities for students to understand their own relationships to fire can help them deepen their understanding of how fire works on a landscape."
The project is being studied in the Confluence Lab at U of I and is a collaboration between environmental science, natural resources and the English Department to research how participant storytelling enriches the students' knowledge about fire.
The goal of this phase of the project is to develop a teaching strategy that brings storytelling into science programs about fire, Bordelon said. All summer the instructors have done research with student groups as well as mixed-age groups at state parks and other sites of informal science learning.
"We're testing out having people tell stories and what does that feel like for them and how do they learn from that," Bordelon said. "We just think in the West, everyone has a story of fire. Even if we don't think that we do, the minute we start asking more specific questions, we all relate to fire in so many different ways."
This week's field program focused on hands-on activities and connecting science to personal experiences.
"I think to get kids to care about something, they have to have a personal connection to it," said Jennifer Wolf, a masters student at U of I who helped lead the program. "Kids will start to think about concepts differently when you show them how it's connected to them, and they care a lot more, which makes sense."
Both Bordelon and Wolf said they think it's important to show the kids they're practicing science throughout their daily lives in the way they interact and experience the world around them.
"I think that everybody practices science in their everyday life but many of us are made to feel that we aren't good at science," Bordelon said. "Giving students the opportunities to practice science both allows them to relate differently to the natural world but then also to feel like they themselves are scientists."
To show the differences between how fire spreads in a maintained forest versus an overgrown forest, the instructors used a pan of dirt with matches stuck upward, which they lit. Then students created their own "forests" and gave presentations on how they can use good forest management practices.
"Connecting kids' experiences with science is important to me because that was a really rewarding thing for me to get to experience," said Wolf, who said she really felt like a scientist after she started doing wilderness guiding. "Showing people that their experiences are educational and getting their hands on stuff makes things stick with kids."
Dormaier said environmental science was the topic of choice because the kids were interested in learning about pollution.
"We wanted to make sure they understood the impact that humans have on their area," Dormaier said. "We're hoping that the students kind of walk away with this sense of responsibility to make sure they're accountable for themselves as well as maybe exploring what they could potentially do in their future."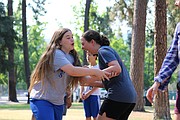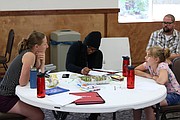 ---