Northwest Notes July 12, 2021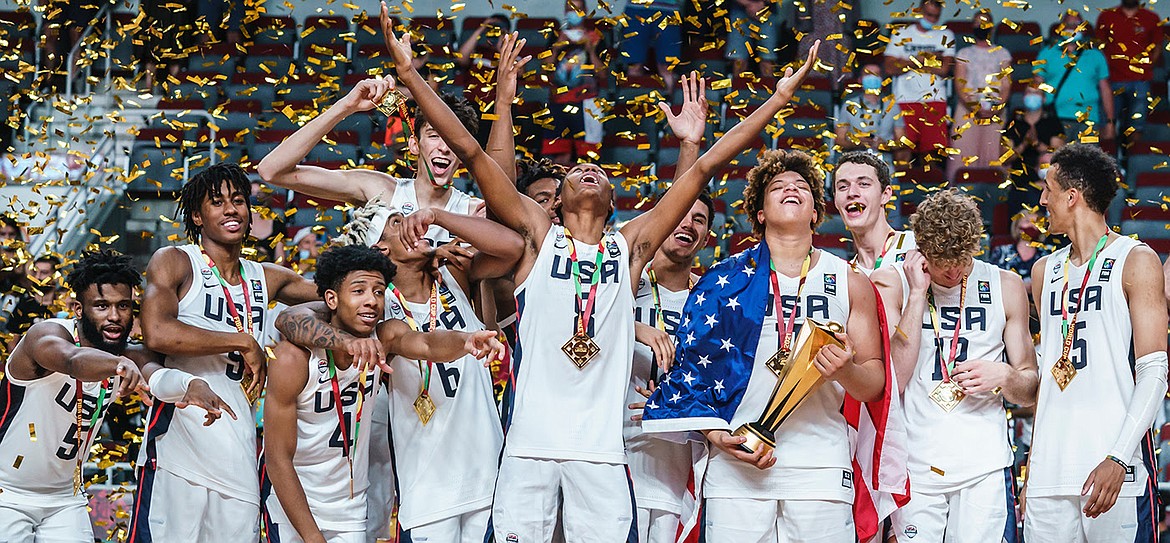 Photo courtesy USA Basketball Incoming Gonzaga freshman Chet Holmgren, left rear, and his teammates celebrate after the USA won the 2021 FIBA U19 World Cup for Men in Riga, Latvia, on Sunday.
Holmgren named MVP as USA wins FIBA U19 World Cup
RIGA, Latvia — Incoming Gonzaga freshman Chet Holmgren had 10 points and five assists as the USA beat France 83-81 to win the gold medal on Sunday at the 2021 FIBA U19 World Cup for Men.
With the win, the Americans claimed back-to-back gold medals at the FIBA U19 World Cup and have won gold in four of the past five U19 World Cup events (2021, 2019, 2015, 2013). The USA also has won 14 consecutive games at the event dating back to 2017.
Holmgren, who averaged 11.0 points, 6.1 rebounds and 3.3 assists overall, was named FIBA U19 World Cup MVP. He was joined on the All-Star Five by Jaden Ivey (Purdue), who contributed 12.3 points, 3.0 rebounds, and 2.1 assists per game, as well as France's Victor Wembanyama, Zach Edey of Canada and Serbia's Nikola Jovic.
Averaging 95.0 points a game, the USA's average winning margin in the seven wins was 29.7 points a game.
France led 42-37 at halftime.
The Americans regained the lead for good at the 6:51 mark in the fourth quarter when Holmgren laid it in high off the glass to take a 69-68 lead during an 11-0 run.
"We were staying together. We didn't want to let any adversity pull us apart," Holmgren said. "We went through everything in the last three weeks to get here, and we all knew we weren't leaving without the gold. It was just a matter of what we had to do to make that happen. In the fourth quarter we made the adjustments and came out on top."
Ivey finished with 16 points, four rebounds and three steals, Kenneth Lofton Jr. (Louisiana Tech) had 16 points and seven rebounds, Adam Miller (LSU) added 12 points, four rebounds and three steals, and Mike Miles (TCU) contributed 11 points, seven rebounds, six assists and a game-high four steals.
"I've enjoyed the guys on the team, the coaches. They are all great people," Holmgren said. "Playing basketball with them and forming friendships and relationships that will last a long time is great, and these are my people forever now.
"This is right there at the top. I don't know how much better it can get at this stage in my career. Hopefully a lot more things to do going forward, but this is up there at the top," Holmgren added.
The USA is now 105-14 overall in U19 play since the event launched in 1979 and has won eight gold medals, three silver medals and one bronze overall.
Recent Headlines
---