Element Dental moves to larger location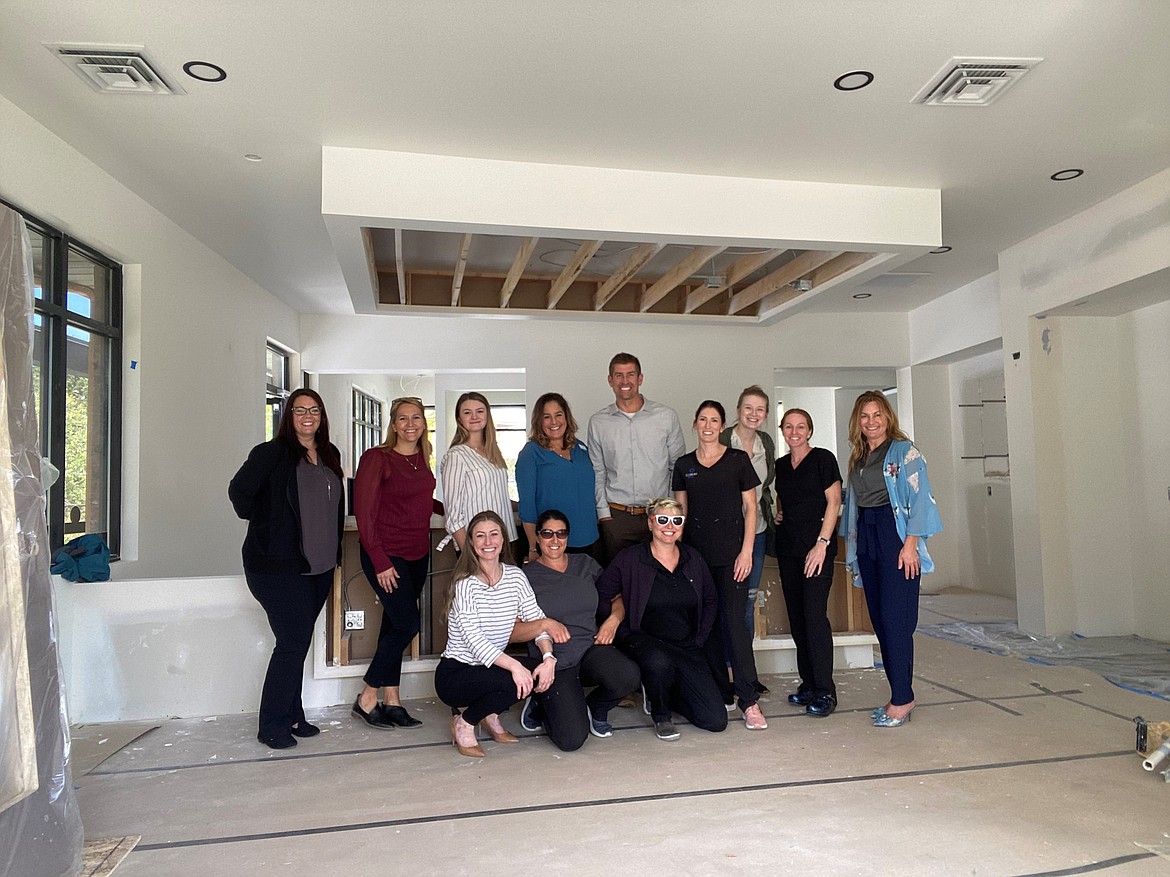 Courtesy photo Members of the Element Dental team include, top row from left: Nikki Davis, Dr. Rachel Fehling, Natalie Spradley, Linette Swenson, Dr. Kory Wilson, Brenna Cowan, Dr. Jenna Kedish, Carol Scholz and Adrienne Anderson; bottom row, Jennifer Snow, Lakota Storlie and Josie Caplin.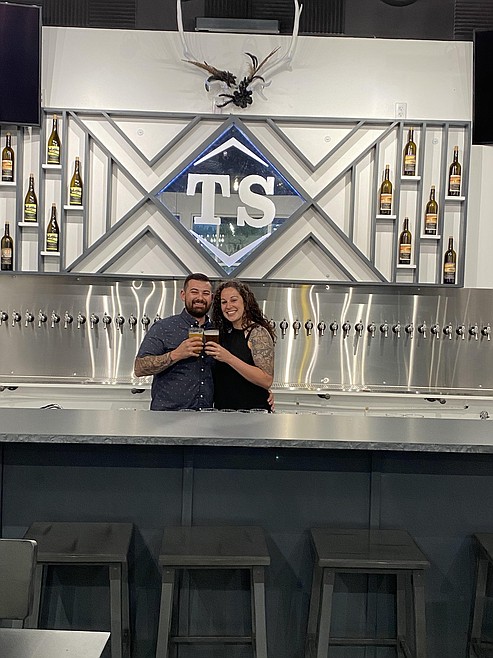 Courtesy photo Owners Nick Giese and Tiffanie Delaney pose inside Twisted Slate Brewery, which has opened at 8160 N. Cornerstone Drive in Hayden.
Previous
Next
by
NILS ROSDAHL/Special to The Press
|
July 11, 2021 1:07 AM
With its array of services including preventative, general and cosmetic dentistry, Element Dental has moved to a new larger location at 1015 W. Ironwood Dr.
Using enhanced dental services for more than 10 years, Element is one of three offices in the Avondale Dental Group. Dentists Dr. Rachel Fehling and Dr. Jenna Kedish are joined by a team of dental hygienists and assistants.
Hours are 8 a.m. to 4:30 p.m. Tuesday-Wednesday-Thursday and rotating Mondays and Fridays. Phone 208-664-2160. Check www.elementdentalcda.com.
Twisted Slate Brewery
opens in Hayden
With 51 taps including beer, wine, seltzer, ciders and canned cocktails, Twisted Slate Brewery has opened at 8160 N. Cornerstone Dr. in Hayden.
With pub food coming soon, the place has a modern industrial and outdoorsy theme with 38 seats inside and nine outside. Owners Nick Giese and Tiffany Delaney are first responder, military and retired law enforcement friendly.
Hours this first week and after the July 17 grand opening are noon to closing. Phone 208-719-0047. Check Twisted Slate Brewery on Facebook and Instagram.
Alt's Copperhouse
opens in Post Falls
With indoor-outdoor settings for any occasions, Atl's Copperhouse has opened in Suite 8 at 418 W. Seltice Way in Post Falls.
With a main room that can hold up to 200 patrons, the Copperhouse helps groups celebrate special occasions and offers a dining room, conference room, a large bar, a prep kitchen for personal and catered meals, virtual golf, shuffleboard, arcade games and multiple TVs including a 300-inch flatscreen.

Owner Will Alt is assisted by Brooke Parsinen and Nick Petersin. Phone 208-292-8079. Check www.altscopperhouse.com.
Now the Tidbits
Outpost Brewing opens soon behind Syringa on Fourth Street.
Kaffee Meister Coffee Shop & Roastery will be at 9212 Government Way in Hayden.
Gathered Restaurant is new on Spokane Street in Post Falls.
Twilight Fiber & Yarn is new in Ponderay.
Stogie's Cigar & Pipe Lounge is coming to Post Falls.
A Cuppa Columbian Caffe will be at 3270 W. Prairie Ave.
Ronda House now has her hairwork business with Serenity Salon. Phone 208-506-8946.
Several steel storage buildings will be built at 3758 W. Hanley Ave. (off Atlas Road) for Hern Ironworks.
New places coming to Silver Lake Mall include Macadamia Coffee, Love Local, All Fired Up, Crime Scene Entertainment, American Heritage and Workwear by B.S.
Killer Burger will be where Junior's BBQ previously was in 85 W. Prairie Shopping Center.
*A new Jitterz coffee stand will be at 7925 N. Ramsey.
The Two Lakes Motel is near completion at 320 E. Coeur d'Alene Lake Drive.
Embers By The Green will be at 4365 E. Inverness Dr. in Post Falls.
GEICO will fully open July 15 in Suite 105 at 1450 Northwest Blvd.
Watch for something coming into the ShopKo building...possibly Sportsman's & Ski Haus.
A new commercial and residential building will be built at Government Way and Davidson Ave.
North Idaho Physical Therapy will have a new location on Schneidmiller Ave. in Post Falls.
Watch for major changes with the Burger Bunker and Bunker Bar off Spokane Street in Post Falls.
A new building for Linden Coffee Co. is under construction at 1502 N. Third.
A new gas station-convenience store will be in the northeast corner of Atlas at Seltice.
Truck manufacturing company Kenworth plans a large building for 4374 W. Expo Parkway west of Post Falls.
A large storage complex and new corporate office for Steel Structures of America will be built off Highway 41.
The Den will be a new tavern at 761 N. Idaho St. in Post Falls.
My Nails & Spa will be off Canfield Ave.
The CdA Corner Store is adding a kitchen and tables downtown.
A Union Gospel Mission thrift store will open in August at 7761 N. Government Way.
Takara restaurant will be downtown.
Medicine Man Pharmacy closed June 30 with its files now with Safeway.
Schmidty's Burgers will be at 1524 E. Sherman.
A 120-room boutique hotel will be where the Outback Steakhouse was off Northwest Boulevard and I-90.
Coeur d'Alene Nissan will have a major addition to its building off Highway 95.
Metro Car Wash will be near Wendy's in Post Falls.
The Hayden Dairy Queen will be at 513 W. Hayden Ave.
108 North is under construction connected to the Moose Lounge downtown.
A new motel is under construction on CdA Lake Drive between Mullan Ave. and Michael D's Eatery.
Thanks to all who participated in the July 5 cleanup of Tubbs Hill and to those who do litter picks in other public places.
Contact Nils Rosdahl at nrosdahl@cdapress.com.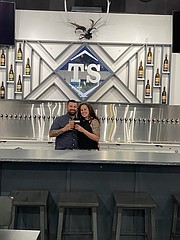 Recent Headlines
---