Hang on for whale of a tale
by
D.F. "DAVE" OLIVERIA
|
July 9, 2021 1:00 AM
Most of you have heard of Jonah and the Whale.
And you know of the Cape Cod lobster diver who said he was swallowed by a whale last month.
But only Anna Heisey's Facebook Friends and a few others have read the tale of Anna and the Whale.
Until now.
The story begins on the North Pacific, off Juneau, Alaska, June 23. Anna and hubby Darryl, of Coeur d'Alene, are sitting on a cooler in the bow of a 22-foot boat. Brother-in-law Jerry McNeven is at the helm. The fourth person aboard is Lydia McNeven, Anna's sister.
The creatures of the sea — a pod of orcas, seals, sea lions and several humpback whales — had given the four quite a show. And the fishing had been good. They had hauled in eight pink salmon.
After seven hours on the water, they had called it a day when bone-chilling rain began to fall. They were traveling at a good clip back to shore when a humpback whale, with a calf, surfaced beneath them.
"We could see all of its head and mouth and could have touched it had we been leaning over the boat," Anna said.
Anna saw the underside of the Leviathan's throat and jaw as it twisted out of the water. She was excited to be part of the once-in-a-lifetime moment. But her brother-in-law was shaken. He had grown up on this water. And knew what a whale could do to a small boat.
Then, Anna's sister spotted the whale's tail — on the other side of their vessel. They were on top of it.
"If it had come up higher, or lifted its tail at all, the boat would have flipped, sending us flying out into the frigid water at 35 miles an hour," Anna said. They were 15 to 20 minutes from shore.
Jerry cut the engine and the four coasted to safety.
Afterward, Anna gave a two-pronged shoutout to the Almighty.
"We are praising God for His amazing creation and His watch care over us," she said.
Since then, she has reflected on the current series of sermons being preached by her pastor, Steve Massey of Hayden Bible Church, about, believe it or not, the Old Testament Book of Jonah.
Anna's grateful she and her loved ones returned to dry land without being spit out by a Great Fish.
Mailbag
Russ and Judy Gill have been married almost 57 years and live in eastern Washington. But they grew up in Coeur d'Alene and remember a fireworks barge explosion on the Lake City's Fourth of July 1962. They were dating at the time. In an email, Judy said she has looked for info about the incident. But hasn't found anything. "Is it something the city doesn't want remembered?" Judy asks. Mebbe. Mebbe not. The explosion did happen and 13 Jaycee helpers suffered powder burns and cuts, including one injured seriously. Another was blown off the barge. The explosion was felt on Tubbs Hill. Rainfall earlier in the day had cut into the crowd. But thousands still gathered to see the show. The entertainment was cut short by a malfunction in a mortar tube or faulty fireworks at the start, according to the Coeur d'Alene Press. The fabled Fred Murphy and Dr. W.H. Lyon were on hand to rescue the singed Jaycees.
Huckleberries
• Poet's Corner: You can grill them or fry them or stuff them or bake;/you can put them in soup or in bread or in cake;/you can use by the bushel, the quart, or the cup,/but try like the devil, you can't use them up — The Bard of Sherman Avenue ("Those Zucchini from Your Garden").
• In Memoriam: We passed a sad anniversary on Wednesday. It has been 10 years since an IED blast in Baghdad killed two Coeur d'Alene soldiers — Sgt. Nathan Beyers, 24, and Spc. Nicholas Newby, 20 — and maimed a third, Staff Sgt. Jason Rzepa, 30, of Hayden. Rzepa's injuries resulted in a double amputation below the knee. Such is the high cost of freedom.
• For those complaining about the heat this summer — and aren't we all? — let's go back 50 years. In 1971, Coeur d'Alene endured a record low temp for the night of July 6-7: 36 degrees. The previous mark for July 7 was 38 degrees, set in 1942 and 1952. The unseasonal cold was so bad that Wallace Swofford of Spirit Lake reported the tops of his potato plants had frozen.
• When we last visited Darrell Kerby, former mayor of Bonners Ferry, he was correcting a rude Johnny-Come-Lately for yelling at him to go back to California. The cad saw Darrell's spiffy Lexus and didn't figure anyone from Bonners Ferry could afford one. Well, a few days later, Darryl encountered a polite old-timer at a gas station who thought the same thing. Darrell told the codger he was a lifelong resident. Then, gesturing to friend Gary Aiken Jr. nearby, Darryl said, "My family has been here a long time but not 10,000 years like his." Gary, chairman of the Kootenai Tribe, got a kick out of that.
• I'm trying to decipher that message on a vintage auto at Car d'Lane: "Don't touch unless you are naked." Does the owner prefer naked people? Or is he wary of belt buckles and metal buttons?
Parting Shot
A Yelp reviewer gave five stars to Tom Richards' Snake Pit 5 after a recent meal at Enaville. But he had one odd complaint: "You just need to be comfortable with taxidermied (sic) animals watching you eat." Taxidermy Row includes an elk head, a matched pair of deer heads over the fireplace, a buck's head near the front door, two trout, a chair made entirely of elk antlers, a few random deer and elk antlers hanging from the ceiling, a jackalope behind the bar, and a trophy-sized "Mountain Fresh Rainer," certified to be the biggest one ever captured. But there's no plans to add the restaurant's famed Rocky Mountain Oysters to the menagerie. Whew!
• • •
D.F. "Dave" Oliveria can be contacted at dfo@cdapress.com.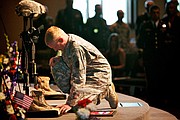 ---