Movers & Shakers
Smith earns Professional Engineering License
HMH Engineering is excited to announce that Nick Smith has successfully passed the professional engineer's exam, earning his Professional Engineering License in the state of Idaho.
Smith is a project engineer with HMH Engineering. He has three years of engineering experience and construction administration with an emphasis in roadway design and transportation engineering.
Smith graduated from Montana Tech in 2018 with his master's degree in general engineering — civil option. He then moved to Coeur d'Alene and joined the HMH design team. Smith enjoys mountain biking, hiking and skiing in his free time.
• • •
English installed president of Idaho Funeral Service Association
Eric English, of English Funeral Chapel, Inc., was installed president of the Idaho Funeral Service Association (IFSA) at the organization's 82nd annual convention which concluded on June 23 in McCall.
He will serve for the 2021-2022 term. Eric is the third member of the English family to hold the position. His grandfather and founder of English Funeral Chapel served in 1956-1957, and his father Bruce in 1978-1979.
"It is a great honor to be installed president," English said.
Eric was born in Coeur d'Alene and raised in Post Falls, and is a graduate of Post Falls High School, North Idaho College, and Mount Hood Community College where he studied Mortuary Science.
In the 1991, he entered the family business, becoming a third generation funeral director, working with his father, Bruce English; eventually becoming manager and president of the firm.
Eric has been married to his wife, Wendy, since 1992. They have three sons: Nathaniel, Luke and Blake. Luke joined the firm in September 2020, and is enrolled in Mortuary School.
IFSA's mission is to promote the highest standards of funeral service to the public and to enhance the environment in which its members operate. There are 68 member firms and more than 200 licensed funeral directors who operate across the state that belong to the Idaho Funeral Service Association.
• • •
Numerica hires Casey as CFS senior financial adviser
Stacey Casey has been hired as senior financial adviser for CUSO Financial Services LP* (CFS) at Numerica Credit Union.
Casey joins a Numerica Financial Services team offering comprehensive financial planning, retirement and insurance services to clients throughout the Inland Northwest. Numerica offers non-deposit investment products and services through its relationship with CFS.
Casey has been a fixture in the local financial services industry since 1992. Most recently, she served as senior financial adviser for Wells Fargo Advisors in Spokane.
• • •
If you have a new, relocated or expanded business, or announcement of events, promotions or awards, The Press wants to let our readers know. Email the details to hmain@cdapress.com.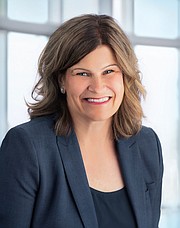 ---