MY GARDEN PATH: Hot enough for you?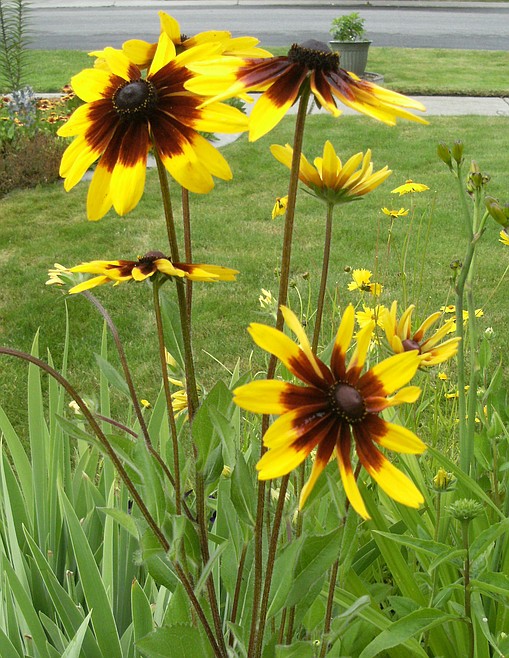 Black-Eyed Susan plants, aka Rudbeckia.
Photo by ELAINE CERNY
by
ELAINE CERNY/Special to The Press
|
July 4, 2021 1:00 AM
I was still trying to get used to it being June and suddenly it's the Fourth of July! At this rate, we'll be putting up Christmas trees in no time flat.
The heat has been nothing short of incredible. If the days of 90s weren't bad enough, then came consecutive days over 100. In a normal year, the high for today would be in the mid-70s and we would have a total of ONE 100-degree day all summer!
At least the growing things are doing well … as long as they get lots of water. Even the tomato plants are doing fine. Lots of blossoms and baby tomatoes. Guess I should have planted watermelons this year.
I enjoy growing both petunia plants and calibrachoas, (aka Million Bells.) The latter looks like a smaller flowered petunia, but there is one major difference. Unlike petunias, these guys do NOT need to be deadheaded. As you know, petunias are like lots of other bloomers in that they'll stop blooming and go to seed if someone doesn't clip off their spent blossoms on a regular basis.
To "deadhead," petunias, remember not to just pull off the old flower, you need to also nip off the calyx it grows from. That's just a bit above the top of the flower. As long as you continue to do that chore, you'll get new blossoms until cold weather arrives.
Remember to be "picky" about certain plants. Don't purchase or accept any of these: Lamium, creeping charlie, mint, sweet woodruff or bishop's weed. None of these plants have any manners. Once planted, they will take over half of your yard.
If you haven't already done so, be sure to tie up those climbers. Everything from clematis vines to pole beans need support to do their best.
Don't panic if you read bad things about morning glory. There is a big difference between the "good" kind that are sold as flowering vines and the "bad" kind that grow low to the ground and have lots of tiny pink or white blossoms. The "good" kind are a joy to grow while the "bad" kind should be killed ASAP.
Looking around, are you still seeing tulip and daffodil leaves? If so, they've survived long enough to build up their bulbs enough for next spring's flowers. Just pull or clip off that browned/yellowed foliage being careful not to pull up the bulb.
Be sure to adjust your mower so you're cutting your lawn grass higher than before. This added height will help the grass to survive the heat. With this hot weather, the best time to water it is in the evening. Never water during midday as most of it will evaporate before it hits the ground.
I just saw something I'd never witnessed before. One of the backyard squirrels was chewing off a foxglove at the base and eating pieces of it. I'm wondering if that squirrel is "done for" as foxgloves are poisonous. Hmm…
A few more suggestions from "Advice From a Sunflower." Spread seeds of happiness, feed the birds and keep on the sunny side.
• • •
Elaine Cerny has gardened most of her life, starting in 4-H. She has belonged to garden clubs in three states and is currently an active member of the River City Gardeners Club in Post Falls. Her column has appeared in The Press every other Sunday from early March until late October for the past 12 years.
Recent Headlines
---