Milestone Announcements
ANNIVERSARY
Fred and Dorla Overlin
75th Anniversary
On July 2, 2021, Dorla and Fred Overlin celebrated their marriage of 75 years.
It's hasn't been an easy life for either of them. Fred worked on a dairy farm, seven days a week, beginning at age 12, in the town of Bighorn, Wyo. A town Fred says, was only a filling station and a bar, 10 miles from Sheridan. Dorla grew up on the road. Her dad followed construction and the family traveled with him in a make-shift "motor home." She was never able to finish a complete year of school at any one place. That, and fighting Rheumatic Fever handed Dorla a very challenging childhood.
Although he had to lie about his age, Fred joined the Navy at 15 in 1942. One of his first assignments was to transport officers back and forth on the Potomac River to Washington, D.C. Soon though, he was sent overseas stationed on a Arcturus-class attack ship, carrying Marines and Army soldiers, and their amphibious landing vehicles, to the Atlantic invasion of Southern France, also North Africa, Pearl Harbor, the invasion of Okinawa and other Pacific islands. Fred served as a Helmsman, and one time steered the ship through a horrifying typhoon. He also remembers well, lying on his back watching the Air Force escort Japanese prisoners the day General McArthur, on the Missouri, signed the Peace Treaty with Japan. "The sky was full of Air Force and others keeping the area secure." The USS Arcturus was awarded five battle stars for her World War II service.
Dorla and Fred met in Sheridan when Fred came home from three and a half years in the Navy. He was 18 and Dorla, 15. They were both members of the First Baptist Church, in Sheridan, where they met at a New Year's Eve party in 1945.
They were married in a church in 1946, in Hardin, Mont. In 1948, their daughter Linda was born and in 1949 their son, Larry.
Dorla worked as a telephone operator, and retired from serving as Chief Deputy Clerk of Court in Polson, Mont. Fred worked for 48 years as a refrigerator and appliance repairman, and later Bailiff of District Court and Juvenile Detention Officer, also in Polson.
Fred built the family a beautiful new home in Polson where they lived for many years before moving to Post Falls. They lived in the Riverside Harbor area for the past 24 years.
In the spring of 2021, Fred and Dorla sold their beloved house and moved to Garden Plaza in Post Falls. Dorla brought as many of their cherished belongings as possible. So many of the beautiful items in their house were handmade by Fred, including display cases, decorative plate racks, china hutches and other adored wood pieces.
When asked what advice Fred had for a long, happy marriage, he replied, "Find a good, Christian woman and put the Lord in the middle of your marriage. Love your wife even when things don't go well. I don't just love my wife, I LIKE her and want to spend time with her." Dorla revealed, "My family said that we would be lucky if our marriage lasted six months." And added, "We've been very happy. God's been good to us!" You don't need to spend much time with the couple to know that they are still deeply in love even after 75 years!
Dorla and Fred celebrated their most joyous anniversary with family and friends on Friday, July 2, 2021, at Garden Plaza in Post Falls. If you'd like to send them a card, the address is Dorla and Fred Overlin, 515 N. Garden Plaza Court, No. 327, Post Falls, ID 83854.
Fred is now 94, and Dorla 91.
ENGAGEMENT
Wood-Scharf
Rick and Janna Scharf, of Post Falls, are pleased to announce the engagement of their son, Derek Ronald to Brooklyn Wood, daughter of Brad and Sharee Wood of Peachtree City, Ga.
Derek, grandson of Alice Rankin and the late Ronald D. Rankin, is a 2012 graduate of Coeur d'Alene High School. After a mission to Arizona, he studied at Brigham Young University majoring in political science, and interned for Mitt Romney's senate campaign. He is currently employed as an account manager for RingCentral in San Francisco.
Brooklyn is a 2020 graduate of Brigham Young University. She majored in public relations and worked in PR with the Washington Redskins football team. She is currently doing PR work with a firm in Seattle.
The couple will be united in marriage on Saturday, Aug. 7, 2021, on the north shore of Oahu and will make their home in Salt Lake City.
WEDDING
Sumner-Silva
Katelin Brooke Sumner and Taylor Steven Silva were united in marriage on May 22, 2021, at The Fontaine in Kansas City, Mo. Katelin is the daughter of Jan and Fred Sumner of Overland Park, Kan. Taylor is the son of Robert and Deborah Silva of Coeur d'Alene.
Tillie Bridges officiated the ceremony. The bride was given in marriage by her father, Fred.
Katelin obtained her bachelor's degree from the University of Kansas. She currently works as a sign language interpreter. Taylor obtained his bachelor's degree from the University of West Florida. He is currently employed at McCormick & Schmicks in Kansas City.
The wedding party included Matron of Honor Rose Hinsz of Kansas City, Mo.; and best man John McHugh of Lynwood, Wash.
A reception was held at The Fontaine in Kansas City. The couple plan to take their honeymoon next year. They reside in Kansas City.
• • •
Submit your milestones to hmain@cdapress.com or in person at the Coeur d'Alene Press, 215 Second St., Coeur d'Alene, ID 83814.
Listings include:
• Wedding anniversaries for couples married 25 years and every fifth year thereafter (2 photos accepted)
• Engagement announcements (1 photo accepted)
• Wedding announcements (1 photo accepted)
• Births (1 photo accepted)
• Milestone birthdays at age 70 and every fifth year thereafter or every year after age 90 (1 photo accepted)
• Generations (1 photo accepted)
• Academic honors and higher education accomplishments (1 photo accepted)
• Military announcements (1 photo accepted) Deadline is 3 p.m. Tuesdays.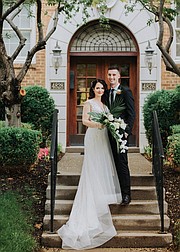 Recent Headlines
---