Land available near Athol and Silverwood
by
TYLER WILSON/Special to The Press
|
July 4, 2021 1:00 AM
North Idaho rules. Sometimes, however, it's worth taking a look at some of the real estate trends a little outside of our usual haunts. Summertime is travel time, so Neighborhood of the Week is hitting the road for a few installments on popular vacation spots around the Northwest.

This week, well, we're starting with baby steps and not going far at all. But we've got to start in Athol, because it's arguably one of the biggest destinations in the entire region.
Yep, Athol, which technically serves as the official location of Silverwood Theme Park, which draws people from literally all across the country but especially from our Northwest friends from western Washington, Montana, Oregon and more.
Residents around here may even underestimate the size of Silverwood and its expansive Boulder Beach Water Park. You aren't going to find anything near as big and full of rides and attractions unless you're willing to shell out the dollars in Southern California, or maybe head east to Valley Fair or the Mall of America in Minnesota. But their baseball team is in last place, and we shouldn't be rewarding them with our presence after such a whiff on the free agent market last winter, amirite?
Anyway, Silverwood rules, and through all of its expansions, it remains a fairly affordable destination for families nearby and out of the area. After a pandemic year, the theme park even added a new roller coaster for the 2021 season.
With so little space left in the Spokane-Coeur d'Alene Interstate 90 corridor, growth will be handled by heading north for new development and home construction. You've likely seen that expansion on the 20-mile (ish) stretch of Highway 95 between Coeur d'Alene and Athol, but that doesn't mean you can't find a juicy piece of land to call your own. Has anyone ever referred to land as juicy?
Looking for a business opportunity? Just north of Silverwood is an active listing for almost 10 acres of prime land ideal for a campsite, hotel, RV park, etc. Price: $1.9 million. Have that kind of cash but don't want to develop the site (or run a business)? Check out the beautiful, almost, 3,500 sq. ft. four-bedroom home sitting on five acres west of the park with a large shop, barn and more, priced at $1.5 million.
Okay, let's slash the price tag a bit and talk about options that might be available to a few more members of the readership. An active listing just south of Athol and off the Old US Highway 95 route might fit the bill - one is a five-acre lot with an existing shop and lots of trees listed at $475,000 (or $525,000, depending on the real estate app you're using).
If you'd rather not build, then Athol currently offers a couple of established homes in town. The first boasts four bedrooms, fenced yard, greenhouse and garden area and a new roof finished last year. Price: $415,000.
Option two: a 2,700+ sq. ft. home with four bedrooms sitting on two city lots in the heart of town listed for $375,000.
Go north of Athol a mile or two or three and find more intriguing lot options, with some with commercial prospects (a nine-acre slab for $1.2 million, to multiple-acre lots with dream home potential in the $275-300K range. Another existing property in that same vicinity is a three-bedroom, 1,300+ remodeled home sitting on five beautifully wooded acres listed at $600,000. Or go big with a custom cedar home with 4,200+ sq. ft. sitting on five treed and fenced acres for $1.8 million.
As the area expands, expect more property and higher prices to be the norm.
Neighborhood of the Week wants to know about your local buying experience. Contact Tyler Wilson at twilson@cdapress.com, and let us know what rapper you'd like to be referred to as in the article.
You can also let us know about more standout neighborhoods and new developments that we may feature in an upcoming Neighborhood of the Week. Real Estate Agents: Take advantage of Neighborhood of the Week by sending in your suggestions for featured areas, including sites outside the normal confines of Coeur d'Alene, Post Falls and Hayden.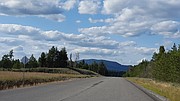 ---