Manufactured home communities in demand in North Idaho
by
TYLER WILSON/Special to The Press
|
January 31, 2021 1:00 AM
If you're looking for something truly affordable in the red hot North Idaho real estate market, think smaller.
For older residents looking to downsize on a budget, some of the area's most affordable properties can be found in a community of manufactured homes, many of which are designated for residents 55 and older.
Even manufactured homes have been selling for much more in recent years, according to Michele Sterley, a Realtor with Professional Real Estate Services. It's fueled by the area's overall demand, but specifically demand from people wanting to "scale back."
"At first, I thought people were wanting to downsize for the square footage, but the majority of them just don't want to do as much yard work anymore," Sterley said.
Sterley can probably be considered royalty at this point when it comes to selling manufactured homes. She's sold dozens of homes across many communities in recent years, riding positive word of mouth and "paper-based" marketing strategies that includes postcards and flyers.
"I've made a lot of friends," she said.
Sterley said she still comes across all types of buyers for manufactured homes, especially recently.
"The younger people want them now because they're affordable," Sterley said.
Even then, prices have gone up significantly. Sterley said remodeled or newer manufactured homes go for double or more compared to just a few years ago. And the market isn't going to suddenly become inundated with homes at this size and price point anytime soon.
"That's the thing with mobile homes — they're not making many anymore. There's not likely to be another subdivision of them going in," she said.
Most homes in these types of subdivisions are sold as property, then the land it rests on is leased from the community. Fees can range in the $300-400 range locally that also includes water, sewer, garbage and street snow removal services. Some communities have clubhouses, outdoor community space and other amenities.
Sterley currently represents a home in the Hayden Pines 55-plus community — a two-bedroom, one-bathroom home with a little over 700 square feet priced at $72,000.
Other manufactured homes currently on the market in North Idaho include a two-bedroom remodeled home with a little under 950 square feet in Coeur d'Alene's Fruitland 55-plus Park — price: $149,000. Another home in that community with 1,000 square feet sold in December, with the original listing price set at $110,000.
Over in Post Falls, two homes are listed in the Lucky Pines development, located south of Seltice Way and just east of Greensferry Road. One is a two-bedroom, 1,000-square-foot home priced at $82,000. The other is a two-bedroom, 900-plus-square-foot home listed at $70,000.
For more information on the manufactured home communities (as well as more traditional subdivisions) contact Michele Sterley, Realtor with Professional Real Estate Services, at 208-659-2468.
• • •
Let us know about standout neighborhoods and developments that we may feature in an upcoming Neighborhood of the Week. Contact Tyler Wilson at twilson@cdapress.com.
Real Estate Agents, take advantage of Neighborhood of the Week by sending in your suggestions for featured areas and new developments, including sites outside the normal confines of Coeur d'Alene, Post Falls and Hayden.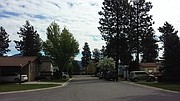 ---