PREP ROUNDUP: Jags win, then a fan loses it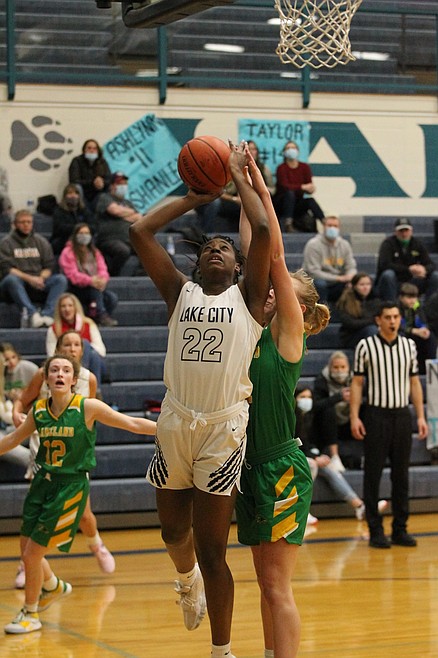 MARK NELKE/Press Tanai Jenkins (22) of Lake City goes up for a shot as Addie Kiefer of Lakeland defends Friday night in Coeur d'Alene.
|
January 23, 2021 1:20 AM
• BOYS BASKETBALL
POST FALLS — It was over.
Genesis Prep coach Jeff Hironaka saluted Wallace coach Corey Miller and started toward the locker room celebrating the program's first Scenic Idaho Conference win.
A few minutes later, it was the Miners that were celebrating.
Carter Bailey hit two technical free throws with no time remaining after a Genesis Prep fan was given an unsportsmanlike conduct technical foul, allowing the Miners to claim a 46-45 win over the Jaguars at The Courts at Real Life on Friday night.
Bailey had missed a go-ahead 3-pointer as time expired. As the teams were leaving the court, officials called the technical and asked both teams to return to the court.
"It was tough for the kids," Hironaka said. "We were in the locker room celebrating a win, then were told to come back out and we walked back into the locker room as losers. It's tough because it's not like the kids did anything to take away from it. We were 6 of 15 from the free-throw line and could have had some cushion. Our kids competed and I feel bad for them. There was nothing I could say to boost their spirits."
"It was the weirdest ending to a game that I've ever been a part of," Miller said. "Big props to Carter. He had to sit out there by himself forever and make those shots. It was awesome for him."
Caleb Schroeder scored 13 points, Nathan Weeks and Ayson McLuskie had 10 points each for Genesis Prep (2-6, 0-2 SIC), which faces Lakeside next Friday at The Courts.
Bailey scored 18 points for Wallace (2-8, 1-1), which travels to Mullan on Tuesday.
Wallace 8 16 11 11 — 46
Genesis Prep 8 11 11 15 — 45
WALLACE — Tesky 3, Farkas 2, Hogamier 7, Jaramillo 0, Bailey 18, Murdock 4, Denson 8, Hull 2, Hammerberg 0.
GENESIS PREP — Weeks 10, Gonzales 3, Schroeder 13, Rubert 0, Showder 0, Specht 3, Daniels 6, McLuskie 10, Russworm 0.
Lakeside 76
Troy 14
PLUMMER — Missing three starters for the second time this week, sophomore Vander Brown made the most of his time running the Knight offense, accounting for 23 points, 11 assists and nine steals for the Knights in a win over the Trojans at Ron Miller Court.
JJ Hall had 21 points, 11 assists and five steals for Lakeside (11-1).
"Those two really stepped up and they're the veterans in our group now," Lakeside coach James Twoteeth said. "Both of them were really good in the press. They lead by example and the others follow. We couldn't make a shot in the first quarter, but those guys (Vander and JJ) got to work on the press. When we get those other guys back, hopefully Vander gets some confidence and keeps it going."
Lakeside is scheduled to play at Kellogg on Monday.
Troy 7 0 5 2 — 14
Lakeside 21 15 31 9 — 76
TROY — Grant 1, Fisher 2, Muntz 2, Foote 9, Cole 0, Montgomery 0, Todd 0.
LAKESIDE — L. Matt 8, Brown 23, SiJohn 2, Q. Hall 6, J. Hall 21, Louie 4, C. Matt 12, Kee 0.
• GIRLS BASKETBALL
Lake City 57
Lakeland 40
COEUR d'ALENE — Brooklyn Rewers scored 28 points, and Tanai Jenkins and Jaya Miller gave the host Timberwolves a boost off the bench in an Inland Empire League victory over the Hawks at Lake City High.
With Rewers in foul trouble, Jenkins was active inside as Lake City (9-5, 6-3 IEL) eased away in the second half.
"Lakeland played really well, and made it a close game," Lake City coach James Anderson said. "Really pleased with how we stepped up. Tanai gave us a huge lift off the bench, Jaya Miller gave us a huge lift, and Brooklyn was really dialed in tonight. Good to see our seniors stepping up to close out the year, and lead the way.
"Tanai … playing this year, what a great kid, and an incredible kid to have in your program," Anderson added. "Just to have her size and willingness to do anything we ask, really glad to see her starting to succeed at the end of the year."
Sophia Zufelt hit three 3-pointers and added 11 points for Lake City.
Baylee Woempner hit three 3-pointers and led Lakeland (6-8, 4-6) with 13 points.
Lake City plays host to Moscow today at 3 on senior day.
Lakeland travels to Kellogg on Tuesday.
Lakeland 11 10 11 8 — 40
Lake City 14 13 13 17 — 57
LAKELAND — Sterling 2, Thomson 0, Neff 5, Hostetler 3, Ryan 7, Simon 2, Woempner 13, A. Kiefer 8, L. Kiefer 0.
LAKE CITY — Pickford 4, Miller 2, Zufelt 11, Shanley 3, Reynolds 2, Rewers 28, Jenkins 5, Parks 2, Cogley 0.
Post Falls 59
Moscow 35
MOSCOW — A solid start to the game and some quality play from the Trojans' bench helped the visitors roll past the host Bears in an Inland Empire League game at Bear Den.
"We did a pretty good job of getting some turnovers in the first half, and we did some good things offensively," Post Falls coach Marc Allert said, after his team opened a 33-17 lead at intermission.
"Our bench kids did a good job tonight," he added. "Montana Buckley gave us a good spark offensively and defensively."
Trinidie Nichols scored 12 points to lead the Trojans (10-5, 8-2 IEL) while Buckley added eight points.
Maya Blake and Hanna Christensen scored nine points each for Post Falls, which hosts Lake City on Thursday.
Eryne Anderson had nine points for Moscow (1-11, 1-8), which visits Lake City today at 3 p.m.
Post Falls 18 15 16 10 — 59
Moscow 8 9 6 12 — 35
POST FALLS - McLean 0, Nichols 12, Lovett 4, Grant 3, Sims 7, Buckley 8, Crane 2, Magnuson 4, Walton 2, Blake 9, Christensen 9.
MOSCOW - Knott 1, A. Lassen 6, Heyns 4, Nauman 3, J. Lassen 6, Berg 6, Anderson 9.
N.I. Christian 46
Stillwater Christian 38
KALISPELL, Mont. — Grace Gwin had 21 points, eight rebounds and six assists for the Royals in a win over the Cougars at Stillwater Christian School.
Symone Pilgrim had nine points and 13 rebounds and Kianna Nelson had eight rebounds for North Idaho Christian (15-4), which faces Flathead Valley Home School today at Stillwater Christian.
Zoe Linn scored 17 points for Stillwater Christian.
N.I. Christian 11 9 12 14 — 46
Still. Christian 8 6 11 13 — 38
NORTH IDAHO CHRISTIAN — Monaghan 0, Kelly 4, Garn 0, Pilgrim 9, Gwin 21, H. Malinauskas 0, K. Malinauskas 0, Nelson 4, Connelly 0, Gilmar 0, Overturf 4, Daigle 0.
STILLWATER CHRISTIAN — Prewitt 2, Stillo 1, Linn 17, Tintzman 8, Morken 6, Sulzbacher 4, Anderson 0, Schwartz 0, Hudson 0.
• WRESTLING
Coeur d'Alene goes 3-0 to
start at Clearwater Classic
LEWISTON — Due to illness and injuries in some spots, the Vikings are giving up some points in a few weight classes at the Clearwater Classic at Lewiston High.
But the kids that are competing, they are getting them back in bunches.
Coeur d'Alene defeated Orofino 66-6, Moscow 66-24 and Potlatch 70-12 to open 3-0 in its Pod, with a dual today against Weiser remaining. The top two teams from each pod advance to the Gold (championship) Bracket.
"It's tough and Weiser has a full team, so that's going to be a tough matchup," Coeur d'Alene coach Jeff Moffat said. "But the matches we're in, the kids were aggressive and finding ways to get wins. With the way the season is going, we've had a hard time finding different people to wrestle. We're just finding someone different to scrap with, and the kids need matches."
St. Maries went 1-1 on the day, losing to Clearwater Valley and beating Sandpoint. The Lumberjacks will face Kellogg and Lewiston to conclude the pod round today.
Lakeland sends nine to semis
at Padilla Invitational
PARMA — Lakeland will send nine wrestlers to the semifinals of the Padilla Invitational at Parma High.
Matt Williams (98 pounds), Peyton Wysong (120), Riley Siegford (145), Colton Dow (145), Soren Sabatke (152), Cooper Johnson (160), Devon Suko (170), John White (182) and Sam Feusier (285) advanced to the semifinals for the Hawks, who are second with 58.5 points.
Siegford and Dow are in opposite semifinals.
Kuna leads the tournament with 91.5 points.
Recent Headlines
---