Big third quarter propels Lake City boys past Lakeland in physical contest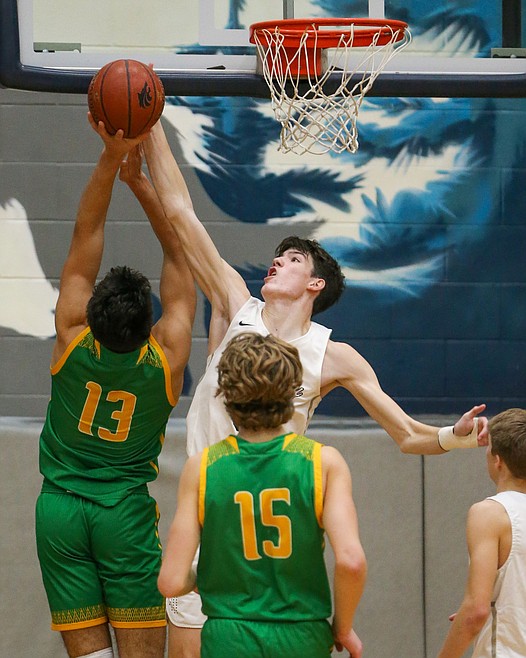 JASON DUCHOW PHOTOGRAPHY Blake Buchanan of Lake City challenges a shot by Ammon Munyer of Lakeland on Friday night at Lake City. Looking on for Lakeland is Noah Haaland (15).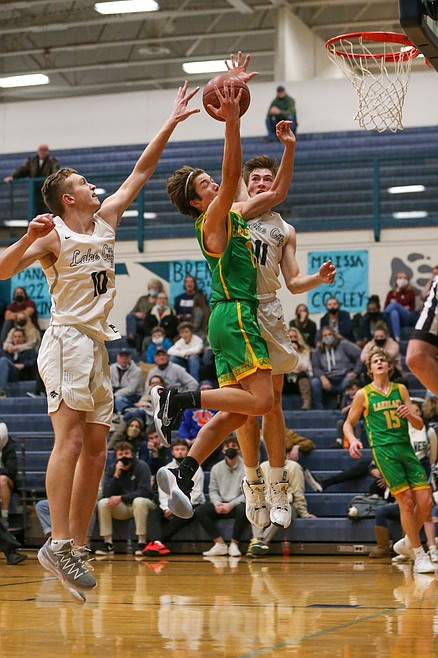 JASON DUCHOW PHOTOGRAPHY Bryce Henry of Lakeland drives to the basket as Nate Spellman (10) and Zach Johnson (11) of Lake City defend Friday night at Lake City.
Previous
Next
|
January 23, 2021 1:30 AM
By MARK NELKE
Sports editor
COEUR d'ALENE — One week ago, a wrist injury suffered by Lake City High sophomore post Blake Buchanan had coaches worried he might miss several weeks of the season.
As it turned out, Buchanan missed just one game. He returned for a big win over Post Falls last week.
On Friday night, the 6-foot-9 Buchanan came up big, particularly early, finishing with 12 points, three blocked shots and a pair of assists as the Inland Empire League-leading Timberwolves beat the visiting Lakeland Hawks 64-53 on Friday night.
Perhaps 400 fans attended at Lake City High, one day after Gov. Brad Little relaxed crowd restrictions at high school games.
"I thought I had a hairline fracture, so I went to the doctor, and they did X-rays, and they thought it was just a sprain," said Buchanan, who is playing with his left wrist taped, and is wearing a brace off the court for two weeks as a precautionary measure.
"That's a good team," Buchanan said of Lakeland. "They're physical; they're big, and if we can take that away from them, we can win that game."
"He's just a good fit with our team, and he did some really good things," Lake City coach Jim Winger said of Buchanan, who transferred from Moscow over the summer. "That was a physical battle out there — it was a war at half, and it was whoever was going to be the toughest team."
Kolton Mitchell scored 19 of his game-high 23 points in the second half for Lake City (10-4, 5-0 IEL). Zach Johnson and Chris Irvin added nine points each for the T-Wolves, and Jack Kiesbuy added eight.
Jalen Skalskiy scored 15 points, Noah Haaland 13 for Lakeland (6-5, 2-4), which led 30-29 at halftime.
But Lake City outscored the Hawks 20-5 in the third quarter, and led by as much as 17 points in the fourth quarter. Lakeland came no closer than 10.
"I can't explain the third quarter," Lakeland coach Dave Stockwell said. "We just had a really hard time scoring. I don't think they (the T-Wolves) did anything special. I don't know. We'll look at film and try to fix it. But yeah, the third quarter killed us, and props to them."
Lakeland opened the third quarter strong with a couple of baskets, and Skalskiy's putback put the Hawks ahead 34-31 one minute into the quarter. But Lakeland managed just one free throw the rest of the period, and Mitchell 12 of his points in the quarter as Lake City led 49-35 after three.
"We rebounded the ball better, and we got back on defense better," Winger said of the third quarter. "Offensively we were running our continuity, and got some rhythm, and got some good looks for all of our guys. And we rose up to the level of the physicalness. That first half, it looked like some dudes going after it."
4A Lakeland is 0-5 vs. 5A schools this season, including 0-4 in IEL games.
"I think sometimes my kids try too hard," Stockwell said. "It's so important for us to establish that we can play with everybody, and I think we can. ... I think we found what we need to do now, and so for the rest of the season, you'll see that we'll start climbing."
The 6-8 Skalskiy guarded the 6-foot Mitchell most of the game. Mitchell eventually found his way to the foul line, hitting 14 of 15 free throws.
"Around these parts, you don't see a 6-8 kid on a point guard," Winger said. "That's a pretty big compliment to Kolt. At first it took him a little while to get used to it, but he had a helluva second half. ... Kolt is a special player ... he's pretty savvy; he's pretty clever."
Buchanan scored three of his six baskets on jump hooks. His first basket came on a lob from Kiesbuy, as both teams were high-flying out of the gate, with alley-oop plays in an intensely played first half.
"I've been working on it," Buchanan said of his jump hook. "I come in in the mornings and work on it. It's always been a thing, if I can get that down, it's kind of unguardable."
Lakeland was 3 of 15 from 3-point range, with two of the makes by Haaland, one by Skalskiy.
Irvin, off the bench, hit two of Lake City's five 3s, in 13 tries.
"When those role players (score), and we're not keeping up, it can go south pretty fast," Stockwell said.
Next Thursday, Lakeland travels to Sandpoint, and Lake City visits Post Falls.
Lakeland 14 16 5 18 — 53
Lake City 15 14 20 15 — 64
LAKELAND — Seay 2, Henry 9, Ab. Munyer 6, Am. Munyer 8, Haaland 13, Roth 0, Waddington 0, Skalskiy 15.
LAKE CITY — Buchanan 12, Janke 0, Irvin 9, J. Kiesbuy 8, Spellman 0, Johnson 9, Mitchell 23, Meredith 3.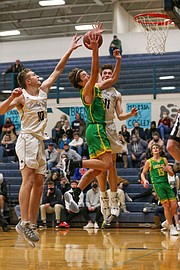 ---