ZAGS TRACKER: Cook helps spark 'tired' Gonzaga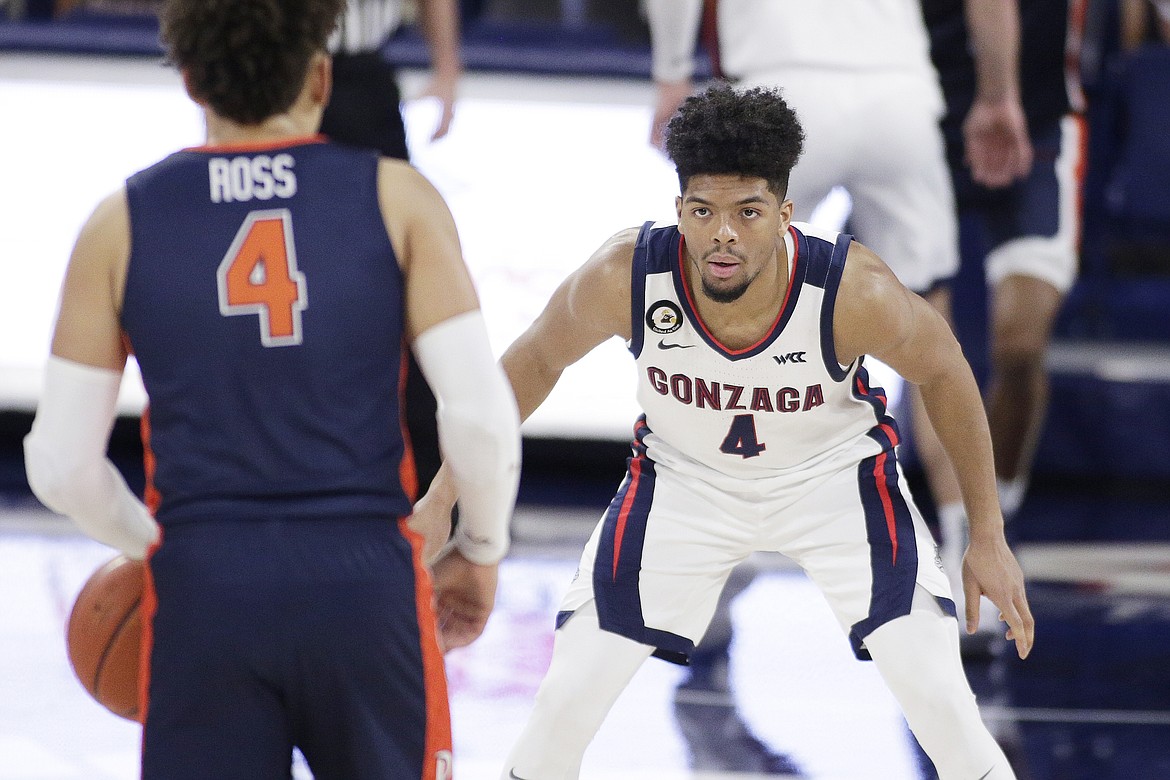 Gonzaga guard Aaron Cook, right, defends Pepperdine guard Colbey Ross during the second half of an NCAA college basketball game in Spokane, Wash., Thursday, Jan. 14, 2021. (AP Photo/Young Kwak)
There's a reason teams don't go unbeaten.
Since 1976, even the very best collegiate hoop champions have absorbed a loss or two.
Once in a while, a really great team can go deep into the NCAA tournament without a loss – as Kentucky did in 2015, before getting knocked off by Wisconsin in the Final Four.
Just to finish the regular season without a loss, though, is a huge feat.
After 14-0 Gonzaga rallied past Pepperdine and Saint Mary's last week – looking extremely vulnerable at times in both games – Coach Mark Few suggested that his players looked tired.
Were they?
Or was it more a case that the Zags will get everyone's best shot, and it becomes news when they play a close game -- or actually fall behind?
Saint Mary's clearly frustrated the Zags on Saturday night, and grabbed a 22-12 lead when Gonzaga's offense went mostly silent.
Few's theory about being a little tired gained some credence when Aaron Cook, who averages just 13.8 minutes per game, became the spark to light up Gonzaga.
EVEN THE best teams are going to fall behind.
It helps, though, if it happens early – as it did in Moraga.
Saint Mary's Coach Randy Bennett almost certainly knew that the Zags, tired or not, were going to start punching back.
He was hoping it would take a while.
Nope.
Cook and Joel Ayayi led a 20-3 burst to close the first half, and the Zags suddenly had Saint Mary's by the throat – and both sides knew it.
"If we get to the half (in) a tie game, it's a little different," Bennett said.
"We gave them a seven-point cushion. That's what I'll rehash over and over."
Games like Saint Mary's (especially in Moraga) are usually going to be difficult, because Bennett preaches physical defense and patience with the ball.
It's tough to just show up and blow out the Gaels.
IN FACT, it becomes more and more difficult to blow out anybody – especially the way the Zags were doing it early in the season.
Opponents know what they're facing now, and aren't anxious to enter a track meet with the Zags.
Just like Saint Mary's, most WCC teams would prefer to slow things down and make the Zags earn every bucket.
Most of the time, sheer talent wins out – particularly since Few knows his players and can see when certain moves are necessary.
The Zags do have some weaknesses, or at least temporary soft spots that sometimes must be corrected.
For instance, Jalen Suggs is incredibly gifted, but he's still a freshman and can get going too fast – even to the point of making the game a little too personal.
"Coach sometimes tells me to slow down, and that helps," Suggs said.
Another example is failing to play through the middle.
Drew Timme can score against almost anyone – or find the right pass from the post, giving the Zags an open shooter.
But occasionally, Gonzaga's perimeter players do a bit too much one-on-one (that's the Suggs issue, at times), and forget to get the ball inside.
THE ZAGS also have another weakness, if you can call it that.
At times, scoring becomes so easy that they don't go all-out on defense – subconsciously knowing they can pretty much get baskets at will.
Yes, the Zags can dig in and stifle teams with their defense, but the danger is that so many games get out of hand that those good defensive habits can be forgotten.
That's one of the many reasons that Few wants to schedule another tough non-conference game during a break in the WCC schedule.
Gonzaga has played its best when there was a tiny fear element involved, when the opponent can open up a can of hoops, as well.
To go unbeaten or even come close, you need a bit of swagger.
When you get in a shoot-out with Pepperdine or trail Saint Mary's by 10, it helps if you know that explosion is coming.
Sooner or later, it's coming.
On the other hand, it probably helps to know that you CAN lose if you forget those good habits, or decide that defense is optional.
This is the situation where playing in the WCC hurts Gonzaga.
In their minds, the players know they have considerably more talent than anyone else in the conference – so there's not enough fear to make the guys play their best.
SO FAR, the Zags have escaped all the traps.
Against good teams, they've mostly jumped out quickly and established a lead.
The swagger is there, and it helps on both ends of the floor.
Facing Saint Mary's, though, they know going in that none of the Gaels could get significant playing time at Gonzaga – and that can be taking swagger way too far.
Getting down 22-12 isn't something you want to try over and over.
Yes, it happened early in the game, but remember that the Saint Mary's style is to shorten games, limiting possessions, taking good shots themselves and frustrating you on offense.
A trip to Moraga is often a slap in the face, a reminder of how an unbeaten team truly can suffer an upset.
The Gaels knocked off a terrific Gonzaga team in the finals of the WCC tournament in 2019 – after losing to the Zags by an unbelievable 48 points in Spokane.
In most previous seasons, the lack of overall power in the conference hasn't lulled the Zags to sleep when they have to turn around and play tougher teams in the NCAA tournament.
So…
Would the Zags be better off entering the Big Dance with a loss on their record?
You know, just to focus everyone.
Or is the lure of an unbeaten season just too lovely to abandon?
The players no doubt would like to win them all.
And what about Few?
It would be interesting to read his mind on the subject.
Meanwhile, can the Zags run the table in the WCC?
"You have to play an A-plus game," Bennett said when asked about taking down Gonzaga, "and hope they roll out a B-minus or a C."
That's about right.
But tougher tests are coming, and conference play has to be used as preparation…
Not just a walk in the park.
Email: scameron@cdapress.com
Steve Cameron's "Cheap Seats" columns appear in The Press on Mondays, Wednesdays and Fridays. "Moments, Memories and Madness," his reminiscences from several decades as a sports journalist, runs each Sunday.
Steve also writes Zags Tracker, a commentary on Gonzaga basketball which is published each Tuesday.
Recent Headlines
---