January weather bizarre so far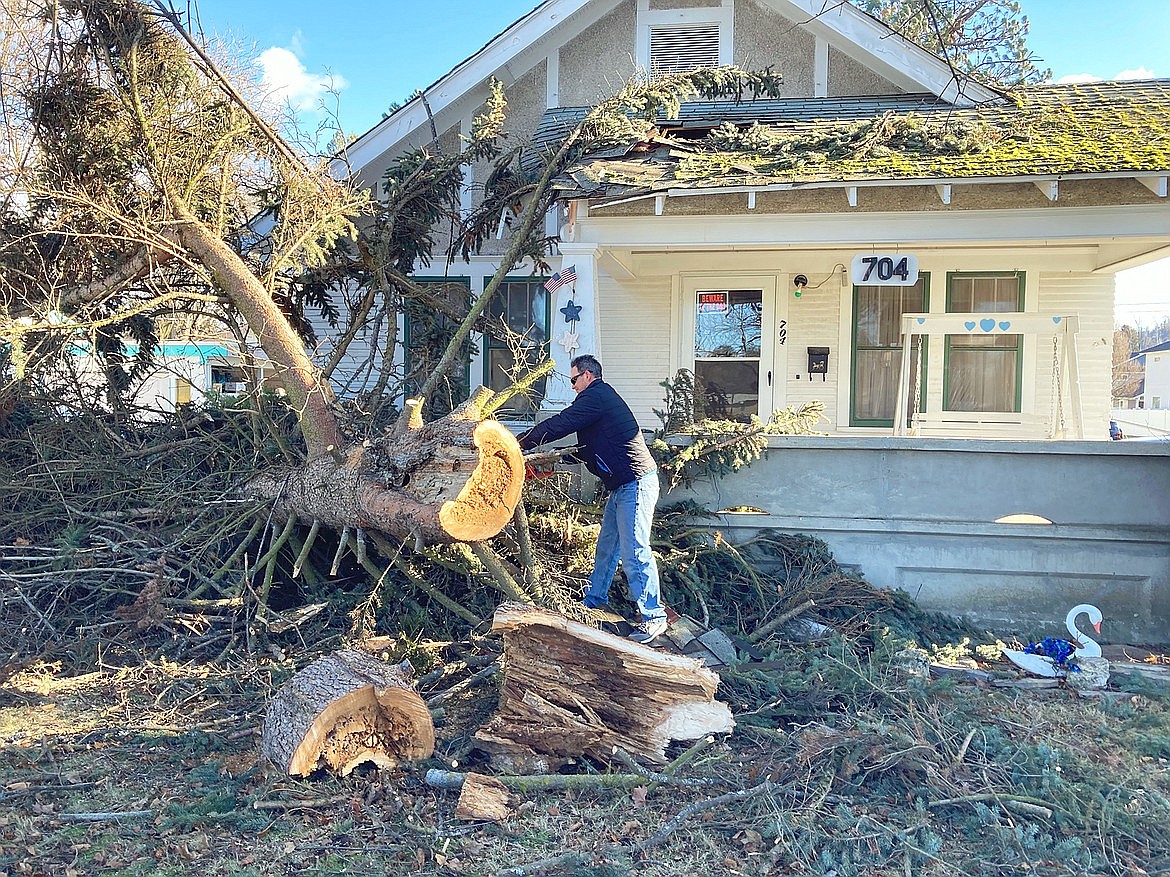 A man uses a chainsaw to remove a tree from the front of a 15th Street home in Coeur d'Alene Wednesday.
BILL BULEY/Hagadone News Network
|
January 18, 2021 1:09 AM
Last Wednesday, Coeur d'Alene and surrounding regions were hit with another big windstorm that resulted in widespread power outages. About 67,000 customers were without power and there were thousands of branches down shortly after the storm hit the region.
Highest wind gusts from Spokane to Cataldo were from 55 to 71 mph. By looking at the area observations on that day, the strongest winds were concentrated from Spokane through Coeur d'Alene and over the mountain locations.
Winds hit 71 mph at Spokane International Airport early Wednesday. It tied the same speed of the historic windstorm back in November 2015. Cliff reported a wind gust of 58 mph on Player Drive in Cd'A. Coeur d'Alene Airport had a 61 mph gust. Spokane's gust was the highest in the lower elevations.
In other locations, Cataldo hit 59 mph. Felts Field had a gust of 56. One of our observers in Rathdrum reported a 50 mph gust with a 66 mph gust near Athol. Post Falls reported gusts as high as 70 at the Railroad Bridge.

At Magee Peak, a high mountain location that's often windy and located northeast of Coeur d'Alene and east of Bayview, there was a gust of 76 mph, the equivalent of a Category 1 hurricane. Also, wind gusts at that station of over 70 mph were occurring for four straight hours.
Fourth of July Pass had wind gusts of 60 mph.
Many stations outside the I-90 corridor had lower wind speeds. For example, Harrison had a gust of 36 mph early Wednesday. Deer Park in eastern Washington had a gust of 49.
When comparing this wind event versus the one on Nov. 17, 2015, this one was shorter in duration and not as widespread. According to the National Weather Service, the major wind gusts from last Wednesday's windstorm lasted about 2-3 hours, but the one in 2015 was nearly twice as long.
During the big windstorm of 2015, both Spokane International Airport and Fairchild Air Force Base reported wind gusts of 71 mph. Winds were gusting to 60 mph at Cliff's station and the highest wind gust at Coeur d'Alene Airport was 58 mph on that date.
Some areas did break records for the highest wind speeds on that November day in 2015. The highest wind speed in Coeur d'Alene occurred during the Columbus Day Storm in 1962 with a gust of 73 mph. At Spokane Airport, the all-time record is 77 mph, reported on June 21, 2005.
The other big weather news in our region is the lack of snow. There has been no measurable snowfall for the first 15 days of this month in Coeur d'Alene.
According to Cliff's records, since 1895, there has not been another year with no measurable snow during the first half of January in Coeur d'Alene. It's hard to believe that many stations in Texas have seen more snow this month than in North Idaho. One storm produced around 4-6 inches of snowfall north of Austin to Dallas on Jan. 10.
In other parts of the world, snow has been falling across Europe, especially the eastern portions. In fact, Madrid saw its most intense snowstorm in 50 years on Jan. 9. The system dropped about 20 inches of snow, a very rare event.
All of the moisture that has fallen here in the first half of January has been rain. At Cliff's station, over 4.50 inches of rain has been measured compared to the normal precipitation for this month of 3.77 inches. The all-time record for rain and melted snow for January was 8.70 inches set back in 1998.
I don't think we'll challenge this record, but I can honestly say that I never thought we would see a weather pattern like this one in January.
However, we haven't given up on the snow. As of last Friday, there was a chance of snow on Sunday. The long-range computer models are still showing big changes in the upper-level wind flow patterns that would direct storms from a colder, northwestern direction. Therefore, we believe that snow will be increasing over the area later this month and continue into February.
Assuming this pattern develops, which would be better late than never, February should be our snowiest month of the season. This wouldn't be a big surprise as we often go back and forth from the less-than-normal snowfall in December and January to a lot of snow.
Also, February 2020 had less than half the normal of 11.9 inches with 5.7 inches, so the chances are better for widespread snowfall. However, Mother Nature always has the final say.
• • •
Contact Randy Mann at randy@longrangeweather.com
---