'This could have been avoided'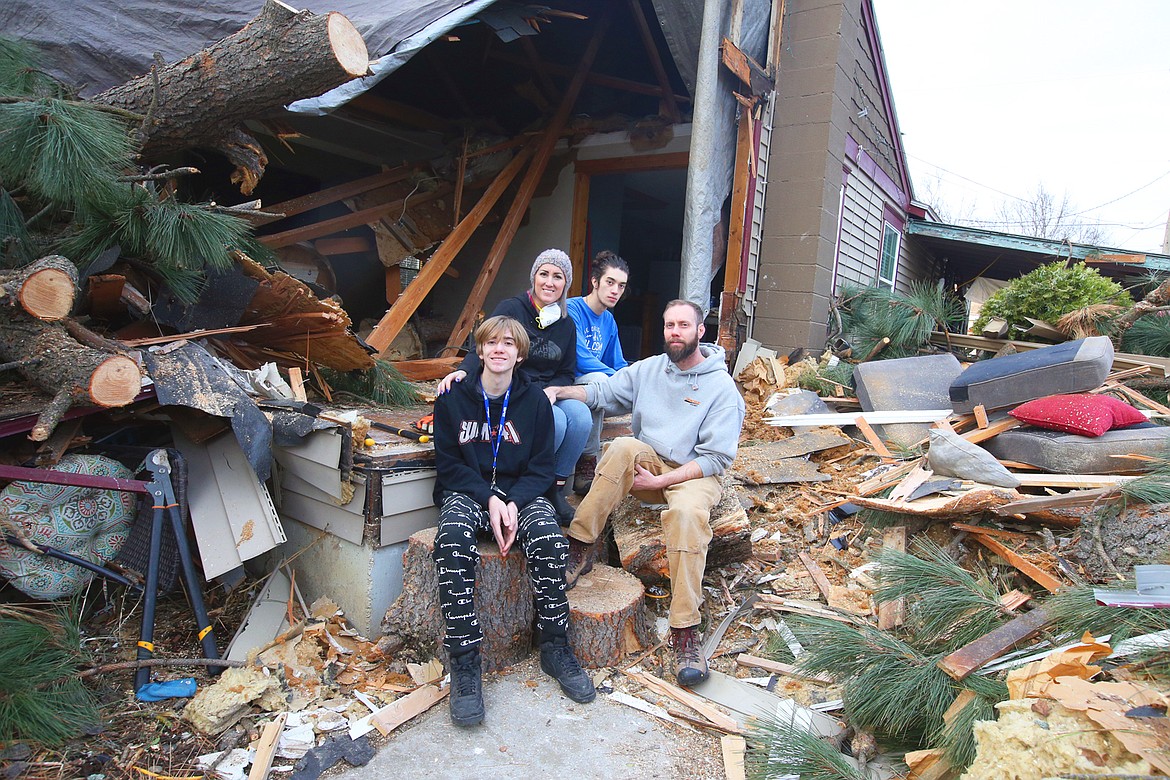 Members of the Morse family sit at their St. Maries Avenue home that was ripped open by a falling pine tree during Wednesday's windstorm. From left are Jacob, Janine, Anthony and Matt.
BILL BULEY/Press
by
BILL BULEY
Staff Writer
|
January 17, 2021 1:40 AM
COEUR d'ALENE — As friends and family went back and forth carrying furniture from their home Thursday afternoon, Matt and Janine Morse looked on with disappointment.
"That table is ruined," Janine Morse said. "I'm not going to keep that."
A trailer was filled with chairs, dressers, shelves and other household goods.
"We have to salvage as much as we can," she said.
The house on St. Maries Avenue in Coeur d'Alene where they have lived for about 15 years was ripped open when a ponderosa pine fell on it about 6:45 a.m. during Wednesday's windstorm.
"The force was so much, I was laying in bed I flew up and landed on my back on the floor," Janine said. "It was the craziest sound and feeling."
It put them in a chaotic, frightening situation. Insulation and shingles were seemingly everywhere. Wind was whipping through their darkened home that was now missing walls, as they tried to find their 16-year-old son, Jacob, who had been laying on the living room couch. He didn't want to sleep in his room, as it was close to the 70-foot pine tree in the neighbor's yard.
The tree worried him.
Now, he was buried under that tree. His parents couldn't see him. They couldn't hear him. They feared he was dead.
"Anything we could move, we were moving," Janine said. "It's a helpless feeling. Very, very helpless, knowing my son was under there."
Janine struggled to breathe and see amid the wreckage that was minutes before their comfortable home.
"This tree was on top of him. We thought we were uncovering our deceased son," she continued.
"When we heard it crash, we ran out here," Matt said. "And his head was underneath the tree."
The couple kept pulling debris away and finally, saw their son's feet. Unable to budge the massive tree, Matt somehow reached in and pulled cushions from under Jacob. It worked.
For the first time in several frantic minutes, they heard him.
"I can breathe," he said.
They knew he was still alive.
Jacob dropped down and was able to slide out.
The sophomore at Coeur d'Alene High School didn't remember much of what happened, other than he was awake with his head between two pillows.
"I just blacked out," he said.
When he came to, his face was pressed into the pillow. He couldn't move. He could hear his mom and dad yelling for help, but the tree blocked neighbors from getting there.
When they freed him, he ran into the kitchen, stumbled, and collapsed. Later, he went to the hospital for a checkup and was OK.
Somehow, Matt and Janine said, he survived.
"I cannot believe he got out with just scraps and bruises," Matt Morse said.
As they continued to remove what was still intact from their home, Janine said, "This could have been avoided."
She said that because the couple and neighbors contacted the city several years ago to inquire about removing the tree. They needed city permission because while it was in the neighbor's front yard, it was within four feet of the street.
"Public tree removal without a permit is a violation of the city ordinance and can result in a misdemeanor penalty in addition to a fine in the amount of the appraised tree value," says the city's website
Janine Morse said they had been fearful of this tree for years.
"You could see it was leaning more and more," Matt Morse said.
They said a city arborist came out and reviewed the tree. It was determined it was healthy and did not need to be removed. They were given the OK to remove a smaller, diseased locust tree next to it and have the larger tree trimmed, which they did.
Still, Matt Morse believed the city was wrong and didn't fully consider their request.
"There is nothing we could have done to prevent it from falling short of taking it out," he said.
"We weren't asking them to remove it. We were asking them for permission to remove it ourselves," he added.
Matt Morse considered the ponderosa pine big enough to cause a lot of damage, even kill someone, if it fell.
"There may not be anything wrong with that tree, but there's nothing to break its fall. And this isn't a tree that's just hanging over a garage," he said. "This is a tree where there are two houses in the direct path if it falls."
Both Matt and Janine said they felt the city placed a healthy tree above their safety.
"And here we are," Matt said.
Troy Tymesen, city administrator, said the Morse family and their neighbor took the correct steps, followed the rules, and checked in with the city.
The city, in turn, considered the request, inspected the tree, reviewed the situation. The tree was deemed healthy.
"It was gone through, a grading system if you will," he said.
Coeur d'Alene, which has received Tree City USA recognition for 37 years, takes pride in its tree. It is city where trees stand tall, especially in the older neighborhoods.
"Trees are beautiful but they are a bit of a liability," said Bill Greenwood, city parks director.
Tree removal "is a last resort," said the city's website, adding "there are circumstances when it is necessary. An arborist can help decide whether or not a tree should be removed."
Greenwood said the city gets about 10 requests a year regarding tree removal. About half the time, the city denies the request.
Tymesen said the city has no way of predicting what will happen with the weather.
Wednesday's windstorm, with gusts reportedly more than 60 mph, were preceded by days of unusually warm, wet conditions that left the ground soft and saturated.
Many homes, cars and properties were damaged as hundreds of trees fell throughout North Idaho, but areas of Coeur d'Alene and Hayden were hit particularly hard.
"If we had frozen ground like we should, it wouldn't be as bad as it is," Greenwood said.
Tymesen said while he was sorry for the damages the storm caused, the city can't predict what Mother Nature will do.
"I wish we had a better crystal ball looking to the future," he added.
John Schwandt, a member of the city's Urban Forestry Committee, wrote in a letter to a Press reporter on Friday that the committee "will be discussing our losses to see if there are any patterns that might help us minimize losses in the future."
Meanwhile, Matt and Janine Morse are thankful no one was hurt, including a younger son, Coltyn, in their home when the tree fell.
Family and friends have responded, too.
"We definitely had a lot of community help," Janine said.
But both believe the city should have listened to the request for permission to remove the tree. Their safety, they said, should have been a priority.
"Where is the concern for the people who live in the city that they are in charge of?" Janine Morse asked.
They will face financial struggles in the months ahead, Janine Morse said.
Matt Morse said the damage to their home was such that it will probably have to be demolished. And while it's covered by homeowner's insurance, it will be a time-consuming and expensive process. A truck and a Toyota FJ Cruiser hit by the tree are most likely total losses.
They planned to stay in a hotel, and then try to find a rental home that will also take their two dogs and two cats, not to mentioned three lizards and some chickens.
The city needs to listen to the people of the community, Janine Morse repeated.
"We need to be safe in our homes," she said.
---