Good to the bone
by
DEVIN WEEKS
Staff Writer
|
January 14, 2021 1:00 AM
If you've tweaked your shoulder, snapped your wrist or twisted your ankle, the professionals at Orthopedic Surgery and Sports Medicine Orthopedic Urgent Care are ready to take care of you.
OSSM Orthopedic Urgent Care specializes in bone and joint injuries, so patients of all ages with strains, sprains and other acute orthopedic or occupational injuries can sidestep lengthy and costly emergency room visits and walk right in to be seen by a licensed nurse practitioner, physician assistant or physician with extensive orthopedic experience, no appointment necessary.
Orthopedic surgeon Dr. Roger Dunteman said that when OSSM opened the Orthopedic Urgent Care in February 2018, they had one goal in mind — to provide immediate, cost-efficient care with direct access to specialty-trained orthopedic surgeons.
A visit to OSSM Orthopedic Urgent Care reduces overall medical costs by immediately pairing patients with orthopedic professionals, rather than having patients make multiple appointments with different care providers. This saves time, as well. A visit to a general practitioner may warrant a referral, but patients will sometimes have to wait weeks or months to see a specialist. OSSM Orthopedic Urgent Care — located within and sister office to OSSM — offers same-day or next-day treatment so those injuries don't have to wait.
"Instead of waiting eight weeks or longer to see a specialist, you're doing it right from the beginning," advanced registered nurse practitioner Chad Bailey said.
Because Orthopedic Urgent Care does not treat people who are sick, patients will have peace of mind knowing they're in a healthy, safe environment.
"In the time of the pandemic, coming here, all we're treating is orthopedic patients, so you're not intermingling with people with upper-respiratory problems," Bailey said.
Although some injuries should be seen in an emergency room, such as fractures with open wounds, when there are deep lacerations, when bones are showing or when an area is burned, Orthopedic Urgent Care will treat sports injuries, minor dislocations and fractures/broken bones, as well as painful, swollen and injured feet, ankles, elbows, backs, necks, hips and more.
"We work like an urgent care, but we specialize in musculo-skeletal injuries," orthopedic physician assistant Jennifer Wegler said.
Not only are X-rays performed on site, they're immediately reviewed by OSSM Orthopedic Urgent Care's experts so patients quickly receive detailed information about their injuries. Casting, splinting and bracing services are also available during the same visit when necessary.
"If this isn't something that needs surgery, myself and my counterparts will make arrangements to treat you through your problem," Bailey said. "We have that expertise. Sometimes you're not down the right path, and we can get you pointed in the right direction."
OSSM Orthopedic Urgent Care is at

850 W. Ironwood Drive, Ste. 202 in Coeur d'Alene.

Hours are Monday through Friday, 8 a.m. to 5 p.m.
For information, visit www.orthouc.com

or call 208-664-2175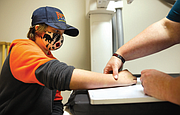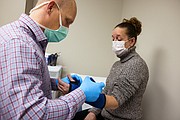 ---