'Like an earthquake'
by
BILL BULEY
Staff Writer
|
January 14, 2021 1:09 AM
COEUR d'ALENE — When McCally and Leshea Bonney heard and felt something crash into their home in the early hours of Wednesday, they sought safety in the basement.
Good thing.
Shortly afterward, with the wind howling and trees creaking in the darkness, two more trees cracked, snapped and slowly toppled onto the roof of the 19th Street house, landing with a loud crunch.
They punched a hole in the roof, but didn't reach the rest of the interior.
"It sounded like somebody crashed into our house, and then the house moved," said McCally Bonney,
"I felt the whole house shake," Leshea Bonney said.
Many shared similar stories.
Tony Norris and his wife left their 12th Street and Mullan Avenue home, which was without power, to get coffee about 6:30 a.m. When they returned, the towering tree they had been keeping an eye on across the street had come down, its branches breaking through their kitchen window.
"We had glass everywhere," he said.
Despite the damage, Norris felt fortunate.
"We're lucky. Nobody got hurt," he said.
That was just the beginning of a long, scary morning in Coeur d'Alene and other North Idaho towns as winds of more than 50 mph damaged homes, flattened hundreds of trees and snapped some midway, upended sidewalks, knocked down power poles and leveled fences. Several trucks and cars were crushed by falling trees.
Drivers slowly navigated their way around debris and downed power lines. Some stopped to check on people outside their homes.
"Is everyone OK?" one asked.
Some homes had roofs and walls punctured, while others sustained minor damage.
Trees on The Coeur d'Alene Resort Golf Course came down along Mullan and 19th Street, like dominoes at one point, with three falling, crushing the fence, and minutes later, three more, one after the other.
There were numerous close calls and near misses, with trees estimated at more than 80 feet crashing to the ground, exposing massive roots. Some, swaying in the wind and bending over homes, held on as homeowners hoped for the best.
Many streets were blocked for most of the day as removal efforts took time. Winds ripped through neighborhoods until about noon and even then, they were strong enough to bring down more trees.
Rowdy Stowell went out to survey the area around his Coeur d'Alene home and couldn't believe what he found.
It seemed trees were down on nearly every block and every other block had a house with a tree on it, Stowell said. He saw an RV that was pretty much cut in half by a tree.
"It's an amazing amount of trees that came down," he said.
Joe Cleveland of Cleveland's Construction had a crew working to remove a giant tree that fell in front of a Garden Avenue home — and that same home had a tree crash through its roof.
The family inside was OK and left to find another place to stay.
"They said it felt like a huge earthquake when it hit," he said.
Cleveland said he started receiving calls early Wednesday for help removing trees, and had several jobs already scheduled. He said that people were flagging him down as he was driving to assess the extent of damages.
"As you can see, it's everywhere," he said. "Downtown Coeur d'Alene got hit the worst."
Ruth Walker stood outside her Third Street home at 8:45 a.m., looking at the massive pine tree that used to sit on her neighbor's front lawn. Passersby stopped in awe of the fallen tree — the roots pulled from the yard, and the power lines torn from the sky. Once standing at least 60 feet tall, Walker said the tree was bound to be an issue. Walker said the owners of the property weren't home and only recently bought the home. 
"It's an awesome tree, beautiful to look at, but it has always been a worry," she said. "Thankfully, it didn't hit anyone, amazing." 
Warren Long got a call early Wednesday morning that a tree fell on his family's house at Fifth and Birch. He responded and founded the front roof and section of the 1910 house that's been in the family since 1958 was caved in.
The tree that hit Long's home was one of two that had been in a yard across the street.
Long recalled sitting on the porch with his brother in the 1970s and said that the owner of the property had the trees topped off due to fears they might come down in strong winds. But the trees split and kept growing.
He said in recent years, he worried when he looked at them and knew they could reach his home, which he painted last summer.
Wednesday morning, they did, crushing two cars as well.
"The roots aren't that deep," he said. "They're just kind of right there."
Cole Horvarth was driving by when he saw Long trying to cut the tree away with a handsaw, so he stopped and pulled out his chainsaw. He said two other friends were also driving around with chainsaws, and finding plenty of work.
"This one is kind of a project because there's a double whammy on that tree," he said.
Karen Dunmore, Long's neighbor's, felt the shudder when the tree came down.
"It felt like an earthquake," she said.
The story was much the same around town.
Coeur d'Alene's Cindy Walker had a tree across the street fall on her garage and car, and with another tall pine still standing outside her home, she said they would stay elsewhere.
"We don't want to die," she said.
Walker said she and her husband got up at 6 a.m., had coffee, listened to the winds, then heard the crash outside.
"I knew it was the tree. We've been watching that big tree there for years," she said.
So what did it sound like when it hit?
"Like something just totaled my car," she said with a smile. "I knew it when it happened."
The longtime Coeur d'Alene resident said she has lived through severe storms, "but this is the worst I've seen.
"The stories that I'm hearing, it's unbelievable."
•••
Press reporter Madison Hardy contributed to this report.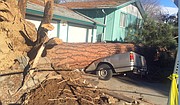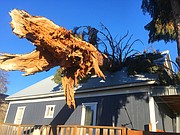 ---