Power's out in Kootenai County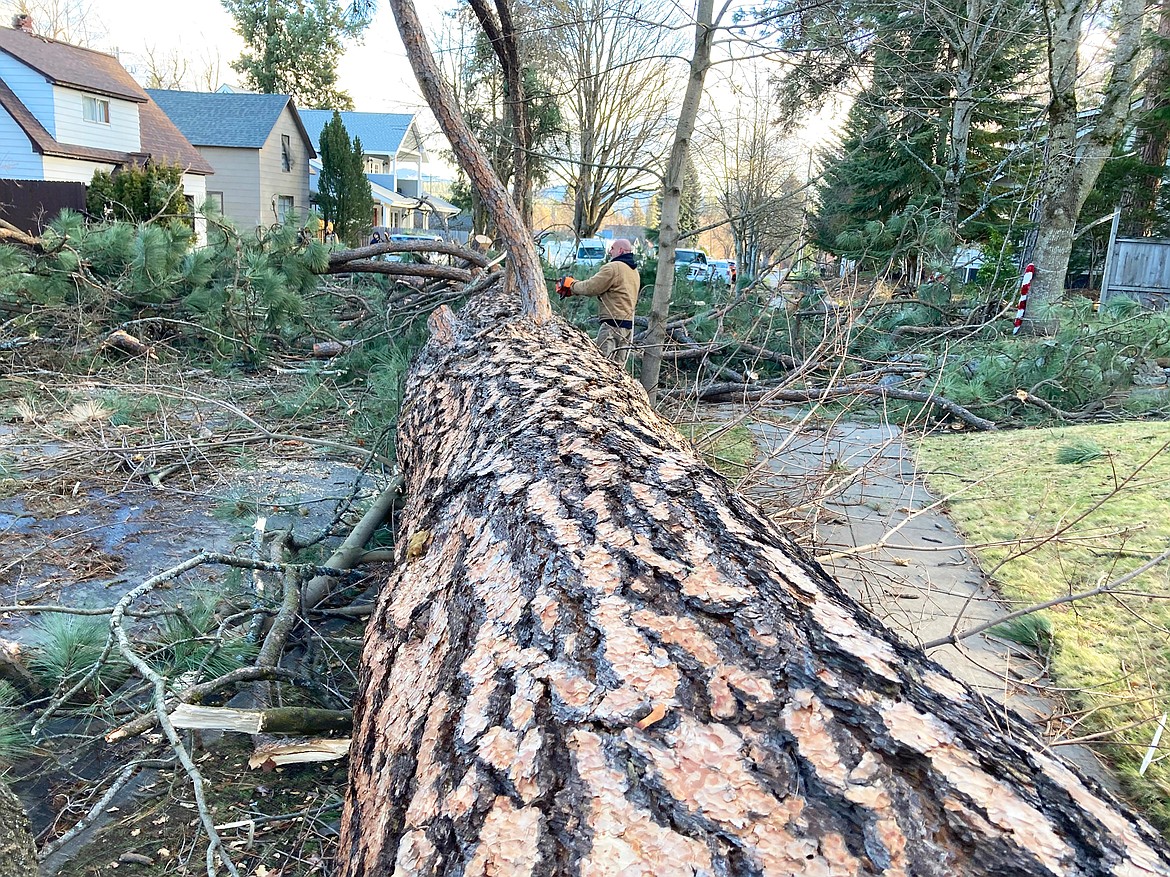 A man uses a chain saw in the early stages to remove a large tree that fell across Mullan Avenue on Wednesday.
BILL BULEY/Press
by
CRAIG NORTHRUP
Staff Writer
|
January 14, 2021 1:08 AM
Crews worked overtime to restore power to tens of thousands of Kootenai County residents on Wednesday afternoon.
Avista and Kootenai Electric crews were out in force Wednesday morning, with power outages reported as early as 3:30 a.m. Just over 14 hours later, more than 15,000 were without power in Kootenai County. Kootenai Electric Cooperative reported more than 3,100 remained without power largely north of Hayden Lake.
Regionwide, as of 9:30 a.m. Wednesday morning, about 67,000 Avista electric customers were without power.
"This large wind event is affecting utilities and their customers across the Inland Northwest," said Erika Neff, KEC spokeswoman. "Crews are seeing widespread damage with 44 separate outages and multiple downed trees, poles and power lines. In addition, five of the substations in our service territory are down, with four of them down due to Avista Utilities' transmission line outages."
Neff said 11 crews were out in the field, with more contract crews on the way.
Avista spokesperson Lena Funston said all Avista crews were working to restore power as quickly as possible.
"As Wednesday's windstorm has moved through the region and the winds have begun to subside, it is all-hands on deck for Avista crews and staff responding to electric outages," Funston said. "Assessment and restoration efforts started early this morning, and crews will work around the clock until everyone's power is restored."
Wednesday's windstorm gusts crossed speeds of 60 mph through most of the area, according to the National Weather Service, including reports of gusts up to 70 mph in Post Falls. The storm left streets and homes strewn with downed trees, including on Player Drive in Coeur d'Alene, where Carl Shaw spent his part of his morning assessing the damage after a tree crushed the cab of his Ford F-150 around 7:15 a.m. Despite the loss, he kept his spirits up.
"Nobody was hurt," Shaw said. "It could have been a lot worse."
Fort Sherman's Little Red Chapel was damaged when a pine tree fell on it, according to the Museum of North Idaho.
Many county offices and public buildings closed for the day. While Lake City and Coeur d'Alene High Schools were closed to students anyway because of blended learning schedules, learning was interrupted in middle schools and elementary schools across the county, according to Scott Maben, communications director for the Coeur d'Alene School District.
Coeur d'Alene city administrator Troy Tymesen said the city activated the emergency operations center around 3 a.m. He said the city will continue to mobilize its efforts to clean up in the storm's aftermath.
"Our plan is to mobilize street team members, parks team members and firefighters to buck up those and haul away those trees, so they can be opened up."
Power was also cut to many traffic lights, including Sherman Avenue, Ramsey Road and Highway 95. A Sheriff's deputy was spotted directing traffic on the corner of Highway 95 and Prairie Avenue, while the usually-orderly intersection of Ramsey and Dalton outside Lake City High School saw moments of confusion as drivers negotiated an orderly procession.
Downed trees turned streets into cul-de-sacs Wednesday, as well. Sheriff's crews blocked off thru-traffic to Orchard Avenue in Hayden while Avista crews re-established power along neighboring Ramsey.
"It's been super-windy," Elizabeth Hansen of Orchard Avenue said while standing outside her home, a 40-foot tree laying across the road in the distance and a tangle of wires not 10 feet away. "And then early this morning, I heard a very loud crash. This tree took out that power pole."
Neff said KEC members should be without power throughout the night with the possibility of multiple day restoration efforts and she could not give an estimate of when power would be back on line.
Avista concurred.
"Today's restoration progress has largely focused on emergency or urgent situations and assessment," Funston said. "As it is safe to do so, Avista continues to assess the extent of the damage and restore power. Assessments may take 24 hours or more in some cases, due to the widespread damage, and outages may last multiple days."
---