Senate panel seeks to end COVID emergency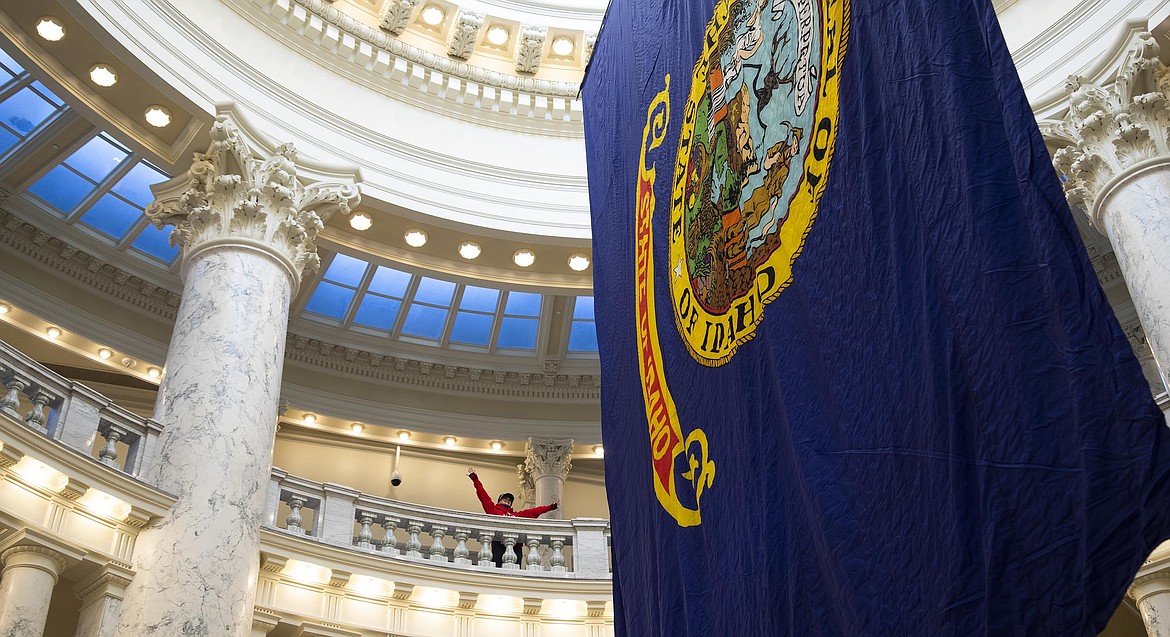 A young visitor to the Idaho Statehouse celebrates the giant state flag hanging in the rotunda as the Idaho Legislature convened Monday in Boise.
Darin Oswald/Idaho Statesman via AP
by
CRAIG NORTHRUP
Staff Writer
|
January 14, 2021 1:07 AM
While the wind storm that ravaged North Idaho was dying down, a political gust from within the Idaho Legislature started to blow harder.
The Senate's State Affairs Committee introduced four bills Wednesday devoted to setting limits in a state of emergency.
The bills would, among other restrictions, prohibit a governor from establishing a state of emergency that restricts Idahoans' rights and Idahoans' abilities to work. The four would also end a governor's emergency declarations after 30 days, would provide the Legislature to call itself back into session, and would specifically end Gov. Brad Little's March 25 emergency declaration in the wake of the coronavirus pandemic.
Little's emergency declaration and subsequent stay-home order shut down a massive chunk of the retail and service industry, rocketing the state's unemployment rate from around 3 percent to over 11 percent.
Idaho received $1.25 billion in federal CARES Act dollars during the first salvo of relief packages back in April. The rights-and-restrictions proposal was written in such a way that the state could accept federal funding in disaster and emergency relief.
The Idaho Legislature met during a special session in August to debate key COVID-related issues, including education and election maintenance during the pandemic. But those items were carefully negotiated with Little's administration prior to the special session, as the Idaho Constitution specifies that special sessions cannot waver too far from dedicated topics.
"I think the determination was, at the time, that it would be unconstitutional to consider that at that time, in that session, as it was not part of the Governor's call," Sen. Chuck Winder, R-Boise, said Wednesday in the committee meeting. "So the Senate went to work and came up with our own resolution."
The resolution also limits the spending discretion of the governor's office during an emergency, prohibits quarantining healthy people, and prohibits closure of places of worship.
The State Affairs Committee will open the proposals up to public hearings and debate them. Passage in State Affairs would send the bills to the Senate floor for debate and a vote.
Little has not indicated if he would veto the measures, but lawmakers have discussed creating a strong enough following to override a potential veto.
"Obviously, there are veto overrides that are possibilities, too," Winder said, "and that may be necessary as we go through this process. I hope not."
---