Wind knocks out power in region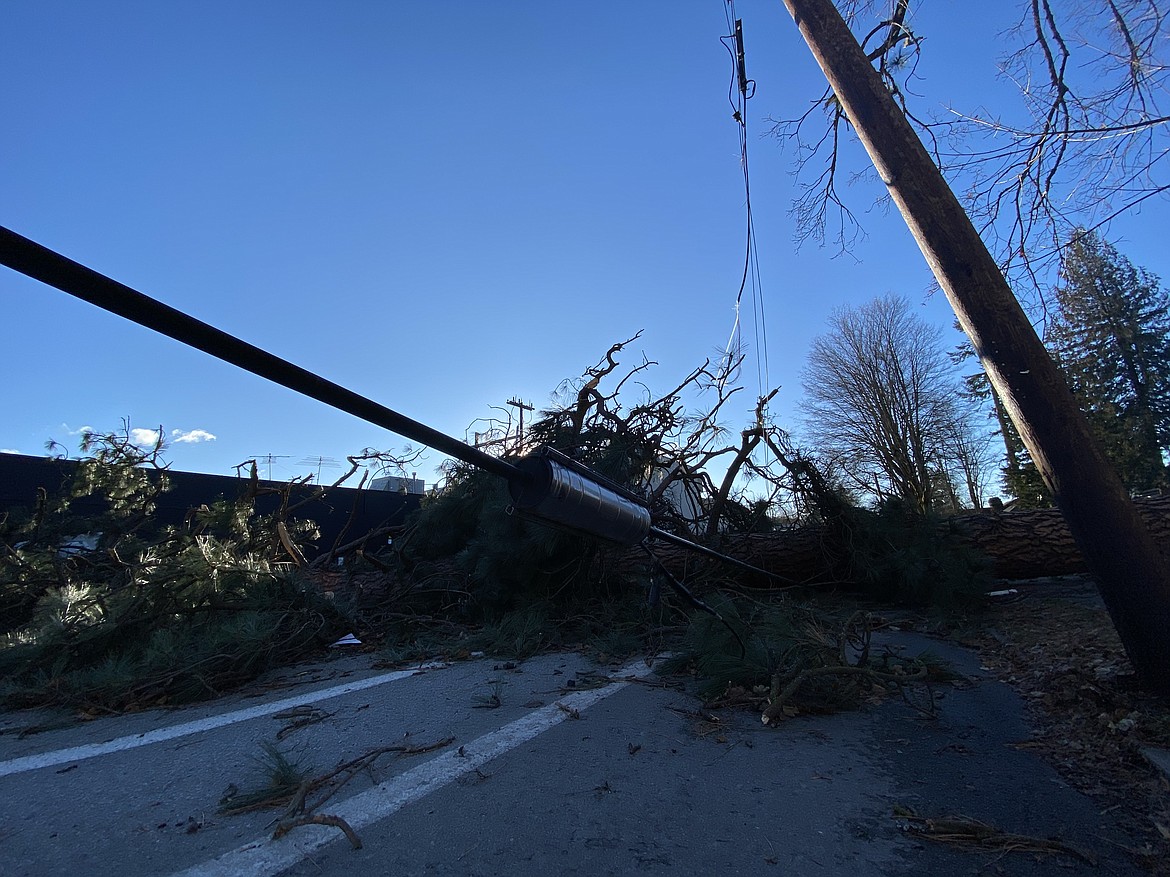 A tree that is at least 80 feet long has fallen and is blocking Third Street behind the Safeway. Neighbors reported hearing rumbling and the ground shaking between 6:30 a.m. and 7 p.m. Police came earlier in the morning to assess the situation, no one was hurt in the crash. (MADISON HARDY/Press)
|
January 13, 2021 8:48 AM
From the Starbucks on Prairie Avenue and U.S. 95 to the Coeur d'Alene Press downtown - and other areas as well - this morning's powerful windstorm has knocked out power.
The National Weather Service had warned of wind gusts up to 55 mph, and judging by the number of large trees waylaid throughout the region, that estimate was likely on target. The high wind advisory is in effect until 4 p.m. today.
As of 8:10 a.m., Avista reported 69,786 of its customers had been affected by the storm. In Kootenai County, 24,325 had lost power.
The Coeur d'Alene Press and its production facility downtown were both without power. A power pole looked like it had been destroyed by a downed tree, threatening the company's ability to produce a Thursday newspaper.
We'll provide updates throughout the day on cdapress.com.
As of 8:40 a.m., Avista had restored power to about 1,000 Kootenai County customers.
As of 9:30 a.m., Kootenai Electric Cooperative was reporting 4,904 customers without power. Most appeared to be in the northern and southern parts of Kootenai County.
Thank you, Avista! Power is back on at The Press at 10:10 a.m.
At 11:30, Avista was reporting 23,952 Kootenai County customers without power. Many traffic lights in Coeur d'Alene remain out. A number of power lines are down, so please be extremely careful.
The Press phone system is down and might not be back up on Thursday, according to Press office manager Sheri Jones.
As of 2:30 p.m., Avista was reporting 17,694 Kootenai County customers without power.
The Press has been speaking to law enforcement officials about reports of serious injuries from the wind storm. So far, there have been reports of minor injuries, and one woman who was trapped in her house but no condition report was available.
As of 5:10 p.m., Avista was reporting 15,278 Kootenai County customers without power. The Press has also confirmed one death as a direct result of today's wind storm. We'll have complete coverage in Thursday's print edition of the Post Falls Press and Coeur d'Alene Press.
---