Live to ski: Dream homes and deals near Schweitzer
by
TYLER WILSON/Special to The Press
|
January 10, 2021 1:00 AM
Heavy rain put a damper (pun very much intended) on the winter wonderland the region enjoyed after Christmas. However, the peak of the ski season rolls on, with local mountains still providing a much-needed, outdoor, social-distancing-friendly escape from COVID.
And so Neighborhood of the Week continues its miniseries on "living near the ski resorts." Check out last week's look at housing options near Silver Mountain. This week, we take a look at some of the high priced properties near Schweitzer Mountain Resort, as well as some deals you can find in the Sandpoint-area.
Located about 45 minutes north of Coeur d'Alene, Schweitzer Mountain Resort is a popular destination year-round thanks to its proximity to Sandpoint and recreation on Lake Pend Oreille. The mountain boasts 2,900 acres of terrain for all levels of skiers. The summer season includes hiking and biking options on the mountain, as well as numerous special events. Another major draw — the Festival at Sandpoint — aims to return this summer.
The Resort Village includes rentals and condo options. You can't get much closer than the MountainSide ski-in/ski-out subdivision, though the 35-lot development is already sold or pending sale. More opportunities may be coming soon, as teased on the real estate tab on the Schweitzer website. You can also click on the "Schweitzer Life" tab at Schweitzer.com for detailed information on their property management services. For short-term visits, click on "Lodging" under the "Plan your visit" tab for information on lodging, condo and rental properties.
You'll find a wide selection of properties inside the traditional city limits of Sandpoint. Realtor.com reports a median price of around $399,000, based on 262 active/recent listings. The spectrum of properties there are probably worth several columns (and we've covered individual neighborhoods in Sandpoint in the past), so instead we'll hone in even closer to the mountain.
Those interested in building something new can choose from a range of lots and land near Schweitzer. Two almost half-acre lots on Telemark Road are priced just below $60,000 each. Another lot of similar size off the same road with spectacular filtered views is listed at $150,000. Yet another goes for $119,000 with the potential for a multi-unit property. Meanwhile, a prime location parcel is located nearby in The Spires gated community, priced at $235,000.
Existing properties in the same area include a three-bedroom, 1,000-plus-square-foot-condo with a garage and access to a community sauna and hot tub. Price for the turnkey property: $580,000. A new construction home near the mountain, located on Parallel Run and near a trickling creek is priced at $649,000 (one bedroom, 800-plus square feet).
Head out a bit and dream big with two active properties near Colburn Canyon Road off Highway 2. One is a five-bedroom, 3,100-plus-square-foot-home (older but with upgrades) on 5 acres with multiple outbuildings (including a four-car detached garage/shop). Price: Seemingly a steal at $575,000. Or you can really go for it with a four-bedroom, 4,500-plus-square-foot-home sitting on almost 30 (!) acres with multiple outbuildings. Price: Just under $1.5 million. Forget about Schweitzer. With that much acreage you can cross-country ski on your own dang property.
Stay tuned for more "Live to Ski" content in the coming weeks!
• • •
Let us know about standout neighborhoods and developments that we may feature in an upcoming Neighborhood of the Week. Contact Tyler Wilson at twilson@cdapress.com.
Real Estate Agents, take advantage of Neighborhood of the Week by sending in your suggestions for featured areas and new developments, including sites outside the normal confines of Coeur d'Alene, Post Falls and Hayden.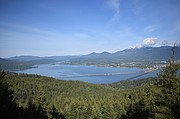 ---