THE FRONT ROW with MARK NELKE: Choate, with North Idaho ties, nearly made another big step
|
January 10, 2021 1:30 AM
Little did I know that, standing on the roof of a school bus with Gale Dolsby in 1987, calling a Sandpoint High football game to be shown days later on the local community access channel, that I would be watching someone who was thisclose to becoming the next football coach at Boise State.
The game was at St. Maries, on the old football field down the hill from the city park.
With nowhere to set up in the press box, we were able to get the bus parked on the track along the visiting team's sideline (I'm not sure how that was allowed), and Gale and I climbed atop the bus, where Gale filmed the game and provided commentary, and I did play-by-play.
In addition to somehow not falling off the top of the bus, the other thing I remember was while Sandpoint won the game (the Bulldogs went on to play in the state championship game that season), the St. Maries squad was a feisty bunch.
One of those feisty Lumberjacks, it turned out, was a linebacker named Jeff Choate.
WE LAUGHED about that game more than a decade later, when I met Jeff in his role at that time, which was head football coach and athletic director at Post Falls High.
Choate left Post Falls in 2002 to take a job as a graduate assistant coach at Utah State. Grad assistants are like entry level coaches, so leaving a head coaching job for a "grunt" job seemed a little weird.
But Jeff wanted to be a college football coach, and he knew that was where he had to start.
He spent three years at Utah State, the last two coaching safeties and special teams.
Then it was one season at Eastern Illinois, followed by six seasons at Boise State, coaching special teams under head coach Chris Petersen.
He coached linebackers at Washington State in 2012. Then after a brief stop at UTEP, it was off to Florida for one season.
He rejoined Petersen at the University of Washington for a couple of seasons, before being named Montana State's head coach in late 2015.
I REMEMBER talking to Choate shortly after he took the MSU job. At that time, Montana was "the" team in the state, but Choate had other ideas.
He talked about making Montana State "the" team in the state. And, in each of his four seasons as Bobcat coach, Montana State beat the Griz in their rivalry game — a trend current Griz coach Bobby Hauck says needs to change.
The last two years in Bozeman, Choate has gone 19-9. Both years the Bobcats reached the FCS playoffs and in 2019, advanced to the semifinals for the first time since 1984.
Choate has gone from an excitable special teams coach to a successful head coach, which explains why he was in the running for the head coaching job at Boise State, which went to BSU alum and former assistant Andy Avalos.
It would have been a nice step up, career-wise, for the 50-year-old Choate, especially if Boise State looks to move on from the Mountain West Conference and seek a little more higher-profile league.
But Bobcat fans have to be happy Choate remains in Bozeman, preparing his team for a spring 2021 season after the 2020 fall season was pushed back due to the COVID-19 pandemic.
This six-game season is scheduled to start Feb. 27 at UC Davis. Idaho is not on the schedule, but Montana State is slated to play host to Eastern Washington on April 3.
The Cat-Griz game is set for March 27 in Missoula. Talk about March madness!
At this rate, Choate figures to be considered the next time a bigger school needs a new coach. But for now, there's still another step for the former Montana Western player to take in Bozeman -- a trip to the FCS title game.
"God is good," Choate tweeted on Friday. "I'm so thankful for all the love and support I've received over the past several weeks. While I'm appreciative to have had the opportunity to engage with Boise State, I'm thankful to be the head coach at Montana State University."
Mark Nelke is sports editor of The Press. He can be reached at 664-8176, Ext. 2019, or via email at mnelke@cdapress.com. Follow him on Twitter @CdAPressSports.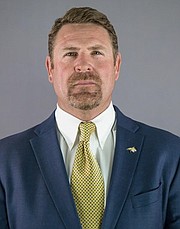 ---