A Warrior Education
|
January 8, 2021 4:50 PM
When thinking about retirement, many may dream of trips to the tropics, picking up a new hobby, engaging with charity work, or perhaps taking the boat out for a spin around the lake.
For Christie Wood, however, cruising through retirement is not her gig. After 26 years working for the Coeur d'Alene Police Department, Wood graduated from Lewis-Clark State College-Coeur d'Alene with degrees in Justice Studies and Communications.
Wood began serving as a Coeur d'Alene city councilwoman in January of 2020. Her election to this local leadership position is just another in a long line for someone who thrives in community service and civic engagement.
Prior to being elected to the city council in November 2019, Wood held the position of President of the Kootenai County Task Force on Human Relations for nine years; a group that she had been part of since 2007. In addition, Wood has served as a member of the North Idaho College Board of Trustees since 2004 and on the Coeur d'Alene School Board of Trustees for eight years from 2000-2008.
It's clear, in talking to Wood, she has a great love for volunteering, her community and education.
"My life would have been 100 degrees different and not in a good way without LCSC," Wood said. "I could not have done this without LCSC, (because) during that time of getting my degree I got promoted to Sergeant, all kinds of doors opened up for me just through education. LCSC is really designed for success, they want their students to succeed, it's a very personal experience."
Wood had a long and winding road that led to earning her degree from LC State. She graduated from Lakeland High School in 1979 and started college shortly after, but realized it wasn't for her at that point in time. From 1980 to 1990 she joined the Air Force and served as a law enforcement specialist, got married, and gave birth to her son Bryan. In 1990 she joined the Coeur d'Alene Police Department and served as a patrol officer, detective and school resource officer until 2000.
In a pivotal moment for Wood, she realized that in-order-to accomplish her career goals, she would need to complete her bachelor's degree.
Wood didn't want her son to graduate from high school before she obtained her own degree. As a non-traditional student, working full-time, she enrolled at LC State.
Four years later, in 2004, after a lot of hard work and night classes under her belt, she graduated from LC State with a degrees in Justice Studies and Communication. That same year Wood's son graduated from Lake City High School.
Wood sees the value of education and believes in the academic abilities of non-traditional students such as herself.
"With NIC and LCSC you can always find your way back,: she said. "If life gets interrupted, you have a family, you're working, whatever. Everyone has their own circumstances. With those two institutions you can find your way back and the doors are always open. Its life changing."
After completing her degree in 2004, Wood made the decision to give back to her community and the institutions that had helped her reach those goals.
"I'm eternally grateful that LCSC set up shop in Coeur d'Alene," she said. "It's changed the lives of so many people I know; including myself. From there, I was feeling really grateful towards NIC and LCSC for helping me finish my education. There became an opening on the NIC Board of Trustees, and I thought I would like to give back to them somehow. If something has a huge impact on my life, I never let them go."
When asked if LC State helped influence her to run for city council in 2019, Wood said, "The whole thing really kind of leads you down a path where you don't feel restricted in going for things. You'll stick your neck out there, education changes your life. Along with being a supervisor of detectives I spent probably the last dozen years of my career being the public information officer for the police department. All of those courses that I took at LCSC geared me up. I spent almost every day on camera and when you do that you stop caring what you look like. Running for office is kind of similar, you're just putting yourself out there. LCSC changed the whole course of my life."
Like many LC State graduates, Wood is making an impact on the world. In her case it's her dedication to volunteering, education, and the community she loves.
After a fulfilling career working for the police department, Wood is enjoying the second phase of her life serving her community in a different way. There is no stopping Wood, she believes her best days are yet to come!
To learn more about other outstanding alumni who have graduated from LC State and serve the greater North Idaho community, check out LC State's monthly outstanding alumni feature stories.
Jenny (Jeanette) Duncan, CDA Center, 2020-2021 LCSC Work Scholar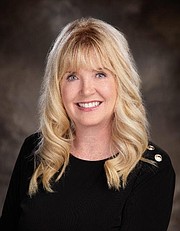 ---