What a million bucks (or more) gets you in Post Falls
by
TYLER WILSON/Special to The Press
|
February 28, 2021 1:00 AM
In the Barenaked Ladies song, "If I Had a Million Dollars," the narrator says he would not only buy a house, but also some furniture for that house.
For some of the high end homes for sale in Post Falls, however, you may not be able to get the furniture. And you can forget about the tree fort and tiny fridge.
Yes, Post Falls is home to some big, sprawling properties, and not all of them sit along the Spokane River. In fact, you'll find two active listings on the northern end of Post Falls near Prairie Avenue.
The first is available in the horse-friendly neighborhood of The Meadows, which touts wide open spaces and plenty of room between your neighbors. The 3,300-plus-square-foot-home sits on an acre of land and includes four bedrooms, 3.5 bathrooms and a decked-out theater room with a 120-inch HD projection screen. I hear "Tenet" makes more sense when you watch it on a big screen. Listed price of the home: $1.25 million.
The second active listing is north of Prairie Avenue and sits on more than 4.5 acres of land. The almost 3,000-square-foot-home comes with four bedrooms as well as a greenhouse, pavilion and separate shop building on the property, and, yep, you guessed it, a home theater room. The listing claims it's a 110-inch screen, so understand that if you go with this home instead, "Tenet" will make a little less sense. Price: Just under $1.5 million.
Want more than just a place to live? Then consider a 2-acre property on Mullan Avenue, which offers the opportunity to utilize some of the land for commercial development. So build a Blockbuster Video or something and then live in the four-bedroom, almost 2,400-square-foot-home on the property. Price: $1.2 million.
There are several plots of primo-location land in Post Falls that goes for more than a million bucks, but since they don't have houses on them, we're going to disregard them for now. We need a place to sleep!
If you really want to splurge in Post Falls and insist on that Spokane River view, then consider the four-bedroom, 3,700-plus-square-foot-home hilltop home plus a massive shop located just south of the river with, get this, 41 acres of land (which includes pre-established hiking and ATV trails). No designated theater room in the pictures, but, yowsa, the views of the river, Post Falls and the surrounding mountains are spectacular. This property will set you back $2.8 million.
At these prices, maybe the Barenaked Ladies should update their song.
• • •
Let us know about more standout neighborhoods and developments to feature in an upcoming Neighborhood of the Week.
Real Estate Agents, take advantage of Neighborhood of the Week by sending in your suggestions for featured areas, including sites outside the confines of Coeur d'Alene, Post Falls, Rathdrum and Hayden. Contact Tyler Wilson at twilson@cdapress.com. He's seen "Tenet" a couple of times and thinks it's fine, but feel free to email questions about that too.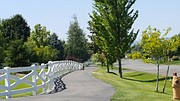 ---