MOMENTS, MEMORIES and MADNESS with STEVE CAMERON: Interactions with Tiger, and the question I always wanted to ask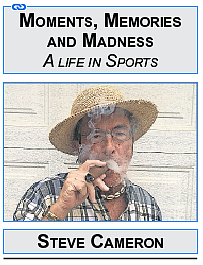 |
February 28, 2021 1:20 AM
Readers' questions this week almost all touched on the same theme.
Any surprise in that?
None.
The general tone…
"Have you gotten to meet Tiger Woods in your career?"
"How well do you know Tiger Woods?"
"What's Tiger like when the golf is finished and the cameras are off?"
There have been plenty more, some worded differently and some actually pretty unique.
But an overwhelming majority of my inbound emails have been about Tiger – starting almost immediately after news broke of his frightening auto accident in southern California.
(To be fair, the non-golfing crowd had things to ask about Russell Wilson, too, but we'll have to address the Seahawks' latest headache on another day.)
Meanwhile, I'll just put all the Tiger emails in a virtual pile, and we can chat a bit about the man who changed golf more than anyone in history.
NOTICE that I didn't describe Tiger as the greatest golfer of all time — although that's a valid discussion, as well.
You may, indeed, believe he's the best ever, or you might feel Jack Nicklaus deserves that distinction.
Or Old Tom Morris, for that matter.
There's no question, though, that Tiger has had the most dramatic impact on the sport.
Coming along at a time when social media was exploding, Tiger Woods became a must-watch icon — and he brought astounding amounts of money into the sport.
He made multi-millionaires of anyone who could survive a few cuts on the PGA Tour.
Frankly, Tiger owned golf.
Davis Love III once joked that "Frank" — the now-famous head cover on Tiger's driver — sold more apparel than any player on the tour.
Davis wasn't entirely kidding.
Frank co-starred in a few of Tiger's TV spots, and at the rate Woods got paid, well, Frank was raking it in.
SO TO answer your question about my own interactions with Tiger…
I've interviewed him in group settings on several occasions, grabbed about three or four minutes of one-on-one time, and talked to several other Tour players about life in Tiger's world.
Oh, and I once did a long, personal piece on Tiger's agent, Mark Steinberg, which turned up something kind of funny.
We'll save that for our final item, OK?
Right, so about Tiger…
My friends who cover the Tour all say he's changed, that an emphasis on fatherhood and the endless string of surgeries on his back and knee – now even more dramatic as his right leg will almost have to be rebuilt following the crash — have softened Tiger's whole demeanor.
The Tiger Woods I got to know a little bit was ALL about success on the golf course, and he really had little or no time for anyone except a few personal friends in the media.
I've seen him walk through a crowd of reporters and Tour officials without moving his eyes for any contact – not even a tiny bit.
He's the most focused athlete I've ever seen.
Period.
TO BE fair…
Even back in the days when Tiger considered most media obligations as annoying distractions, his close pals on Tour would tell stories of a completely different individual.
Notah Begay, whom I knew a little bit from covering Navajo athletes during my days in the Southwest, was a teammate of Tiger's at Stanford – and Notah had all kinds of tales.
I can add that, even from the distance that he put between himself and us non-celebrity media types, you could tell that there was a really funny Tiger in there someplace.
I always wished I could sit on a tee box with him someplace, and hear what he really thought of the mobs and the chaos that surrounded his life.
Several of his peers (as much as a player like Tiger can even HAVE peers) enjoyed talking about his human side — things like going back to watch a Stanford basketball game and acting like a kid…
Things like that.
Other golfers insist that, even before his life came tumbling down and he was humbled in front of the world, Tiger could make fun of himself.
The trouble was, most of us – even when inside the ropes – didn't get to see that side.
HONESTLY, I always thought that Tiger would be a pretty cool guy to hang with for dinner and a couple of cold ones.
He's really, really smart, and there's that sense of humor that truly wants to get out.
But for so much of his career, everything was shoved in the closet while he pursued perfection on the golf course.
It cost him his marriage (my opinion), because a string of bimbos needed no emotion — while his wife did.
The humanity in a marriage might detract from golf.
Therefore…
It was bound to crash, which eventually happened.
Look, I love golf.
So, part of me can wish so much that I'd been born with Tiger's talent.
But even being around him a little bit, I can say that I wouldn't want that life, the necessary single-minded devotion to a sport that strips away everything else.
I've attended press conferences at which I was just dying to say: "Tiger, wouldn't you love to spend a year or two as just a nobody who can't break 90, and isn't bothered everywhere you go?"
I really believe Tiger would have enjoyed the question, and responded with a humorous answer.
Of course…
I never had the courage to do it.
Imagine facing that laser look, and having Tiger Woods say: "Who in the hell are you to ask a question like that?"
Yikes!
AH, YES, remember I said there was a story about Mark Steinberg, Tiger's protective and mostly unpleasant agent?
A couple of decades ago, I was working for the Sports Business Journal, and each year we published a feature called "30 under 30."
The idea was to do short features on people — all under 30 years old — who were already making huge impressions in the world of sports business.
I drew the assignment to do Steinberg.
So, we hooked up on a fairly long phone call, most of which was spent with Steinberg trying to avoid saying ANYTHING about Tiger that might be construed as even slightly personal.
Predictably, it was a pretty horrible interview, and I had to create some magic to make the Steinberg bio even readable.
But there was one fabulous item in all that grim nonsense.
While I was trying to get something about Steinberg himself into the little feature, I asked if he'd been a golfer or a collegiate athlete.
He dismissed the golf idea, but he DID say that he was an end-of-the-bench reserve on the University of Illinois basketball team that reached the Final Four in 1989.
OH…?
See, it turns out that I covered that team myself, and traveled around the country with those guys.
I have a ball signed by everyone on the team.
And…
There's no Mark Steinberg anywhere.
Hah!
Maybe he suited up for two home games or something, and thus felt he could claim a roster spot – but I spent a season with those guys, and I'd never heard of him.
I wondered if I should tell Mark I wanted an exclusive interview with Tiger, or I'd tell the world he was fibbing.
Nah, I couldn't do it.
Like most every other reporter, I honored Tiger's desire to be left to his privacy.
I'm tremendously glad, however, that he's now found some peace and balance in his life.
So, like everyone else…
I was utterly relieved that Tiger survived the car accident.
Somehow, it feels like I know him better than I probably do.
Maybe lots of people are like that.
At least I've met him and talked to him, though.
Email: scameron@cdapress.com
Steve Cameron's "Cheap Seats" columns appear in The Press on Mondays, Wednesdays and Fridays. "Moments, Memories and Madness," his reminiscences from several decades as a sports journalist, runs each Sunday.
Steve also writes Zags Tracker, a commentary on Gonzaga basketball which is published each Tuesday.
---