THE FRONT ROW with MARK NELKE: COVID-19, before state last year, and since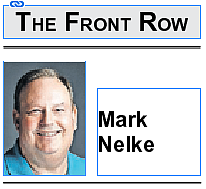 |
February 28, 2021 1:30 AM
The player led his teammates down the long hallway at the Ford Idaho Center in Nampa, single file, on the way out into the big arena for a state boys basketball tournament game last March.
But first, before exiting the hallway, the player peeled off to the right, where a hand sanitizer dispenser had recently been attached to the wall in the hallway.
His teammates followed.
They each stopped for a squirt on the hands, and then proceeded into the arena.
That was one of the few signs that last year's state boys basketball tournament would be any different than in previous years. Also, there were signs in the restrooms encouraging folks to wash their hands with soap and water, but that was about it.
Games were played as normal. There was no social distancing, no masks.
Champions were crowned, and teams went back to their respective towns.
Then, four days later, an NBA player tested positive for COVID-19, and everything suddenly changed.
"I knew we were on a race against time," said Post Falls High boys basketball coach Mike McLean, whose Trojans played in the final game of the 2019-20 season, the state title game against Borah of Boise on that Saturday night in early March.
"My thought process was, at that time, COVID was not an issue in Idaho. But I knew it was becoming more and more of an issue nationally. I knew Washington was starting to have more and more of that. My thought was, we need to get the state tournament done, and everybody back home — because, in my opinion I thought there was going to be a little bit of premature overreaction, knowing viruses and how they spread, they're going to hit the major metropolitan areas first, and kind of work their way in. I assumed that in Idaho, COVID would reach us, but it was more on the radar on the news, it was happening in other states. My thought process at that time was, I wanted our kids to get through this, and get home."
LAKE CITY also played in the state 5A boys basketball tournament last year, eliminated in two games. The Timberwolves will be back at state again this coming week, albeit with significantly different surroundings in the Idaho Center.
"I had a lot of things going on," recalled Jim Winger, Lake City's boys basketball coach and athletic director. "In a span of weeks, my mom had open-heart surgery, in her 80s, and a few weeks later, my father passed away.
"In the mix of all that was the state tournament, and the district tournament, which was a good thing, because our kids did some great things, and they're great to be around. So that was kind of a positive."
If there was anything different about state last year, "I wasn't noticing much of anything, other than thinking about my mom," Winger said. "And then state was over, and the next weekend, they're starting to cancel the NCAA tournament, and then that next weekend my father had a stroke and a few days later he passed, and next thing you know, we're out of school and everything was shut down.
"I was just coaching and worrying and thinking ... "
The St. Maries boys make what is seemingly an annual pilgrimage to state; this year will be the Lumberjacks' seventh straight trip. Capital High in Boise, site of the 2A tourney, has become an annual home away from home for St. Maries.
"I do remember them cleaning the gyms out after every game," Lumberjacks coach Bryan Chase said. "I remember them spraying everything down; I think they were to that point. We couldn't leave things up from night to night; we had to take our posters down, which was kinda weird.
"You kinda had that feeling, we were kinda lucky to get it in, to be honest. It felt like, it's coming, it's here, but we're going to get through this. And sure enough, everything was shut down right after that."
SPRING SPORTS, at least the practices, had gotten started by then. A few teams played a game or two, or were in a track meet or two.
A little more than a week after the state boys basketball tournaments concluded, spring sports games and practices were shut down in Idaho. About a month later, the spring sports season was canceled.
"You had that eerie feeling like, it's coming, and how bad is it going to get?" Chase said. "We got home (from state) and there was no hand sanitizer or toilet paper anywhere … oh my gosh, what's going on?"
Chase also coaches golf at St. Maries.
"You just felt blessed that you got it done," he said of state basketball. "You could just feel, even with our spring sports, that it was coming to a halt — school, everything."
AS COACHES and administrators, there's no template for guiding your athletes through a pandemic.
"There's all sorts of terminologies, in a span of a year, that you'd never in a million years thought you'd be using," Winger said. "Or trying to make a decision on this, or a decision on that, how many people can go to a game … from nobody to 10 to 50 to 40 percent … do you shake hands … my goodness, if you sat down and wrote everything that was out of the ordinary, you would take up a notebook of paper."
Not only were there no spring sports, there was no in-person classes — all learning was done over the internet.
"Well, that was brutal, said Winger, father of two former high school athletes. "I couldn't imagine, if my kids were seniors last spring … just nothing. Something that has been a mainstay in society forever and ever was just removed without question.
"You want to talk about the ultimate question — to go back or not to go back — and which is doing more harm to the mental health of the kids. But on the same hand, you have to think, the kids don't seem to be getting real sick, but are they bringing it home to their grandparents? My goodness; it's just a web."
McLean was also a little distracted during last year's state tournament.
On Super Bowl Sunday, he was out feeding the cows on his ranch in Post Falls when he hopped out of the back of the truck and got his left foot hung up on a fence. He ended up suffering a dislocated right ankle, and broke the posterior portion of his talus into multiple pieces.
He coached at state on a knee scooter.
When Post Falls students were learning solely from home, or even in school just a couple days a week, McLean said he was more worried about their emotional state than their educational state.
"Taking away kids' ability to play sports and other activities — I don't care if it's band, choir … there's a balance in life in everything there is," McLean said. "COVID just taking everything and just stopping everybody is exactly what we don't want to do with young people.
I think adults think sometimes, well, it's just sports, but for an athletic kid, or a kid in some kind of activity, when you're a kid and that's the biggest thing in your life, I think that's dangerous. I think adults sometimes forgot how important these games are for these kids that are playing."
McLean spoke of the risk/reward of keeping students away from each other, the slow the spread of the coronavirus, and the benefits of allowing them to act like, well, kids.
"Being a teacher at the school, you can still see there's a gap … we're years away from seeing what kind of unintended consequences of trying to keep everybody safe," he said. "For every action there's a consequence. There's probably some unintended consequences that have yet to show themselves."
"It's huge for these kids to be back four days a week," Winger said. "They want to be in school. They were doing really well in class when they were here two days a week — discipline, a lot of it disappeared — and when they had to complete stuff on a computer, they didn't do it. Not all of them, but as a general rule, they didn't want to learn on a computer. They wanted to be with a teacher, and their classmates. That's a huge deal.
"And I think we learned that high school sports are a big deal. You always hear, 'Oh, it isn't like it was in the 70s and the 80s and early 90s. There's too much going on, they have club and they have this and that. Well, all of us learned, really fast, that high school sports are really important, and their parents want them to play. And it's a huge part of school. So yeah, I think it's huge for these kids' mental health to be at school, and to be in activities, and I think we did the best we could from beginning to now, with obviously some things we could have done better. Right now, I think, is a good time for our kids."
THIS FALL, many schools still did learning from home, at least for part of the week.
But athletically, Idaho chose to return to sports as normal, with precautions. Some athletes and other members of the program tested positive for COVID, and some teams were shut down for a time.
But all of the fall sports seasons were concluded with state championships. And the winter sports are two-thirds of the way to that conclusion, with only state boys basketball remaining to be completed this week.
"I think the state and our league, and our district, given the circumstances that we were dealt, starting at the end of the school year and going through the summer to where we are now, I think we've handled things pretty darn well, once you get a chance to look back," Winger said. "There was absolutely no information anywhere, a textbook, a class you can take, somebody you can call up ... it was completely on the fly; you completely had to make judgments that were very serious judgments.
"I can't find, at least in my own mind, where delaying has helped anybody, or anywhere. Coming back now is certainly no better than it was in the fall. … I think we gave our kids every opportunity to play, and we did the best we could to give them an experience, including being at school and being in activities.
"I think a lot of states envy us, to be honest with you."
Mark Nelke is sports editor of The Press. He can be reached at 664-8176, Ext. 2019, or via email at mnelke@cdapress.com. Follow him on Twitter @CdAPressSports.
---