4A Region 1 boys basketball championship: Lakeland breaks on through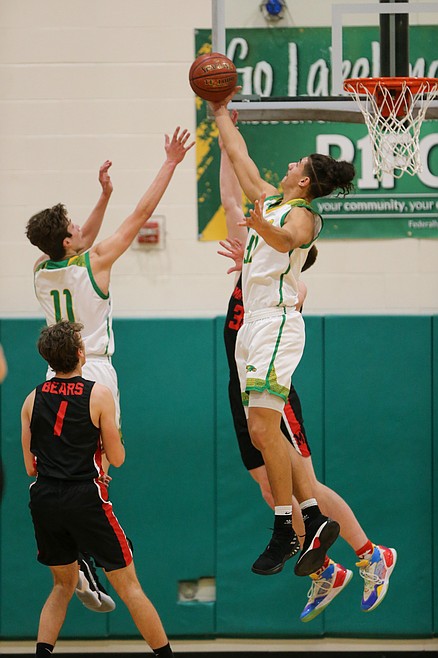 JASON DUCHOW PHOTOGRAPHY Jalen Skalskiy (31) of Lakeland soars for one of his 13 rebounds Saturday night against Moscow in the deciding game of the 4A Region 1 boys basketball tournament at Hawk Court.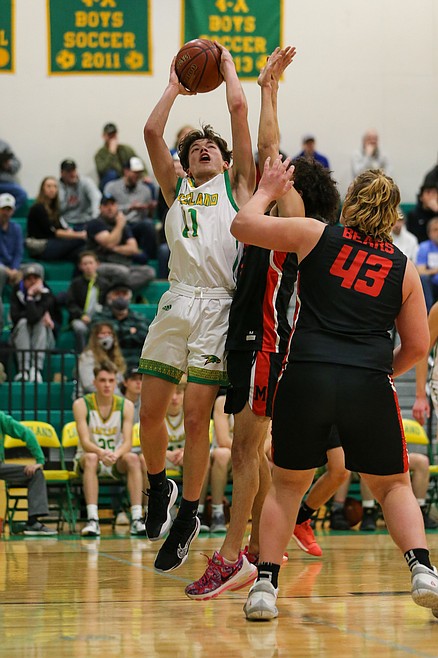 JASON DUCHOW PHOTOGRAPHY Bryce Henry (11) of Lakeland puts up a shot as Jamari Simpson and Tyler Skinner (43) of Moscow defend on Saturday night in Rathdrum.
Previous
Next
|
February 28, 2021 1:25 AM
By MARK NELKE
Sports writer
RATHDRUM — As Lakeland's Bryce Henry dribbled out the final seconds and the crowd roard, senior Jalen Skalskiy walked over and gave his junior point guard a giant hug.
Moments later, when the buzzer sounded, Henry heaved the ball toward the rafters in Hawk Gym, and the players celebrated.
If it looked like the Hawks were releasing five years' worth of emotion — well, maybe they were.
Skalskiy had a monster game with 30 points, 13 rebounds, three assists and two steals, and several others also stepped up as Lakeland beat Moscow 72-59 in Game 3 of a best-of-3 series for the 4A Region 1 boys basketball title Saturday night.
"It means a lot; especially with the struggle we've been going through against Moscow," Lakeland senior guard Carson Seay said. "It feels like we broke through a wall. It feels great; all the hard work we did paid off."
Lakeland (11-9) advances to state for the first time since 2016, and will open vs. Bishop Kelly (16-5) of Boise, the District 3 runner-up, Thursday at 1 p.m. PST at Rocky Mountain High in Meridian.
Henry added 15 points, including 10 in the first half on 5-of-5 shooting, and Grant Roth added 13 points off the bench.
"Me, personally, I think this is a special team," Lakeland coach Dave Stockwell said. "And for them not to have gotten to state would have been really terrible. Tonight we did a great job on their shooters; we didn't do a very good job (Friday). They just couldn't get rockin'. We made a couple of changes offensively, but really, the defense is what did it."
After a stagnant offensive effort Friday night in a 67-56 loss to Moscow in Game 2, Lakeland was much more aggressive offensively on Saturday, led by the 6-8 Skalskiy.
Attacking the basket often, Lakeland shot 69.6% (16 of 23) from the field in the first half, and finished at 61.4% (27 of 44) for the game.
"Especially since we didn't have our big dude, Ammon (Munyer), and with our other big fella, Noah, since he fouled out, I definitely had to take over," Skalskiy said.
"Jalen owned the inside," Stockwell said. "And I thought Grant Roth did a nice job, and Alden (Waddington) — those two reserves
Despite a quiet (eight-point) night from Noah Haaland, who scored 30 on Friday, Lakeland erupted for 28 second-quarter points and led 42-22 at halftime.
Henry's driving layin boosted the Hawks' lead to 52-30 late in the third quarter — more than enough withstand a Moscow 3-point barrage that brought the Bears as close as nine points midway through the fourth.
"It's been five years of watching this happen — not winning, and having to pack up and be done," Haaland said. "It means a lot that we finally got it to be at this place (Hawk Court), and won it here. It means a lot."
The teams met for the fifth time this seaaon, all in the last 15 days, with Lakeland winning four times.
Moscow (7-10), which hit 11 of 18 3-pointers on Friday night, finished 13 of 42 from behind the arc on Saturday. The Bears attempted just 17 shots inside the arc against Lakeland's lengthy zone defense, featuring Skalskiy and the 6-8 Haaland.
"We live and die by the 3, right? We have all year," Moscow coach Josh Uhrig said. "Give Lakeland credit; they made it tough for us to get any looks. They adjusted what they did in their zone, and didn't give us any looks on the perimeter. Boy, they couldn't miss in the first half ... all the props to them; they had a great game plan tonight, and they just out-executed us."
Junior Jamari Simpson hit three 3-pointers and totaled 17 points, seven rebounds, four assists and three steals for Moscow, which had won the last four regional titles, all at Lakeland's expense.
Benny Kitchel picked up three fouls in the first half for the Bears, and finished with 11 points, nine in the second half on three 3s.
Moscow 11 11 14 23 — 59
Lakeland 14 28 10 20 — 72
MOSCOW — Brown 6, Simpson 17, Abendroth 5, Kees 9, Rehder 5, Larson 0, Colter 1, Hong 0, Kitchel 11, Skinner 5.
LAKELAND — Hocking 0, Seay 6, Henry 15, Haaland 8, Roth 13, Waddington 0, Skalskiy 30.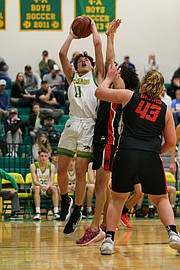 ---