'A true blessing'
by
BILL BULEY
Staff Writer
|
February 27, 2021 1:00 AM
COEUR d'ALENE – Kiarrah Lawson and Shain Clayton are just hanging on. They have little money and are trying to find steady employment. They can't pay both rent and groceries, so they have to choose.
"I'm trying to find something out there, even if it's just a little bit of money," Clayton said.
Lawson nodded in agreement.
"It's been such a struggle right now," she said Friday. "We're fighting being homeless right now. We don't have food in our house. We've been starving ourselves for weeks now. Going to food banks is the only thing we can do."
That's why the food giveaway at The Altar Church meant so much to them.
It gives them not only sustenance, but hope, too.
"It's so helpful. We appreciate all of you guys so much," Lawson said to volunteers as they carried boxes of food to their car.
"Us getting this, we don't have food in our house," Clayton added.
They heard about the free food distribution from Lawson's uncle.
"He told us, 'Get your butts over there grab some boxes,'" Lawson said, smiling. "Family knows we need it."
Stephanie Roberts, The Altar Church food bank manager, said she heard similar stories from others who showed up at the drive-through giveaway Thursday and Friday in the church parking lot.
Some are without work. Some are without a roof over their heads and living from their car. Some who have suffered abuse.
At one point, the line of vehicles stretched down the block
"There are people who have nothing," Roberts said. "Their stories are heartbreaking."
Help arrived this week in the form of 1,100 boxes filled with 30 pounds of produce, dairy and protein products, courtesy of Cityserve International, a christian organization.
"What's so neat is people load up their vehicles and then they go distribute it to the people who need it and then they come back and get more," Roberts said. "It's a really good way to bring the community together, helping one another."
The need is great.
"There's so many people who are shut-in and no one knows that they're shut-in," Roberts said. "We're finding them. We're finding them through one way or another."
Those who came out to The Altar could take as many boxes as they wanted. One man asked for six boxes, which were loaded into the back of his older van. He said some was bound for his home, and the rest to neighbors in need.
"This is wonderful," he said. "Thanks for all you do."
Volunteer Krista Worline was there with her daughter. She said she came through Thursday and received some food, and wanted to return the favor.
"It's a godsend these people are here," she said. It's a true blessing."
Darrell Coulston, who is in Set Apart Discipleship through The Altar Church, was another volunteer on Friday filling cars with food boxes.
"Just serving the community, you know," he said. "Just helping those in need. It's good."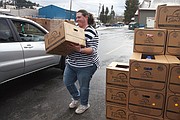 ---