Movers and Shakers
|
February 26, 2021 1:00 AM
Great Floors announces two executive promotions
Great Floors announced the promotion of Mike Nelson as chief operating officer. Nelson is second in command and tasked with implementing the daily operations — aligned with the goals and strategies — of the Company's 21 locations throughout Washington, Idaho and Montana.

Nelson is a 25-year veteran of the floor covering industry and most recently led as the executive vice president at the company's corporate headquarters in Coeur d'Alene. He began his flooring career working in the warehouse, advancing to management.
Nelson managed the Bellingham, Bellevue and Burlington showrooms prior to being named vice president- commercial and builder sales in 2013. He is a 1999 graduate of Western Washington University in Bellingham, with a degree in business administration and finance.
Great Floors President Doug Chadderdon stated that "Mike brings a wide range of experience to the position, from warehouse operations to sales and customer support to installation across the three platforms of our business–retail, builder and commercial sales."
Great Floors also announced the promotion of Will Osborne to the position of senior vice president of operations.

A Montana native, Osborne brings over 20-years of floor covering experience to his newly appointed position. In his last six years at Great Floors, Osborne managed the Spokane Commercial Branch and in 2016, he was promoted to vice president of operations at the company's corporate headquarters.
Osborne is a 1990 graduate of Montana State University in Bozeman, with a degree in business finance.
"We are thrilled to have Will Osborne stepping-up as senior vice president of operations," said Nelson. "In his new role, Osborne will be in charge of our capital expenditures and operational resources. He has also contributed significantly to the development and implementation of a custom ERP software application."

• • •
If you have a new, relocated or expanded business, or announcement of events, promotions or awards, The Press wants to let our readers know. Email the details to Hollyp@cdapress.com.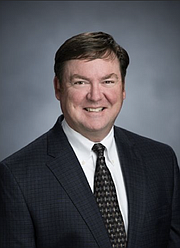 ---