Movers and Shakers
|
February 25, 2021 1:00 AM
STCU announces new real estate director
Chris Blotsky is the new director of real estate origination and sales with STCU. He has more than 10 years of financial industry and real estate leadership experience and will oversee STCU's home loan offerings.
Previously at Numerica Credit Union, Blotsky is a graduate of Lewis and Clark College and the Washington Bankers Association Executive Development Program.
Levesey earns Professional Engineering License
HMH Engineering is excited to announce that Marcus Levesey has passed the professional engineer's exam, earning his Professional Engineering License in the state of Idaho.
Levesey is a project engineer who has five years of engineering experience with an emphasis in roadway design and transportation engineering.
Marcus is a native of Great Falls, Mont. He graduated from Montana Tech with a B.S. in General Engineering – Civil Option in 2016.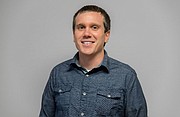 ---