Corner Bar joins effort to quiet things down
by
BILL BULEY
Staff Writer
|
February 23, 2021 1:09 AM
COEUR d'ALENE — It's calm and quiet at the Corner Bar late Monday morning.
About 10 men and women are seated at the bar or tables, while a few are playing games of chance and some are watching TV.
It is dark, cozy and peaceful as the bartender moves quickly back and forth, chatting with customers at this longtime watering hole on Fourth Street.
Some seem familiar to each other and one patron explains a relative is having medical challenges, to which two people offer words of encouragement.
All seems like you would expect in a small, neighborhood bar.
Except that outside, across the street, is a small crew from a Spokane TV station. They were there in the morning and returned in the afternoon.
They were there to check out what's going on since the Corner Bar on Sunday posted a notice on its Facebook page that read, "as of today Sunday February 21st" it would no longer be accepting Washington licenses until further notice "due to the inconsiderate and rudeness of people that have been through our establishments and our fellow neighbors downtown."
The Moose Lounge, the Beacon, Mik's and the Iron Horse were highlighted by Chief Lee White of the Coeur d'Alene Police Department in a presentation last week to City Council. The police department fielded 122 calls this year through Feb. 9 to those four establishments, mostly between 10 p.m. and 2:30 a.m. on weekends. The majority of those calls are being attributed to people from Washington.
The Corner Bar post added that this was done to help prevent anymore "chaos."
When a middle-aged man stops in Monday, not a regular, he is asked for ID. He produces an Idaho driver's license and orders a beer.
Some have supported the move. Others have opposed it. The Corner Bar post and Facebook page has since been taken down.
Some social media posts had this to say:
"I don't think it'll negatively affect their business at all. Since covid, our restaurants, stores, parks, hiking trails and bars are overrun with washingtonians. They definitely act differently than we do. I totally support them...It's crazy."
"It's about time someone is stepping up there [sic] game."
"Your increase in crime is saddening, but you cannot blame all of your issues and problems on us because we live in a different state. Of course you can kick people out of your business, but by saying all of us are the problem makes me sad. We cannot afford to further divide this country by saying its one states fault. You have your fair share of rude customers, of criminals, of disrespectful people but we would never think of banning a whole state of people due to the issues of a few."
"Their business had probably increased with Washington being so restrictive and with that comes humanity."
One customer at the Corner Bar said she did not see what the big deal was, noting that others, like Lakers Inn on Second Street in Coeur d'Alene, have a similar policy and no one was upset.
"They're not the first ones to do this," she says.
Indeed, on the door at Lakers is a handwritten message: "Sorry, No out of state ID's." It has gone well.
Another man points out the Corner Bar's move is being made along the same lines of downtown bars that are closing earlier due to reports of rising calls for police.
One bar patron nods in agreement, noting that while it's quiet on Monday morning, things are different on a late Friday night and there have been fights.
"I support any business decision that helps their customers," posted Lynn Roose.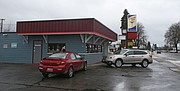 ---