THE CHEAP SEATS with STEVE CAMERON: Zags shouldn't gamble on Vegas prior to NCAAs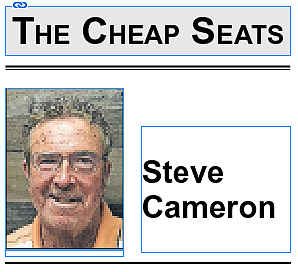 |
February 22, 2021 1:10 AM
It is entirely proper for Gonzaga to follow the wishes of the West Coast Conference.
Up to a point.
In less than a week, most likely, that point of potential head-bumping could arrive.
The WCC men's postseason basketball tournament is scheduled for March 4-9 at the Orleans Arena in Las Vegas.
In a normal year, the winner of that event would get an automatic bid to the NCAA tournament.
As we know all too well, however, you'd pick a lot of words to describe this year before you got around to "normal."
In fact, normal might still be a long way off.
Given that COVID pauses have ravaged the college basketball landscape and turned schedules inside-out, the NCAA has changed the playbook just a little.
Each conference now has the option to decide whether its regular-season winner or its tournament champion should get that automatic bid.
The deadline to notify the NCAA is Sunday.
IT MAY not make much difference what the WCC decides, at least regarding what teams represent the conference.
The Zags and BYU are both in line to play in the Big Dance, no matter what happens.
However…
The bigger question is whether either of those schools might opt out of the WCC tournament.
Frankly, it would be a surprise if they didn't.
It seems just a bit crazy to take a team to Las Vegas, of all places, with the NCAA tournament on the immediate horizon.
Gonzaga has a legitimate shot at the Final Four, and perhaps that first national championship that the Zags and their fans so desperately crave.
The tournament will open for Gonzaga on the weekend of March 19-20.
You don't have to be a math wizard to note that if the Zags played in the final of the WCC event — which is almost a cinch — they would be looking at 10 or 11 days until the NCAA's opening round.
This is a good time to mention that a team must have seven consecutive days without a positive COVID test to be allowed into the Indiana bubble.
Does it make sense for Gonzaga to gamble that it won't encounter a stray virus in Vegas?
Being ruled out of the NCAA tournament when you're quite probably going into the thing undefeated and ranked No. 1 would be, well…
Total sporting heartbreak.
THIS IS where the desires of Gonzaga and the WCC might — just might — be a little bit different.
The conference and its partners would be thrilled with an unbeaten gang of Zags heading to Indianapolis, except…
They'd probably like to see it happen following the WCC festival in Las Vegas.
The conference is in its second year of a long-term national TV deal, and ties to the postseason tournament have been strengthened with primary sponsor University Credit Union and the host Orleans Hotel & Casino.
Perhaps all these stakeholders, along with the other member schools, can be persuaded to see extenuating circumstances — for just this one season – if Gonzaga and BYU decline the trip to Vegas.
Perhaps.
Coach Mark Few and AD Mike Roth have spoken cautiously about Gonzaga's intentions — unless you count Few suggesting the top four teams could possibly play in Spokane, or Roth mentioning that there an awful lot of people he can't control wandering around in Vegas.
No one at Gonzaga wants to be seen as bullying the conference.
Almost certainly, Roth and Few hope the conference will offer them a route to Indianapolis that does not go through Las Vegas.
Let's see what Commissioner Gloria Nevarez has to say when it's time to give some official notification to the NCAA.
Nevarez is widely admired, and she has plenty of clout with presidents and administrators at her conference schools.
I'm thinking this is a time she'll want to use it.
Email: scameron@cdapress.com
Steve Cameron's "Cheap Seats" columns appear in The Press on Mondays, Wednesdays and Fridays. "Moments, Memories and Madness," his reminiscences from several decades as a sports journalist, runs each Sunday.
Steve also writes Zags Tracker, a commentary on Gonzaga basketball which is published each Tuesday.
---