STATE 3A GIRLS CHAMPIONSHIP: A refreshing repeat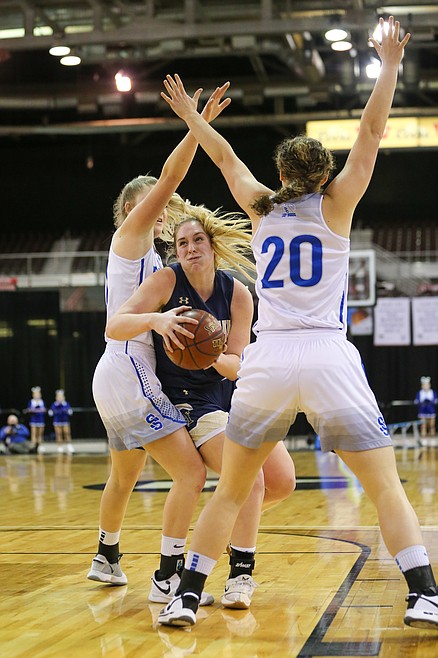 JASON DUCHOW PHOTOGRAPHY Brooke Jessen of Timberlake knifes between a pair of Sugar-Salem defenders in the state 3A girls basketball championship game Saturday at the Ford Idaho Center in Nampa.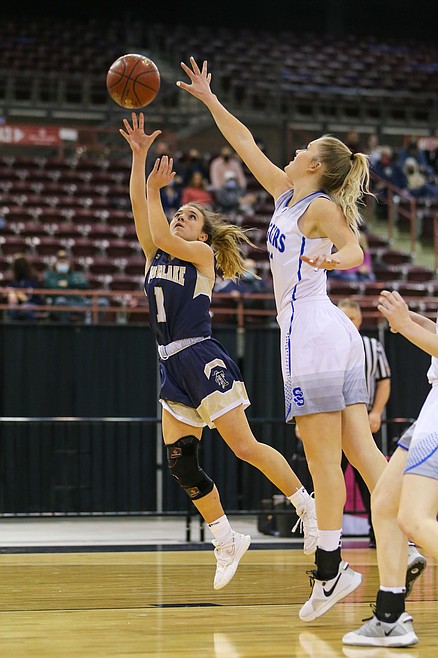 JASON DUCHOW PHOTOGRAPHY Taryn Soumas (1) of Timberlake goes up for a layup against Sugar-Salem in the championship game of the state 3A girls basketball tournament Saturday at the Ford Idaho Center in Nampa.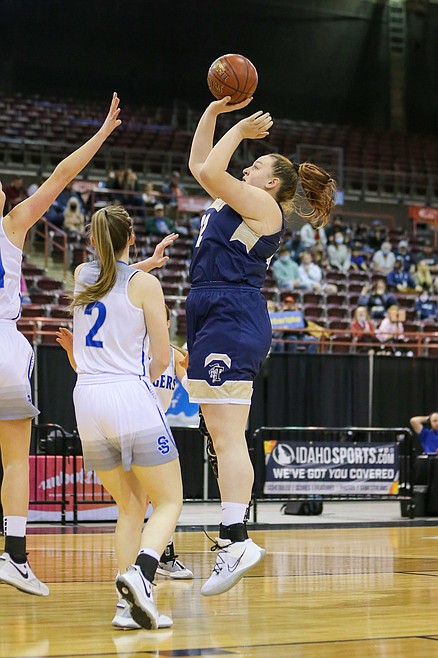 JASON DUCHOW PHOTOGRAPHY Blayre Jeffs of Timberlake puts up a shot in the lane against Sugar-Salem in the championship game of the state 3A girls basketball tournament Saturday at the Ford Idaho Center in Nampa.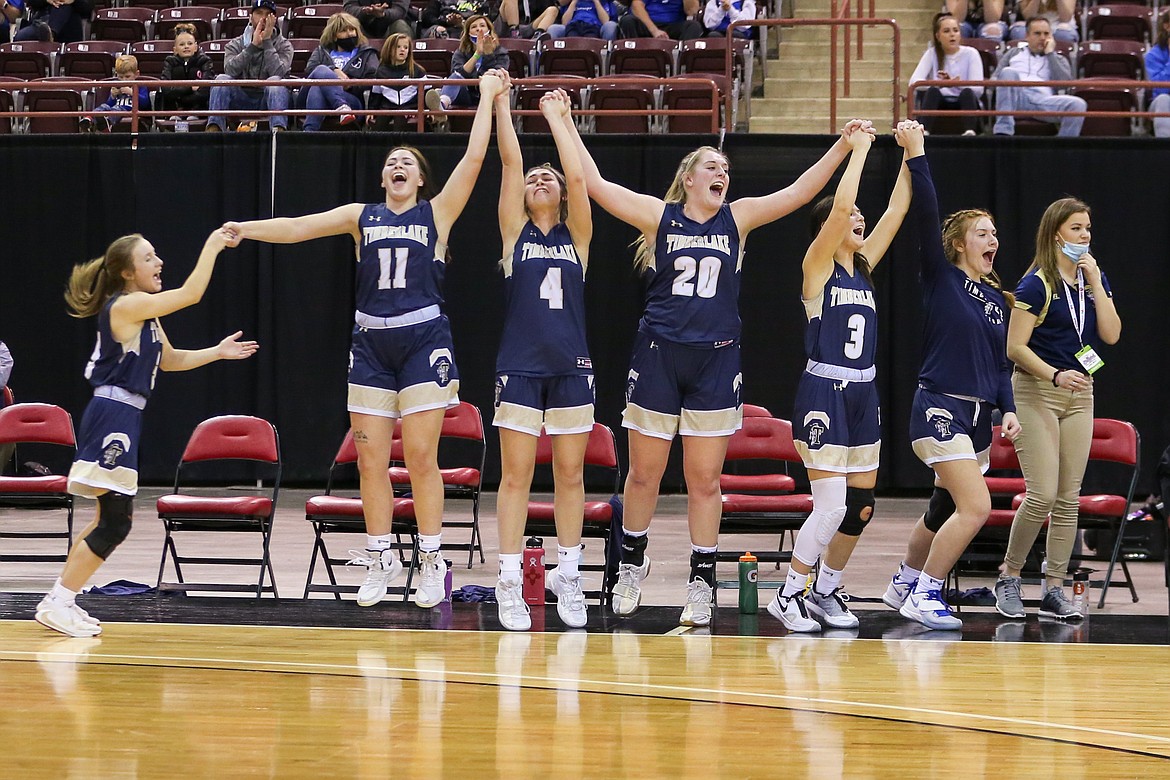 JASON DUCHOW PHOTOGRAPHY From left, Ciara Soumas, starters Bernie Carhart (11), McKennah Kronenberg (4), Brooke Jessen (20) and Olivia Hammond (3), reserve Morgan Dickinson and assistant coach Jacquelyn Mallet of Timberlake celebrate in the closing seconds as the Tigers won their second straight state 3A girls basketball championship, beating Sugar-Salem on Saturday at the Ford Idaho Center in Nampa.
Previous
Next
by
JASON ELLIOTT
Sports Writer
|
February 21, 2021 1:30 AM
NAMPA — It took a while, but someone finally cooled off Timberlake.
The good news — it was just self-inflicted.
"Right after we got our medals, we were talking about pouring water on coach like they do in the NFL," said Timberlake senior forward Brooke Jessen, who finished with 21 points, nine rebounds and five assists. "It's a new thing, and coach liked it. We all got soaked after it, but that's OK."
Senior guard Taryn Soumas had 23 points, six rebounds and two steals for the Tigers, who won a second straight state 3A title, starting strong and rolling past the Sugar-Salem Diggers 65-49 on Saturday afternoon at the Ford Idaho Center.
"It feels amazing," Soumas said. "It's great that I get to finish my high school career with a victory at state with one of the best teams I've ever played with."
It is the fourth state title in the last six years for Timberlake. The Tigers also went back-to-back in 2016 and 2017.
Timberlake shot 20 of 36 from the field, and 19 of 25 from the free-throw line.
"Making shots matters," said Timberlake coach Matt Miller, in his 16th season as Tigers coach. "We started out shooting the ball well and shooting with confidence and that really got us going to start the game."
Timberlake (23-2) was third in 2018 and 2019. Sugar-Salem (24-2) beat Timberlake in the title game in 2011 and 2015. The Tigers were in the title game for the eighth time in the past 11 years.
"I think it started last year," Miller said. "We returned a lot of the same players. Last year, they grew so much throughout the season and ended up finishing so strong, they were able to carry that momentum. They played incredibly well this season, they really did."
Timberlake's lone losses came against Coeur d'Alene this season. Miller used another matchup against a 5A Inland Empire League program in his pregame speech to get the Tigers on the right track on Saturday.
"We referenced our game against Lake City before the game today," said Miller of the game, a 59-48 win at Lake City in December. "Sugar's very similar to Lake City. They've got size, and are very disciplined in what they do and are very physical in what they do. We played really well in games against teams similar to this."
Timberlake beat Parma 40-30 in Friday's semifinals to advance.
"The team did such a good job of making the easy play and not doing too much," Miller said. "Once we got the defense moving, we were able to move a little bit and hit those open shots."
On Friday, Timberlake shot 17 of 54 from the field
"It might have been a blessing in disguise playing so poorly offensively against Parma," Miller said. "I think they really woke up and knew that we were fortunate to have gotten away with those mistakes and fixed those mistakes today."
Since 2011, Timberlake has faced Sugar-Salem at state six times, three coming in the championship game. Timberlake has won three of the last four.
"It's awesome," Jessen said. "I'm proud of my team for playing like I know we can. And I'm glad that we could show that tonight, they couldn't play on the same court as us."
Senior post Blayre Jeffs, who scored a career-high 18 points in the team's opener on Thursday against McCall-Donnelly, had six points and five rebounds for Timberlake.
"We came out with a lot of pressure," Jeffs said. "We've been prepping for this team for the last two weeks. We knew they were our biggest threat, and had to come out with some intensity. Playing on Thursday was a huge confidence boost for us because we came out strong. I know personally that helped."
In a game with only three lead changes, Sugar-Salem's final one came with 4:19 remaining in the first quarter at 8-7. Timberlake used a 12-1 run that stretched from the first to second quarter to pull away early.
Mardee Fillmore scored Sugar-Salem's first seven points, and finished with 16.
"They just put the ball in the basket and we didn't," Sugar-Salem coach Crystal Carpeneter-Dayley said. "We were dead even with them on everything but shot percentage. We were even on turnovers (12). Their shots fell in the first half and ours didn't. I told my kids you can control what you can control, but you can't control the ball going into the hoop. And nothing went our way tonight."
Soumas scored eight points, Jessen seven in the first quarter as Timberlake shot out to a 20-9 lead.
Soumas scored seven straight points to increase the Tigers' lead to 31-14 in the second quarter.
"She's a phenomenal player," said Carpenter-Dayley, who has coached the Diggers to three state titles in nine seasons. "She's hands down one of, if not the best, point guards I've coached against. She's so quick and does a good job of running that team."
Timberlake 20 17 11 17 — 65
Sugar-Salem 9 8 15 17 — 49
TIMBERLAKE — T. Soumas 23, Hammond 1, Kronenberg 5, C. Soumas 3, Wall 0, Carhart 6, Jessen 21, Bain 0, Jeffs 6. Totals 20-36 19-25 65.
SUGAR-SALEM — Me. Fillmore 9, Harris 3, Baldwin 8, Crapo 0, Bennion 2, Gillette 0, Miller 8, Nead 3, Ma. Fillmore 16. Totals 17-46 10-17 49.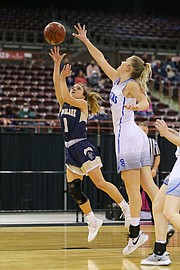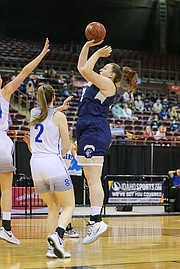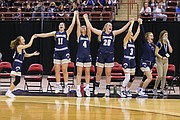 ---