Patti A. Dickinson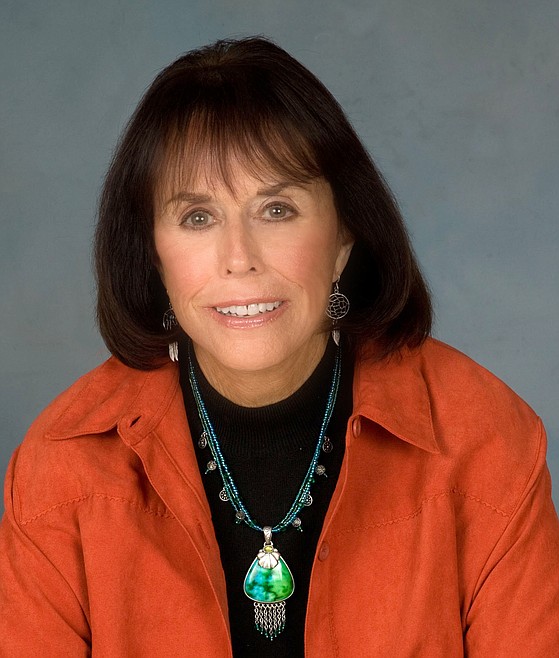 |
February 21, 2021 1:00 AM
Patti was born on Thanksgiving Day to Dewey and Arlie Turner in Wilburton, Okla. Her family included two older sisters when they moved to Richmond, Calif., during the war. Dewey was a crane operator at the shipyards and Arlie was a Rosie the Riveter.
They moved to Fresno, Calif. after the war, where Patti graduated from Fresno High School and married her high school sweetheart, Norman Main, in 1955. Norman was in the ROTC and after graduating from Fresno State, was transferred to Davis-Monthan Air Force Base in Tucson in June. Five months later in December, they were transferred to South Dakota. Patti always joked about the terrible timing of those first two assignments.
When they returned to Fresno, Patti worked for Sequoia Savings as a secretary to the manager, and was later a secretary for an agricultural consulting firm. On weekends she worked on their 24-acre family vineyard. She had two beautiful daughters, Kelly and Kerry. She then started her own successful business, Patti's Statuaries. She taught classes on how to paint statues for her many customers in the Fresno and Kerman area.
Patti married Gus Gerdes, M.D. in 1973, and worked alongside him as a nurse assistant and bookkeeper. Patti's love for history took her on many trips to England, Europe, North Africa, Chile, Asia and Japan. She loved and climbed most of the pyramids in eastern Mexico and eventually visited Machu Picchu in Peru.

Patti's extensive travels motivated her to be the first person in her family to get a BS degree in history at Fresno State. She earned her degree while working full time for four years, in 1982. Being a tremendously creative person, she taught herself to paint and sold many pictures she hung in her husband's medical office.
Patti was on the board of directors that established the Fresno Metropolitan Museum and was instrumental in starting the Festival of Trees event held each Christmas, one of the museum's best fundraisers. She was also one of five members of the University Lecture Series at Fresno State that brought dignitaries to speak at FSU. Patti organized the receptions for many dignitaries, including presidents, senators, cabinet members, prime ministers, ambassadors, famous scientists, authors and Holocaust survivors. This was a very gratifying time for Patti to meet, socialize and enjoy dinner with these icons. She truly shined at these events and felt very comfortable and at ease with these famous people.
In 1987 Patti started her own interior decorating business called Sassy's - an appropriate name. One of her first projects was to design and decorate a CPA's office in the Fig Garden Financial Center for her eventual husband, David Dickinson. They worked together until the end of 1992, when the two of them decided to jump off the merry-go-round of life, sold almost everything they owned, and purchased 10 beautiful acres of forest overlooking Lake Coeur d'Alene, Idaho.
Patti now had the time to fulfill one of her dreams of becoming an author. The move gave her the chance to study, learn the craft, and teach herself how to write. Over 15 years she successfully published four books. One of her books, "Hollywood the Hard Way: A Cowboy's Journey," was optioned for a movie twice while she was represented by Creative Artists Agency. Patti was very proud of being part Cherokee and three of her books involve Indian characters.
She loved this time in Idaho because of the slower lifestyle and the small city feel, yet still loved the experiences of travel. David and Patti traveled to Europe and Mexico several times, and to Canada and many wonderful states in America. Lots of sights, lots of history, Patti's thing.
In 2007, Patti and David decided it was time to move back to California to be closer to family. They made Santa Maria their new home and have loved the area and the people. Their loving marriage lasted for 31 years until her death from complications related to a TBI and COVID-19.
She was a very loving, caring person who would always make time to listen or help a friend. If Patti was a friend of yours, you were a lucky person. She was truly a beautiful woman. Patti will be greatly missed by her friends and family.
Patti is survived by her daughters, Kelly Main and Kerry Main Aller, and step children, Joel Dickinson, Shauna Christensen, Kirk Gerdes and Jeff Gerdes; several grandchildren, and husband, David Dickinson.
Patti loved animals, so if you would like to make a donation in her memory to either your local Humane Society or the animal shelter of your choice, it would fulfill one of her wishes.
A service and celebration of life for Patti will be held at a later date when COVID restrictions are reduced.
---