Leavitt Works Gunsmithing opens in Hayden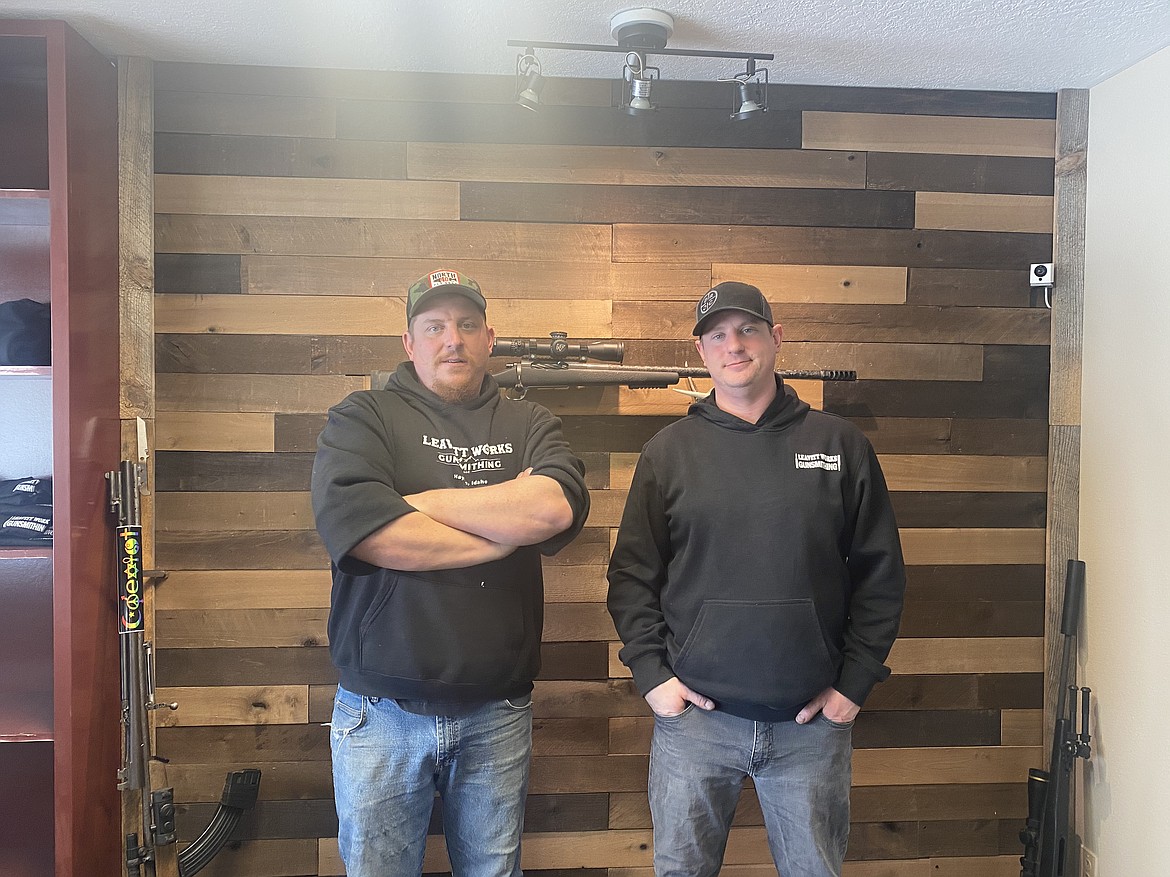 Courtesy photo Patrick Leavitt and Kyle Leavitt are among the team at Leavitt Works Gunsmithing, which has opened at 10733 N. Government Way in Hayden.
by
NILS ROSDAHL/Special to The Press
|
February 21, 2021 1:20 AM
All gunsmithing needs are offered at Leavitt Works Gunsmithing, which has opened at 10733 N. Government Way in Hayden.
Patrick Leavitt and his team "build exceptional firearms" and do transfers 8 a.m. to 3 p.m. Monday through Thursday and 8 a.m. to noon Fridays.
Phone 208-315-0786. Check www.leavittworksgunsmithing.com.
Nom Nom replaces
Zip Trip on Best
A Hawaiian term for "a safe haven for munchies," Nom Nom has replaced Zip Trip as the gas station and convenience store at 1425 E. Best (northwest intersection with 15th Street).
With its refinery in Tacoma and headquarters in Hawaii, Nom Nom has 91 outlets in Hawaii and 34 in the Northwest.
Hours here are 5 a.m. to 11 p.m. daily. Phone 208-676-8885. Check www.parpacific.com.
Now the Tidbits
This was a weird week with many places delaying their openings due to weather, the pandemic and other unplanned problems. I had planned for my lead today to be the Knoll family of Black Sheep buying and reorganizing Silver Lake Mall, but instead that item became a front page story in the Wednesday paper.
The Wax Queen will open March 15 by appointment only at 840 E. Best Ave. Phone 208-446-8734.
A Martial Arts Studio is now at 10014 Government Way.
A new commercial and residential building will be built at Third and Davidson Ave.
Terraza Waterfront Cafe will be at 1950 Bellerive Lane in Riverstone.
The Washboard Laundromat will be in The Plaza of Post Falls.
Killer Burger will put its first Idaho location near the intersection of Prairie and Highway 95.
Trademark Mechanical has moved to 171 W. Lacey Ave. Details soon.
Watch for major changes with the Burger Bunker and Bunker Bar off Spokane Street in Post Falls.
A new building for Linden Coffee Co. is under construction at 1502 N. Third.
Flippens Secured Self Storage is building a complex at 2098 Creative Way in Post Falls
Truck manufacturing company Kenworth plans a large building for 4374 W. Expo Parkway west of Post Falls.
A large storage complex and new corporate office for Steel Structures of America will be built off Highway 41.
The Den will be a new tavern at 761 N. Idaho St. in Post Falls.
My Nails & Spa will be off Canfield Ave.
The CdA Corner Store is adding a kitchen and tables downtown.
A Union Gospel Mission thrift store is under construction at 7761 N. Government Way.
Gathered will be a new restaurant.
The Blue Shell will be at 1903 Sherman.
Takara Restaurant will open in March or April on Lakeside downtown.
Emerge will be at 119 N. Second St.
Milk & Honey Coffee is "coming soon" to Mullan and Cecil in Post Falls.
Schmidty's Burgers will be at 1524 E. Sherman.
A 120-room boutique hotel will be where the Outback Steakhouse was off Northwest Boulevard and I-90.
Coeur d'Alene Nissan will have a major addition to its building off Highway 95.
The huge One Lakeside project hotel portion will open in April. The condos are sold.
Metro Car Wash will be near Wendy's in Post Falls.
The Hayden Dairy Queen will be at 513 W. Hayden Ave.
108 North is under construction connected to the Moose Lounge downtown.
Something new is going into 413 Sherman beside the Art Spirit Gallery.
Northwest Group will be selling cars at 2995 E. Mullan.
A new motel is under construction on CdA Lake Drive between Mullan Ave. and Michael D's Eatery.
Safe Splash is under construction on Kathleen Avenue.
When it's dusky, snowy, drizzly or foggy, turn your lights on so others can see you. And check your lights. Too many vehicles are missing one.
*Contact Nils Rosdahl at nrosdahl@cdapress.com.
---